BACK TO NEWS
Neon Jumpsuits and Rear Entry Boots to Swarm Copper Mountain for Second Annual Retro Shred-A-Thon Supporting The High Fives Foundation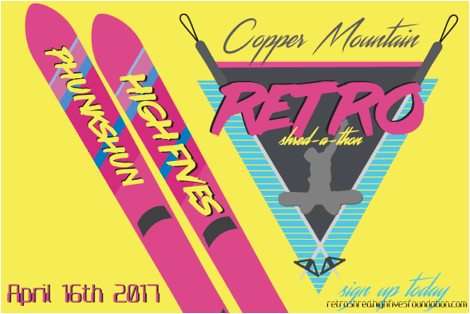 On Sunday, April 16, 2017, the High Fives Foundation will travel to Colorado to host the second annual Retro Shred-A-thon at Copper Mountain Resort, along with Phunkshun Wear. The event is presented in conjunction with partners GoPro, Kind Design, Craig Hospital, and Icelantic Skis. Shred-A-Thon participants will spend the day lapping the American Flyer lift as many times as possible with friends, all while wearing retro ski gear -- one-piece snowsuits, skinny skis, retro snowboards, and other flashy throwbacks.
"With the success of last year's event we just had to come back" says Executive Director, Roy Tuscany of High Fives Foundation. "We truly combine the goals of fun and raising funds for the organization in these events, so coming back to Colorado is so exciting."
Copper Mountain Resort will be offering discounted lift tickets at $45 to those participating in the event.
"Retro shred is coming back to Copper Mountain and I couldn't be more excited; this is easily one of my favorite on-hill events." said Jay Badgley, CEO of Phunkshun Wear masks. "Come out in your best vintage ski gear and help raise money for the High Fives Foundation!"
Event Details: Copper Mountain Retro Shred-A-Thon
When: Sunday, April 16, 2017
Where: Copper Mountain Resort
Who is invited: Families and friends of all ages
Registration: http://retroshred.highfivesfoundation.com/
Time: Registration 8am (at High Fives Tent) 9am Event Start
Cost: Free to participate/discounted lift ticket if participating ($45)
ABOUT THE HIGH FIVES FOUNDATION
High Fives Foundation is a Tahoe-based, national 501.c.3 non-profit organization. The High Fives Foundation supports the dreams of mountain action sports athletes by raising injury prevention awareness while providing resources and inspiration to those who suffer life-altering injuries. Formed as a way to "pay-it-forward" by the founder based on his own recovery to help injured athletes, the Foundation has helped 147 athletes from 27 states since its inception in 2009. For more information visit Highfivesfoundation.org
ABOUT PHUNKSHUN
Officially founded in 2011, our company has been manufacturing facemasks in the Rocky Mountains since day one. Originally designed to fulfill the needs of ski and snowboard instructors, Phunkshun Wear continues to produce items that stand up to winter weather conditions and protect from the elements. For more information visit http://www.phunkshunwear.com/
ABOUT COPPER MOUNTAIN RESORT
Copper Mountain knows there are skiers and riders out there who have never felt the thrill of waking up and hearing on the radio that school was cancelled. There are people who have never spent a whole day in the snow doing anything their heart desired. No joke. These people, and those who understand snow day bliss, are the reason we do what we do. So come to Copper to take a day, or two or seven and experience the mountain. Welcome everybody, to the home of the snow day. For more information visit http://www.coppercolorado.com/
---