Back to News
Beeline Bikes Launches Beeline2U Program
April 19, 2017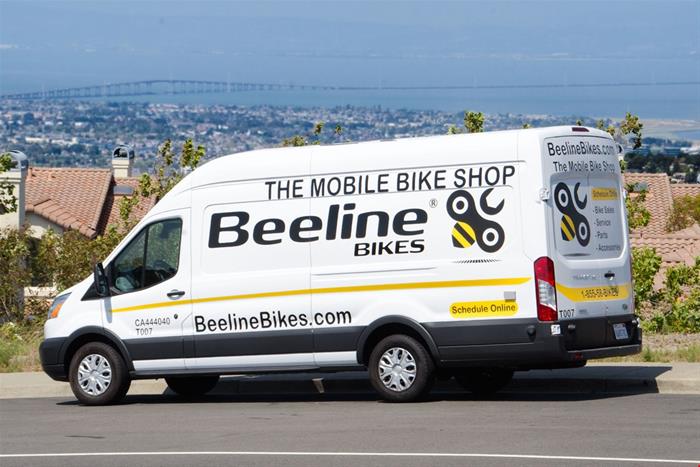 Beeline Bikes, the mobile bike shop, announces the Beeline2U Program allowing specialty product brands to access its network of mobile bike shops for fulfillment. Previously, this functionality required technology integration, but a new solution will allow a wider group of direct-to-consumer sellers to access this network, further supporting Beeline's goal to get more people on bikes.
"We are constantly fielding inquiries from brands looking for a fulfillment solution," said Pete Small, Beeline's Chief Operating Officer. "After fulfilling thousands of bikes we've learned that a seamless customer experience with automated processes is required to enable a scalable solution. Real-time scheduling and transparent communication with the customer and brand are critical. We appreciate that many brands do not have the technology resources to integrate systems, so we've developed a lightweight, widely deployable solution that leverages our investment in technology."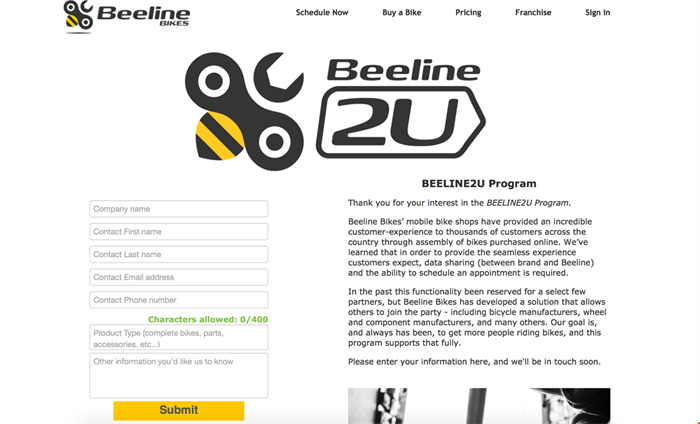 Approved brands and products will have access to the Beeline2U platform, where they will be able to initiate a fulfillment appointment on behalf of their customers. The customer will receive a trackable link to finalize appointment details.
Interested brands can apply at: beelinebikes.com/beeline2u.
The announcement of Beeline2U follows Beeline's successful launch of its Retail Partner Program in Q1. Founding members of the Retail Partner Program include: Summit Bicycles in the Bay Area, Crossroad Bikes in San Antonio, Texas, and The Velo in Phoenix, Ariz. Beeline's nationwide expansion now serves more than 22 million customers across the country. Coupled with its engagement with local bike shops and communities, Beeline has also established premier partnerships with the Raleigh and Diamondback brands, leading cycling e-tailer Competitive Cyclist, and Amazon.
"We've seen tremendous interest from retailers across the country and massive growth in our fulfillment business," said Small. "As the industry continues to evolve, we are constantly looking for ways to both streamline operations and drive revenue to our franchise partners."
About Beeline Bikes
Beeline Bikes is changing the bike industry with a lofty objective: to get more people riding bikes by bringing a convenient bike shop experience to the customer. By combining an innovative technology platform and years of bike industry know-how, Beeline has created a best-in-class customer experience. Sign up online, see real time availability, schedule an appointment, and the bike shop comes to you … with a full selection of parts and accessories too. Beeline Bikes started with a small team of bicycle fanatics in 2013 and has grown ever since. Aimed at encouraging cycling as part of a wider health and wellness program to as many communities as possible, Beeline is more than a mobile bike shop; it's a mobile movement. For more, check: Beeline Bikes.
---