Back to News
Second Annual Retro Shred-a-thon at Copper Mountain Resort Raises Over $22K for Injured Athletes in Need.
April 20, 2017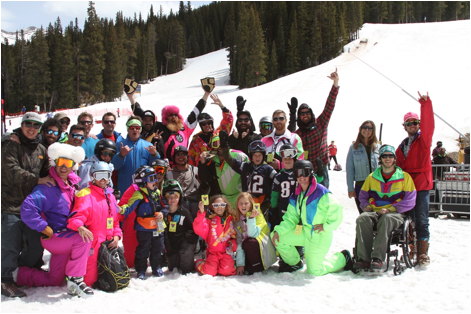 With the sun shining bright, Copper skiers and snowboarders' spirits were high in their quest to raise funds for their favorite Tahoe-based non-profit.
The Second Annual Retro Shred-a-Thon was presented by Colorado-based brand Phunkshun Wear on Copper Mountain Resort's most popular lift, American Eagle. Participants spent the day skiing with friends while raising funds for the High Fives Foundation, a national non-profit based in Truckee, Calif. that rewards grants to athletes recovering from major injuries, such as spinal cord or traumatic brain injuries.
The concept of the Retro Shred-a-Thon is plain and simple – Have FUN! Participants lapped American Eagle lift all wearing one-piece snow suits, neon goggles, straight skis and other retro attire. Smiles, laughter and high fives were the theme for the day.
"This is the time of year to dig into the closets and pull out the retro gear," said Jay Badgley, CEO of Phunkshun Wear. "To raise money for a great organization while dressing like we're skiing in the 80's is the icing on the cake."
Prior to the event, all participants were encouraged to reach out amongst their own network for pledges and donations. All funds raised go directly to The High Fives Foundation and their efforts to support mountain sports athletes that have suffered life-altering injuries.
Over 30 skiers and snowboarders participated in the event, and six local High Fives Athletes (grant recipients) were in attendance to show their support.
"To watch the High Fives Community grow so rapidly from year to year has been absolutely incredible," said Roy Tuscany, Executive Director of the High Fives Foundation. "The driving force behind the growth of the community is the Athletes, and to have so many of them at the event showing their support was truly an honor.
Awards were held after the event at Jack's Restaurant in the Copper Mountain Resort base lodge to recognize the most spirit and the top fundraisers in the event.
Award Winners
Best Solo Fundraiser – Damon Redd
Best Team – Team #AllysonStrong
Most Ski Laps – Jay Badgley
#2 Solo Fundraiser – Adam Abraham
#3 Solo Fundraiser – Shane Burr
#4 Solo Fundraiser – Jay Badgley
#5 Solo Fundraiser – Leah Guy
#2 Team Fundraiser – Team Powder Hmm
#3 Team Fundraiser – Team Phunkshun
Most Retro – Kellyn Wilson
The event's conclusion saw Retro Shred-a-Thon participants rally together to raise over $22,000 for the High Fives Foundation's Empowerment Fund. Funds raised will support injured mountain action sports athletes through grant funding to be used towards reaching their recovery goals.
About Phunkshun Wear: Officially founded in 2011, Phunkshun Wear has been manufacturing facemasks in the Rocky Mountains since day one. Originally designed to fulfill the needs of ski and snowboard instructors, Phunkshun Wear continues to produce items that stand up to winter weather conditions and protect from the elements. For more information visit www.phunkshunwear.com
About the High Fives Foundation:
The High Fives Foundation is a Tahoe-based, national 501.c.3 non-profit organization. The High Fives Foundation supports the dreams of mountain action sports athletes by raising injury prevention awareness while providing resources and inspiration to those who suffer life-altering injuries. Formed as a way to "pay-it-forward" by the founder from his own recovery to help injured athletes, the Foundation has helped 147 athletes to date since its inception in 2009. For more information visit www.highfivesfoundation.org/
About Copper Mountain:
Located just 75 miles west of Denver, Colo. in the heart of the Rocky Mountains, Copper Mountain Resort is an ideal vacation destination with a laid-back, inclusive feeling for all. Three pedestrian-friendly village areas provide a vibrant atmosphere with lodging, retail outlets, restaurants, bars and family activities. During the winter months, Copper's naturally-divided terrain offers world-class skiing and riding for all ages and abilities. Each summer, the mountain transforms into an unspoiled playground for hikers, mountain bikers and all those seeking a genuine Colorado experience. Copper Mountain Resort boasts a jam-packed event calendar year-round and is home to Woodward Copper – an action sports training facility with progression-focused programming.
---