BACK TO NEWS
Direct-To-Consumer Live Streaming Product NBC Sports Gold Introduces "Pro Motocross Pass" With Access to Entire Lucas Oil Pro Motocross Championship Season
STAMFORD, CT – April 24, 2017 – NBC Sports Gold — NBC Sports Digital's direct-to-consumer live streaming product — is launching a "Pro Motocross Pass," giving fans access to the entire 2017 Lucas Oil Pro Motocross Championship season. The direct-to-consumer pass, powered by Playmaker Media, will offer fans commercial-free coverage, live and on-demand, online, on mobile, tablets and connected TV devices.

NBC Sports Gold's"Pro Motocross Pass" features every race in the 2017 season, which begins with the Hangtown Motocross Classic on May 20, including Qualifiers, Moto 1s and Moto 2s. In addition to the 2017 season, fans can access full event replays of the 2016 and 2015 seasons. The "Pro Motocross Pass" can be purchased in advance in the U.S. and 13 international territories for $49.99 starting today by visiting NBCSportsGold.com.

Qualifiers, Moto 1s and Moto 2s Available Live, On-Demand and Commercial-Free with New "Pro Motocross Pass"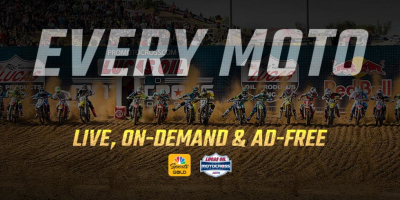 "We're excited to offer motocross fans this unprecedented amount of content, with the added flexibility to enjoy it on the platform of their choice with NBC Sports Gold," said Portia Archer, Vice President, Direct-to-Consumer Services, NBC Sports Group.
"This is a great development for the Lucas Oil Pro Motocross Championship, and we're very pleased to be working with NBC Sports to distribute our quality racing content worldwide," said Davey Coombs, President of series organizer MX Sports Pro Racing. "We also appreciate the fact that all of this content is being offered to motocross fans in a package we think is very affordable."

In the U.S., NBC Sports Gold is available on Apple iOS, Android, Apple TV, Amazon Fire TV, Chromecast and online at ProMotocross.com/live and NBCSportsGold.com.
Fans in 13 different international territories can also purchase the "Pro Motocross Pass":
Austria, Canada, Denmark, Germany*, Ireland, Italy, Japan, Luxembourg, Netherlands, Sweden, Switzerland, Spain*, United Kingdom
*Pricing in native currency
International coverage will be available on Apple iOS and Android devices, and online at NBCSportsGold.com. NBC Sports Gold is powered by Playmaker Media, NBC Sports Digital's technology service which provides end-to-end support for companies in need of best-in-class live streaming and VOD solutions.
NBC SPORTS GOLD "PRO MOTOCROSS PASS" 2017 SCHEDULE:
Date Event
Sat., May 20 Hangtown Motocross Classic
Sat., May 27 Glen Helen National
Sat., Jun. 3 Thunder Valley National
Sat., Jun. 17 High Point National
Sat., Jun. 24 Tennessee National
Sat., Jul. 1 Red Bud National
Sat., Jul. 8 Southwick National
Sat., Jul. 22 Spring Creek National
Sat., Jul. 29 Washougal National
Sat., Aug. 12 Unadilla National
Sat., Aug. 19 Budds Creek National
Sat., Aug. 26 Ironman National
NBC SPORTS GOLD
NBC Sports Gold — NBC Sports Digital's direct-to-consumer live streaming product –launched in 2016 with a "Cycling Pass," which included the 2016 Tour de France, Vuelta a España, Monument Classics such as the Paris Robaix, and more. Earlier this month, NBC Sports Gold expanded its offerings to include a "Track and Field Pass," which offers access to more than 25 major events, and a "Rugby Pass," which includes access to every Aviva Premiership Rugby match from Round 19 through the 2016-17 season Final. Click here for more information.
Lucas Oil Pro Motocross Championship
The Lucas Oil Pro Motocross Championship, sanctioned by AMA Pro Racing, features the world's fastest outdoor motocross racers, racing aboard the best bikes each factory offers, on the roughest, toughest tracks in the world. The 12-rounds series begins at Hangtown in May and ends at Indiana's Ironman Raceway in August. It includes stops at the premier motocross racing facilities in America, with events in California, Colorado, Pennsylvania, Tennessee, Michigan, Massachusetts, Maryland, Minnesota, Washington, New York and Indiana. The pro riders race on Saturday afternoon, with competition divided into two classes: one for 250cc machines, and one for 450cc machines. The Lucas Oil Pro Motocross Championship is managed by MX Sports Pro Racing, the industry leader in off-road power sports event production. The series is televised on NBC, NBCSN and MAVTV and streamed live on NBC Sports Live Extra. Series partners include Lucas Oil (series title sponsor), Red Bull, GoPro, WPS, Fly Racing, GEICO Motorcycle, Kawasaki, Motorcycle Superstore, FRAM, KTM, Oakley, FMF, Deltran Battery Tender, Pirelli, Suzuki, Husqvarna, Pivot Works, Vertex, ProGrip, EBC Brakes, KMC Wheels, MotionPro, VP Racing Fuels, Acerbis and Racer X. More information can be found at www.ProMotocross.com.
Source: MX Sports Pro Racing
---