Back to News
Sword Swallowers, Aerial, Performers and Stilt Walkers Mesmerized Supporters at Tilly's 10th Golf Tournament Benefiting Tilly's Life Center
May 2, 2017
Yesterday, several hundreds came together at the Mission Viejo Country Club in Southern California for TILLYS 10th Charity Golf Tournament to benefit Tilly's Life Center (TLC). This year's circus-themed golf tournament, auction and party attracted influential individuals from local businesses and action sports brands that enjoyed a day of golfing, games and performances by sword swallowers, aerial performers, stilt walkers, a python handler and contortionists.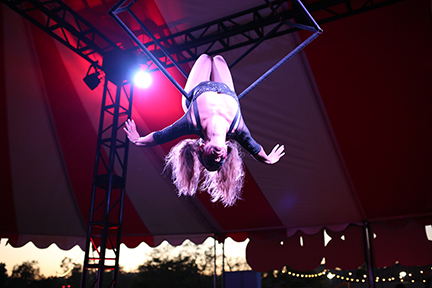 Aerial Performance and Circus Acts Performed by Firestorm Talent
"We are truly thankful for the on-going support of our sponsors, brands, executives, volunteers and friends who helped make this event so special," said the co-founder of TILLYS and founder of TLC, Tilly Levine. "With the funds raised, we can continue to empower teens across Southern California and beyond by teaching life skills that build confidence, inspire compassion, and encourage them to pursue their dreams."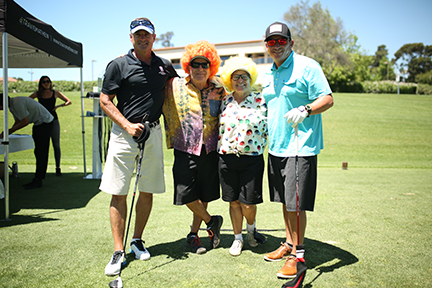 Tilly Levine's Foursome Included: (Left-to-right: Jerry Burch, Larry Levine, Tilly Levine and Jason De Soto)
In true circus style, it was a "come one, come all" event, attracting key sponsors, brands and executives such as: Volcom, Nike, Billabong, DC Shoes, Vans, Converse, Stance, Tavik, LRG and many more. The tournament began with a putting contest, followed by a shot gun start at 10:00 a.m. that sent golfers out in clown-inspired golf carts to compete on Mission Viejo Country Club's 18-hole course.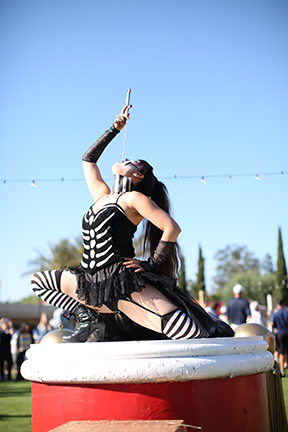 Golfers enjoyed hole activations featuring games, giveaways, drinks and contests such as closest to the pin and a unique chipping contest at night to break wine bottles for a chance to take home prizes.
This year's hole activations were sponsored by: Layrite, Volcom, Coyle Reproductions Inc., Dixon Golf, KX 93.5 FM, Vans, Trunk Club, Cuater by Travis Mathews, James Haunt and Wahoo's.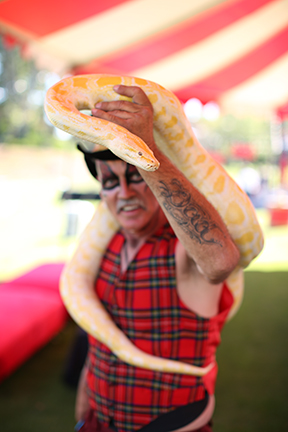 The LRG Team Took Home the Award for First-Place Net with a Score of 108
Following the tournament, attendees joined TILLYS and TLC under the big top for its circus-inspired after-party with appetizers, cocktails and dinner, a silent and live auction, speeches from two of TLC's teens /Tilly Levine and entertainment by Firestorm Talent.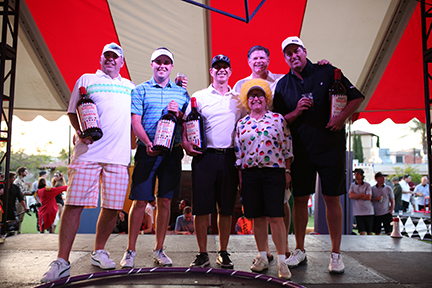 TILLYS' 10th Golf Tournament Gross Winners: BioLargo
The gross and net winners at TILLYS 10th Charity Golf Tournament include: LRG (First Net), BioLargo Inc. (First Gross), TLC (Second Net), James Litho (Second Gross), Electric Visual (Third Net) and Direct Edge Media (Third Gross).
TLC and TILLYS would like to thank all our sponsors, live and silent auction donors and supporters. The nonprofit and brand would also like to provide special thanks to its devoted staff, volunteers and brands for all of their support.
To stay connected with TLC and TILLYS, follow:
Facebook: facebook.com/tillyslifecenter and facebook.com/Tillys
LinkedIn: linkedin.com/tillyslifecenter and linkedin.com/Tillys
Instagram & Twitter: @tillyslifecenter and @tillys
About TLC
TLC is a youth-focused 501(c)(3) nonprofit aimed to empower teens by teaching life skills that build confidence, inspire compassion, and encourage them to pursue their dreams. Leveraging public schools and after school programs, TLC is a program based on experiential learning, with a curriculum based on self-discovery. The organization's goal for this year's golf event is to raise additional funding that will allow them to expand the reach of their program to empower teens in every part of Southern California and beyond.
About TILLYS
TILLYS is a leading destination specialty retailer of West Coast inspired apparel, footwear, and accessories with an extensive assortment of the most relevant and sought-after brands rooted in action sports, music, art, and fashion. TILLYS is headquartered in Southern California, and as of April 10, 2017 operates 222 stores and its website, www.tillys.com.
---