Back to News
Surf Promotions Manager
March 1, 2004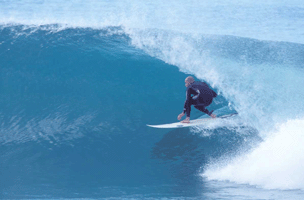 The Surf Promotions Manager –
who gets the job and what is it really about? As in most professional sports, the Surf Promotions Manager is someone who knows the sport, someone who has years of experience doing it – some people at a professional level – and someone who understand the dynamic of building and maintaining a winning team.
Chris Drummy, Surf Promotions Manager of Smith Optics is one of these people. He has been involved in competitive surfing from a young age, dominating competitive high school surfing and amateur contests, and then moving on to a successful professional surfing career. Now his career has evolved into team management, promotions, and retail support.
We caught up with Chris right in the middle of some busy times. He just got back from various events and tradeshows, and will soon be headed out to Australia for this year's first WCT stop.
So, it all started with competitive surfing?
It pretty much started with my family. My mom, Mary Lou Drummy was a professional women's surfer and she got me into. I started surfing when I was 8, and around the age of 12 I wanted to do contests – turned out to be kind of a late bloomer because I didn't start doing well competitively until I was about 15. Kind of got my but kicked those first three years. Then started winning events, and I also wouldn't stop by bugging my mom to take me to contests. Thankfully I always had full support from her. Ended up doing about 3 contests a month.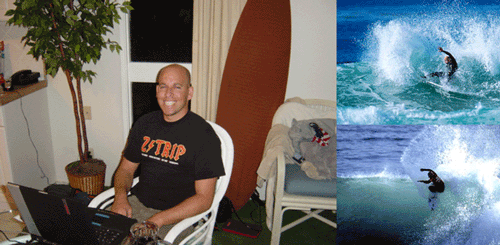 Just after high school I started competing on the PSAA (I was about 18), and that is also when I got my first shot in the magazine. It kinda took off from there. Surfed mostly US events and did pretty well.
Unfortunately when it really started heating up I got slowed down from a knee injury when I was 20 that ended up taking about two years to recover from. My knee was followed up by ankle injuries.
How did you do the ankles?
I came home from doing the WQS in Europe and went straight to Salt Creek. Got a wave, went off the top and ended up tearing ligaments in my ankle somehow. It got worse from there. When it rains it pours. I was at a club a week or so later, standing next to a stair case. Not on crutches, but not really walking very well. Some guy bumped me, lost my balance and wound up going down a stair case. I was lucky enough to pull off a landing. Stuck it on my good ankle…. and it rolled! I was totally hobbled and had to get carried out of the club by Andre the Giant. All together two ligaments in my left and one in my right.
Any silver lining to this story?
Somewhat... A few weeks later there was a 3 star WQS at Lowers and I entered. Two heavily taped ankles, a few pain killers, and some how made it through five heats and finished 17th. What makes this great though is the fact that I couldn't go right! Too much pain. I could only go left. And actually took out some heavy hitters.
What happened after the injuries cleared up?
That took a couple of years. By the time I was about 23 / 24 I really made some good progress. Finished in top 5 for several years. As I got older I got better.
That's good for the kids to know.
Yeah, it's really good for them to know.
The Cold Water is a perfect example of that. You made the finals last year.
I know... the Cold Water…its crazy too because at that time I was working my ass off in the other part of my career. I hadn't been surfing because of work and had about a week to get ready for the contest. It's weird. I live next to lowers and can't get a result, but take a week to get ready for the Cold Water and make the finals. I guess the place just suits the way I surf, and I have friends up there (guys like Skin Dog and Homer Hernard) that are really supportive. Which is rare. Those guys heckle everyone from the cliff.
When did you first start to look at promotions management as the next phase of your career?
That's an easy one. When I was about 20 and had a few injuries I had a little off-time from competitive surfing. At the time I was riding for Arnette and Mike Parsons was Team Manager at the time. I went in and helped him out with the amateur team. And also helped out with some of the other things he had going on. Mike has been great to me for many years, a lot of what I know and have learned I owe to him.
It was a really good opportunity to learn a different aspect of the industry, and I knew getting into team stuff would broaden my career. That was 10 years ago. Even if I had made the WCT only the top 5 were actually making money. When I was a kid it was all competition, and there was no other way to make a good living as a surfer, the way there is now.
Now I'm slowing down in competition and picking up steam in the next phase of my career. But the transition hasn't been over night. I've done a lot of team stuff for a lot of companies since that first experience working with Mike.
What companies?
I was helping out with Ocean & Earth team for about 10 years. The first year Von Zipper came out I worked with Mike Parson helping him to get the program going. Also helped Mike out with team stuff at the Realm.
Even the companies I did some sales work with I helped out with team stuff.
Sales?
About two years ago I got into doing sales while I was still competing full-time professionally. Parsons gave me a call because Gravis was looking for a team manager. After taking on the team manager position with Gravis, I talked with LV at Burton about taking on a sales territory and that's how it started.
Doing both was insane. I really learned a lot about how it all comes together. I was doing Gravis Footwear, Analog Clothing, and Creatures of Leisure. My friend Brandt Bacha was working with me. Much the same way I did with Mike.
All the companies I was doing sales for I was also doing a lot of west coast marketing. From San Diego to Santa Barbara. Doing sales was priceless. It was like getting paid to go to school, and I got to meet a lot of cool people in the process.
That's how I evolved into this position, and in the end is what brought me to Smith. Smith wanted to someone who really knows the market - understands team, marketing, and sales. That's why all together my job is Marketing, Promotions, and Retail Support. I'm here because I can help bring all that together from my experience as a professional, with team management, and sales.
Sounds like a fun ride!
Trust me; it was a lot of hard work. There were a lot of frustrating times, and you gotta pay your dues. One thing that did help to keep it smooth is I never had the "I'm a pro" attitude. Everyone is equal, that's how I do it and that's how I am.
What's the current routine?
Lately I've been traveling a lot. I started out with tradeshows: Surf Expo, and ASR. Then went to Winter X Games, then another tradeshow (SIA), and finished it up with the Donnie Solomon event.
But basic routine is staying in touch with all the athletes and making sure they are taken care of and have plenty of product. Set up meeting with them. Make sure contracts are dialed. Set up events. Plan road-trips. Work on cross-promotional marketing with other companies. Another thing I do is constantly look for holes or gaps in our program and figure out how to fill them and make our company & brand stronger.
Then there are things like the weekly marketing meeting with headquarters in Sun Valley, ID. We do those via satellite.
I'm pretty much a FT employee. I get in at 8am every day. But you know if it's good I'll be at Salt Creek with some of the team guys…but that's also taking care of business. It's the beauty of it.
What about the big picture?
Hands on. I take care of my office hours, work late to make sure everything is done, but being hands on is really important. Whether its visiting surf camps, or high school surf team, or hooking up with CJ Hobgood to surf Lowers. We're taking our program to the frontlines. It's that mentality that we're pushing.
Like going to surf with the kids on the team or some of the shops that we work with, it stokes me, them, and keeps me in touch with what's going on, and also brings credibility to the program. In terms of being the team manager, being out there in the water with our riders is great. Helps our up n' comers know they can come to me for advice. And can also being humbling if I happen to beat one of them in a heat.
Smith is a great company - a class act, and we have incredible product. I'm taking all of that to the frontlines.
What do you do with the team (finding new riders, traveling, etc…)?
For finding new riders at the amateur level, we keep an eye on the events. We get to a lot of the events, and most of the majors. Some kids worry about getting stickers, products, and making it happen now… it's not what they should worry about. If they focus on what really matters, surfing, other things will fall into place.
For professionals I'm always watching the events that I'm surfing etc… Brett Simpson is a perfect example. I saw him at an HSS event and noticed the raw talent. At that time he didn't have any sponsors going, but I talked to him after the contest and got him on my friends team (Allyco Bags).
I'm always trying to look at new riders from a geographic standpoint too. We try to build a team that's geographically diverse and figure out where the person can fit in. Sometimes it's too bad because the talent is focused in one spot.
I also help the athletes out with making travel plans, and if I'm at the event I try to help out in every aspect.
Also put together photo & video trips, work with the magazines, etc...
What do you find challenging about it?
I think the hardest challenge is doing something like letting an athlete go. Its tuff because there comes a time that business has to come before personal relationships.
What's been goin' on lately?
Going down to Australia for the WCT event. We just signed CJ Hobgood and we're really excited about that. I'm going to be there giving the team, CJ among them, support from the beach. And going early to set up autograph sessions and have a great time.
After the WCT we're going to drive down the coast to shoot photos & videos down and then pull up at the 5 star in Sydney. Its gonna be fun cuz there's a lot of surfing involved in this trip, but there will be work involved. Get to put on some trunks…
Hopefully some things aren't repeated.
Like what?
About two years ago I got chased in from the water by a 10 foot hammer head.
What?
I was filming a crew from the beach (up in Foster). Everyone came in, but the waves got good. I had to go out. Apparently the thing was up the beach while they were out.
I saw a lady running up the beach in a jumpsuit when it was 100 degrees. Right behind her was a lifeguard. All I could hear from the beach was shark. I thought it was under me, but it was about 20 yards. A wave came right away and I got it, surfed it like it was normal. Turns out the shark followed my exact track.
At the top of the point there were 2 guys taking photos from the water and 5 surfers. It was like a scene from Jaws. There ended up being two hammer heads…
Saw an Aussie guy in the parking lot. He claimed they were always there and he's been out there with them many times. I asked if he was going out, but it turned out he had things to do…
Can that be considered one of the biggest challenges? Getting chased by a hammer head?
When I get back from Australia we're doing a blitz from San Diego to Santa Cruz. Each stop we're going to grab a Smith team rider, go for a surf, and visit local shops. We love to give the shops extra support and its fun. Anyone who wants to get in on the action should contact their local shop.
What's the best part of the job?
By far I have one of the best jobs in the world. It's a hard job. There's a lot of work involved. To travel the world and do what I love is the best part of the job. I can do what I love to do, and making a living at it. Being a surfer and being in the surf industry is great.
Is there anything you can tell the readers about working or succeeding in the industry (a piece of advice)?
Getting into the industry at early age is good. Whatever part of the industry it might be – skate, snow, surf. Work hard. There's a shortage of athletes who have good careers as an athlete and move back into a roll like mine.
Getting to know people really helps. It's a small industry, and working with other companies, and people, working together to make it a strong industry as a whole is really important.
And be careful yelling at people in the water. You never know who's going to be your boss…
---