Back to News
Larry Edgar Dialed in to Rip it up at Woodward Copper
May 2, 2017
Today, Woodward Copper announced Larry Edgar, pro BMX rider, to join the list of pro coaches that have been scheduled to rip up the terrain for the 2017 Summer BMX Camp. Larry will team up with Adam Baker and other expert BMX coaches from June 18-24, to help campers sharpen their riding skills and tricks in an array of bike courses, including the Woodward Copper Barn, indoor bowl, mini ramp and street course. Watch a video of Larry riding Woodward Copper here: https://www.youtube.com/watch?v=RPMyE9_12uE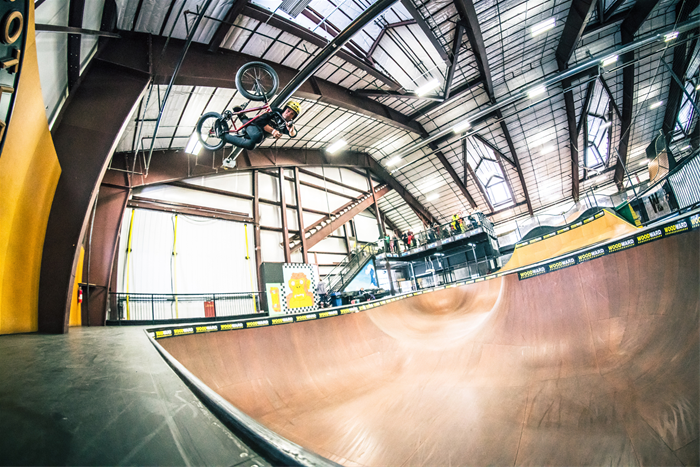 Edgar, pro BMX rider for Vans, Fly Bikes, Stay Strong BMX and Ride 100% recently won Simple Session 2017 and secured third in the 2017 Vans BMX Pro Cup. His freedom to be creative through riding has inspired those in the action sports industry and even more so, those of the younger generation.
A typical day during Woodward Copper's Summer BMX Camp will be spent riding with Larry and other BMX experts while navigating Woodward's growing campus. To help dial in tricks, campers can take their skills to the trampolines to learn air awareness before hitting the course on their bikes. Campers also get to pick additional fun things to do from trampolines to enhancing reactive ninja skills on the new WreckTangle ninja warrior obstacle course.
Campers can reserve their spot to shred with Larry Edgar this summer camp by clicking here: http://www.woodwardcopper.com/summer-camp/rates-and-dates/bmx-camp.html
For more information check out: http://www.woodwardcopper.com
Keep up with Woodward Copper at www.facebook.com/WoodwardCopper or @WoodwardCopper on Instagram and Twitter.
---