Back to News
Cortech Back As MotoAmerica Sponsor For 2017
May 8, 2017
COSTA MESA, CA - May 8, 2017 - MotoAmerica has announced that Cortech will continue as a supporting partner of MotoAmerica for the 2017 season and will again be the presenting sponsor of the Cortech Timing & Scoring system that is currently used at all 10 rounds of the MotoAmerica Series.

MotoAmerica Supersport Champion Garrett Gerloff proudly wears Cortech leathers.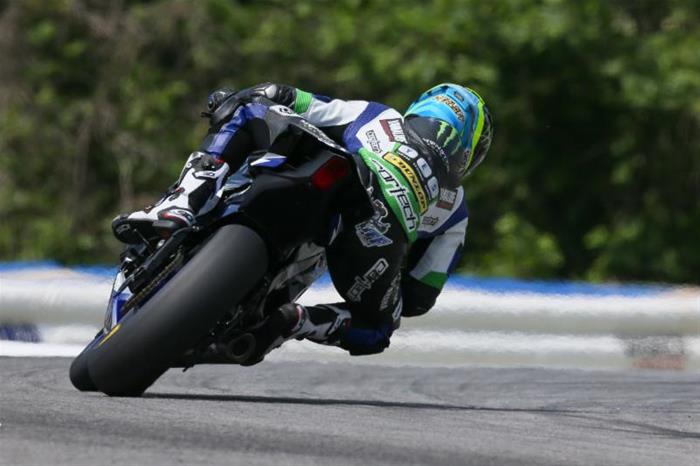 Photo by Brian J. Nelson
"Cortech is thrilled to once again be MotoAmerica's timing and scoring sponsoring partner," said Richard Kimes, Chief Marketing Officer, Director of Training. "Cortech is dedicated to all things 'performance,' and MotoAmerica road racing provides the dedicated, opinion-leader audience that loves motorcycling and that truly appreciates what Cortech gear is all about."
Based in Calabasas Hills, California, Cortech is Helmet House's performance gear brand for motorcycling and snowmobiling and offers a full array of performance products for riders, including apparel, boots, gloves, luggage, and snowmobile gear. Cortech also sponsors MotoAmerica Supersport Champion Garrett Gerloff and Superstock 1000 rider Jake Lewis, in addition to other riders. Both Gerloff and Lewis have already won races in the 2017 season, which resumes with round three at VIRginia International Raceway, May 12-14.
"Cortech has been a solid partner of ours since we started MotoAmerica," said MotoAmerica President Wayne Rainey. "They've been the sponsor of our Timing & Scoring system since the beginning so they are definitely a big part of what we do. It's also good to see the level of support they give to their riders in keeping them protected and safe."
About MotoAmerica
MotoAmerica is the new North American road racing series created in 2014. MotoAmerica is an affiliate of KRAVE Group LLC, a partnership that includes three-time 500cc World Champion, two-time AMA Superbike Champion, and AMA Hall of Famer Wayne Rainey, ex-racer and former manager of Team Roberts Chuck Aksland, motorsports marketing executive Terry Karges, and businessman Richard Varner. For more information on MotoAmerica, visit www.MotoAmerica.com. Also make sure to follow MotoAmerica on Twitter, Facebook and Instagram.

Source: MotoAmerica

---