BACK TO NEWS
Topical EDGE Partners With Rally Cycling
Topical EDGE is proud to announce partnerships with the Rally Cycling men's and women's teams, two of the most preeminent professional cycling teams in North America. Rally Cycling has consistently ranked as one of the top U.S. teams for both the men's and women's programs in addition to winning multiple National Championships.
Rally Cycling is coming off their most successful week in team history, with Evan Huffman winning Stages 4 and 7 in the Amgen Tour of California, the highest ranked cycling event in the United States. Rob Britton also spent time on the podium after earning the Most Courageous Rider Jersey and helping Rally Cycling animate the race from start to finish.
"Having such respected professional teams benefitting from Topical EDGE in their racing and training is rewarding for us as such a young company", said Jeff Byers of Topical EDGE. "Each of our relationships with the teams has started by word of mouth. One cyclist would try Topical EDGE and experience its advantages and then recommend it to other team members. This has allowed us to find the right partners where the riders are asking to use Topical EDGE."
Because of Topical EDGE's unique transdermal delivery method that allows lactic acid-buffering sodium bicarbonate to be delivered directly to the muscles through lotion, makes it convenient to apply pre-ride. "It's just part of my routine, like putting on sunscreen", said U.S. National Criterium Champion Brad Huff of Rally Cycling.
Working closely with these top cycling teams wouldn't be possible if it wasn't for Topical EDGE's commitment to clean sport. Topical EDGE is certified by Informed-Sport as World Anti-Doping Agency (WADA) compliant. Every batch is tested for banned substances under the Informed-Sport program where products undergo rigorous testing to provide the highest level of assurance that they are safe for athletes to use.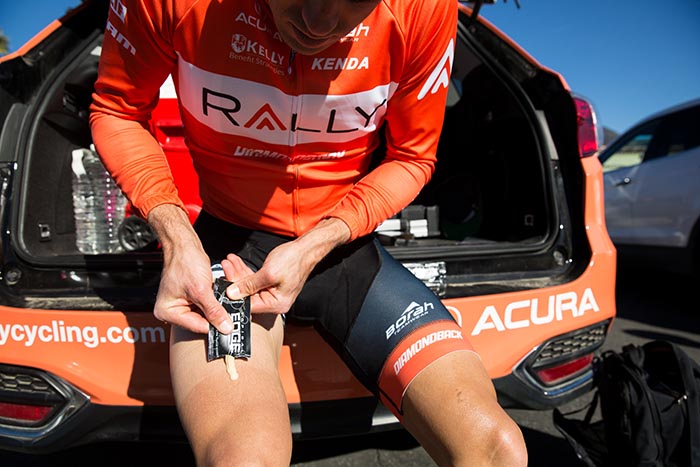 ---