BACK TO NEWS
Tilly's Co-Founder Delivers Empowering Speech at the 48th Graduation Ceremony for Saddleback College
Over the weekend, Tilly Levine, co-founder of Tillys clothing chain and founder of Tilly's Life Center (TLC) delivered an empowering commencement speech at the 48th Graduation Ceremony for Saddleback College in Mission Viejo, California. Levine took this time to assure the graduating class of 2017 that with a positive mindset anything is possible. Levine shared a few powerful life lessons that have helped shape her into the successful, influential and positive business woman and philanthropist she is today: 1. Your thoughts create your reality, 2. You can't control many things in life, but you can control how they affect you and 3. Shout your dreams.
"Repeat after me, I am awesome, I am accomplished, I am powerful, I am talented, I am smart, I am a gift and I am a graduate," said Tilly Levine, followed by the graduating class of 2017. Levine kicked-off her speech with an exercise performed regularly at Tilly's Life Center — creating and repeating positive affirmations to train the mind to think positively.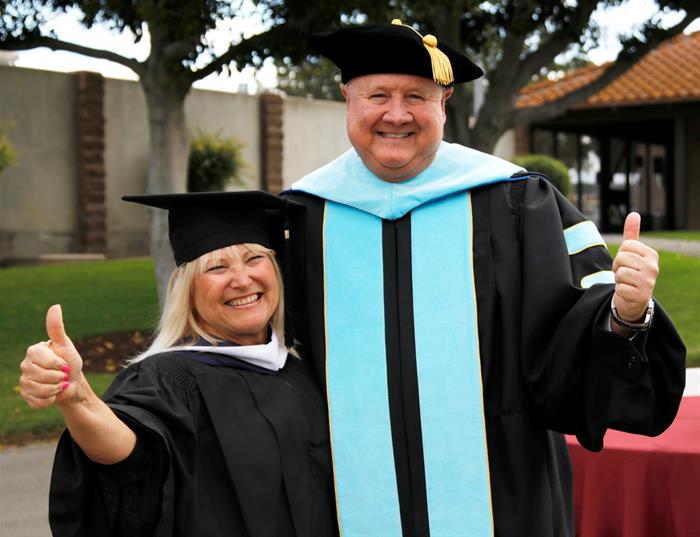 Tilly Levine, co-founder of Tillys and founder of Tilly's Life Center poses with Dr. Tod Burnett, president of Saddleback College and board member for Tilly's Life Center
It was a full circle moment for Levine and TLC, when they learned that Viviana Camacho, one of TLC's first-ever alumni from its pilot program at the Boys & Girls Clubs of Capistrano Valley, graduated this weekend from Saddleback College with an Associate in Arts in Sociology.
"TLC taught me how to be positive, especially in stressful and difficult times in high school. In college, the meditation practices that I learned from TLC helped me adapt and get through even harder times," said Viviana Camacho.
TLC is a youth-focused nonprofit empowerment program founded by Levine in 2012 with a mission "to inspire today's youth to reach their full potential as productive, kind, happy, and responsible individuals."
---