Back to News
Abraham Paskowitz Puts Heart and Expertise Into New Consultancy
June 7, 2017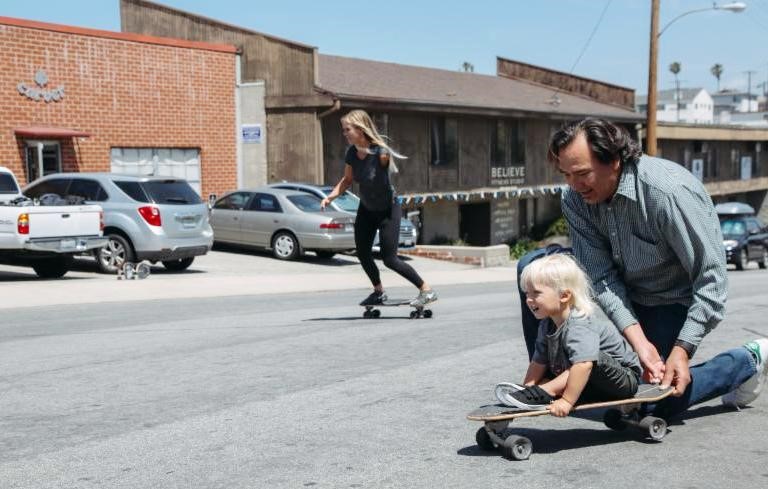 Abraham Paskowitz passing on the family stoke to his son.

The Paskowitz name is synonymous with surfing and surf culture. Any opportunity to share time and talk with a member of the Paskowitz family is time well spent. This is a quick conversation with Abraham Paskowitz about his current endeavor, Paskowitz Consulting, a sales agency and consultancy.
How do you scout out brands to do work for and what categories are a fit for your background?
I look for brands that have a passionate visionary goal and products that are revolutionary. A real person who believes in and stands behind their products Mission and Values. I look for an achiever who has the strength and commitment to uphold the brands community of consumers. I believe the strength of a company is founded on their principal followers.
My history with sales has been primarily apparel, eyewear, skate, surf, outdoor brands. I am open to working with a large range of products, as long as the brand is offering something unique and innovative.
With all the experience you have in the industry, is there one area of expertise that you've mastered or that you enjoy the most?
Sales. Some people are born salesman. What I truly enjoy is my global network of shops, distributors and reps. I have always found an emotional connection with the brands I represent. I feel my area of expertise is knowing what a shop needs, in what capacity can this shop thrive with the brands I am selling. I put myself in the shops shoes and use my 40+ years of sales experience to help a shop sell more product, create a long lasting following and be there to solve the many issues that arise from selling a brand in growth mode. I believe a brand should be able to sell itself or have a dedicated following prior to bringing it to retail.
Does your family upbringing bring any unique elements or approach to the way you do business?
Hell yes! Paskowitz is the oldest surf school in America. I started as a surf instructor when I was 12. My father has always been a major influence in the brands I represent. At 90 years old my dad got on a Carver because he believed one day a "Sidewalk Surfboard" would be available for surfers worldwide. My father was a very passionate surfer and believer in innovation. He was always using his wisdom to achieve greatness. His influence helped guide me to my artistic expression, which has always been sales. Doc Paskowitz said to me "Wisdom comes from intense expression and finding the strength to express one's self".
Abraham Paskowitz with his father, Dorian "DOC" Paskowitz.

What has been your greatest success through the time you've put in at Carver?
Building the brand, from just two sales reps when I started, to having 10 solid sales representatives across the USA. I am also very proud of the Global distribution I set up for Carver, selling in over 68 countries worldwide. I was honored that Carver received INC. Magazines fastest 5000 growing companies during my tenure, for four consecutive years.




---