Back to News
Chris Cote on the Boat Co Talk Show at the Boathouse!
June 21, 2017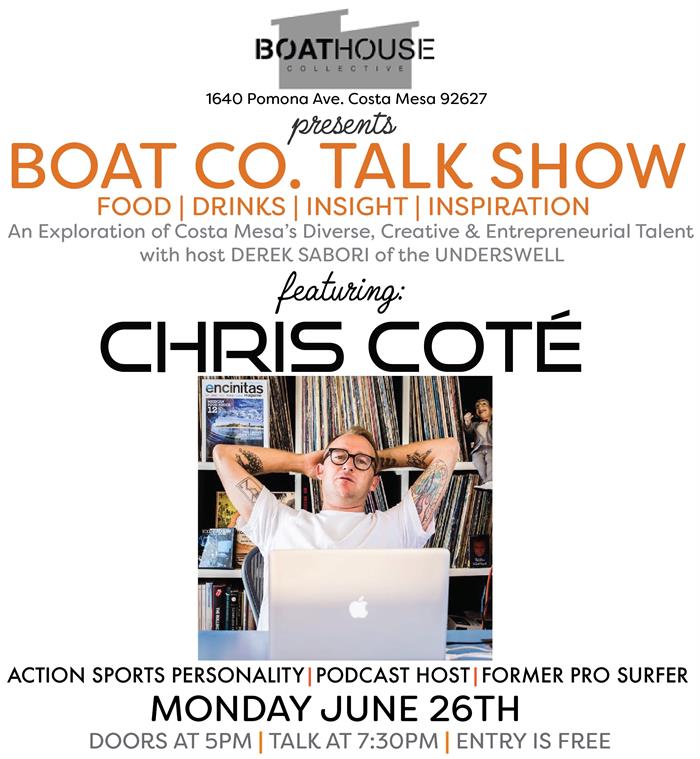 Join Boat Co. Talk Show Host Derek Sabori in a candid and personal under the hood discussion with the outstanding, and now iconic, multi-media action sports personality, Chris Cote.
In his younger years, Chris surfed professionally and worked in the surf industry as a team manager, marketing assistant, and more. In 1999 he aided in the start of TransWorld SURF Magazine and became Editor-In-Chief in 2005. Along the way, he's worked as a television host, commentator, DJ, and roadie, and he is now producing, writing, and consulting for various (and some of the biggest) media entities and brands in the industry, including FUEL TV, Vans, Red Bull, Volcom, World Surf League, Dew Tour, Grind TV, Yew Media, and many more.
A master of the conversation, and the call, Chris Cote's well of stories and relationships runs deep, and lessons from the journey abound. Don't miss this opportunity to hear the behind-the-scenes stories of building a unique career, being on a first name basis with some of action-sports' biggest names, and being one of the first to be called on to talk us through the events that we love.
About The Boat Co. Talk Show (BCTS):
The BCTS is a monthly exploration of the diverse, creative and entrepreneurial talent that resides right here in our backyard. The show's goal is to contribute to a better world, starting with our own community, by inspiring future leaders with stories of positivity, perseverance, and hard work. It's an hour that will entertain, uplift, challenge convention, provoke thought, and stir emotions.
With a focus on the personal journey, host Derek Sabori takes a living-room-chat approach to get the stories that matter, and to draw out the insights that can help young professionals and students of all ages as they craft their own career, and personal life, trajectories.
About Derek:
For nearly 20 years, and in multiple roles, Derek was a part of the team at the action sports leader Volcom, ending his career there as the VP of Global Sustainability. He's the founder of a story-driven content provider for students, young professionals, and aspiring entrepreneurs called The Underswell, and is the Co-Founder of the Men's yoga brand Kozm. Derek's an instructor at Orange Coast College, and works tirelessly to push sustainability and better business into the core of influential brands and companies. @theunderswell @derekasabori
Event Details:
Date: Monday, June 26th, 2017
Location: Boathouse Collective 1640 Pomona Ave, Costa Mesa, CA 92627
Schedule: Doors open at 5pm, dinner served from 5-7. Talk begins at 7:30pm.
Cost: Free. Food & beverages available for purchase.
More info available at www.boathousecollective.com.
---