BACK TO NEWS
The Sheckler Foundation Names it's Top Four "Be the Change" Finalists
Today, the Sheckler Foundation proudly names its top four finalists for its "Be the Change" initiative, a web-based program designed to support and give a voice to children, individuals and organizations in need. The top four finalists include: A Walk On Water, Books and Boards East Coast Tour, Fashion Honors Autism and Passport 2 Freedom. The finalist with the most votes by Tuesday, June 27, 2017 will receive support from Ryan Sheckler, the Sheckler Foundation, its SkateBOARD members and a $10,000 financial grant to help make its vision a reality. Meet the top four finalists and cast your vote here: shecklerfoundation.org/be-the-change.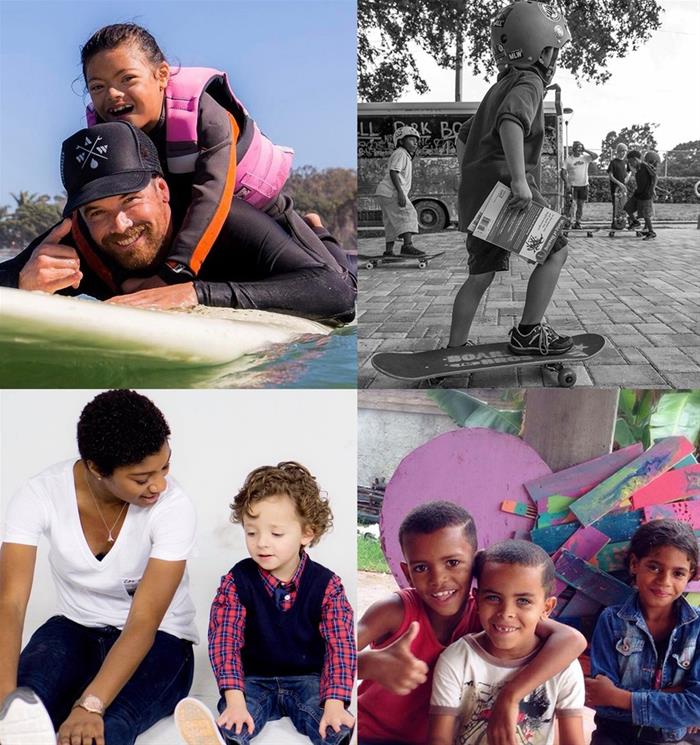 Top-to-bottom, Left-to-right:
A Walk On Water; Books and Boards East Coast Tour; Fashion Honors Autism; and Passport 2 Freedom
Learn more about the top four "Be the Change" finalists here:
A Walk On Water: A Walk On Water provides surf therapy to individuals with special needs by hosting events that celebrate and honor courageous kids, adults and their families. With every new event hosted 100 children with special needs receives access to much-needed therapy.
Books and Boards East Coast Tour: Boards for Bros and Bess the Book Bus have joined forces to give the combined gifts of reading and skateboarding to underserved youth in Tampa Bay, Florida.
Fashion Honors Autism: Fashion Honors Autism (FHA) is a three week one-on-one mentorship program with fashion models that concludes with a black-tie charity fashion show designed to promote confidence and self-sufficiency skills in local youth on the Autism spectrum.
Passport 2 Freedom: Passport 2 Freedom is a non-profit organization dedicated to spreading awareness about human trafficking and providing arts, sports and education to children living in the Favela Slums in Brazil.
The Sheckler Foundation is dedicated to the mission of educating, equipping and empowering its community to "Be the Change" and has helped numerous causes and individuals over the years, to include: The Port Gamble S'Klallam, Peach's Neet Feet, Ashley Wade Foundation, Hope for Carter, Gamerosity, Andrew Hale's Road to Recovery, Coping Mechanism-Parisite DIY Skatepark,Talk About Curing Autism (TACA) and Adventure Club.
The last day to vote is on June 27, 2017 and the "Be the Change" recipient will be announced on the following day, June 28, 2017. For additional information and to cast your vote, please visit shecklerfoundation.org, and follow @ShecklerFoundation on Instagram, Twitter, as well as on Facebook and LinkedIn.
About The Sheckler Foundation:
Founded in 2008, the Sheckler Foundation was created as an avenue for Ryan Sheckler, his family, friends and business associates to give back to the community and industry that they are so grateful for. Fueled by the desire to contribute to the many causes that directly benefit and enrich the lives of children and injured action sports athletes, the Sheckler Foundation will produce fundraising events, passion projects and web-based initiatives to raise capital and awareness. Our ultimate goal is to empower our community to "Be the Change!"
---