BACK TO NEWS
Industrial Profile
11/1/2005
Project Manager - IS Design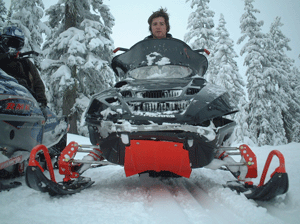 Interview with Karl Fuhre, Project Manager - IS Design
Pick up a Happy Magazine (http://www.happymag.com) to see the Industrial Profile in print.
Snow is fun. Fun to ride on, fun to turn yellow – is it fun to work in? Depends on what you're doing. Ask a liftie his or her thoughts on the way to work at 5am, ask a pro snowboarder, or ask a President of your local multi-national Snowsports Industry Company. Most likely all will have a very different opinion.
We decided to ask a Canadian. Canadians always seem to have a good perspective. One such person is Karl Fuhre. Karl is a big part of the team at IS Design, formerly known as Iris Snow, located in Vancouver BC. Whether its goggles, glasses, after-snow products, team riders, or trade shows, Karl usually has a hand in it.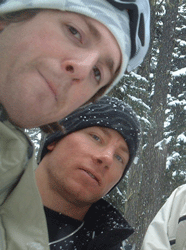 So how'd you end up at Iris?
Ah, I made my way out here when I was 18 with Kale Stephens. We drove out to Vancouver from Ontario and I've been here ever since. We ended up staying at this place we called the Chesterfield house in North Vancouver. It was a piece of crap party house filled with random people day and night. I think I slept behind a couch for like 3 months before I had enough seniority to score a bedroom. Those were some dirty dazed and confused times, that's where I met Devun Walsh, Rob Dow, Cashen and most of the people who were involved with Iris in the beginning.
At that time I just skated, snowboarded and partied. For work I did anything I could get my hands on. I had worked as a painter and then later worked assembling gift packages for a small company. That job was great; I worked there with Cashen for about a year. We could take cookies, crackers and nachos home from work so we'd have all this extra money to spend on important things like beer!
A couple years later Devun Walsh, Jack Wang and Rob Dow started Iris, now know as IS Design. The company started up right around '96-'97 season. About a year into it, my friend Jacob (who was working in the warehouse at the time) needed some help and offered me some part time work. That's awhile back now and I'm still here.
What were you doing then?
Putting goggles together, getting coffee, sweeping the warehouse, and whatever I could do to get a paycheck. Me and Jake were pretty creative when it came to busy work, we did whatever it took to fool everyone into thinking we were busy back then.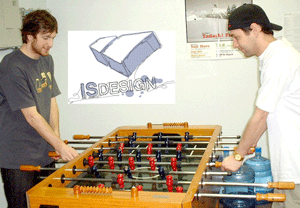 Today you're about 7 years deep with the company. What's your job like today?
I'm the guy who makes sure things get done, what do you call that? Project manager? I don't know, we don't have titles on our business cards over here so I couldn't tell you. Basically I manage all the company's Marketing & Promotions. I'm involved with everything you see, that is not product. Print ads, catalogs, wacky commercials, our website, in-store displays are some of the things I'm responsible for. I work with our Creative Director "Kenta Goto" on all of those things. It's my job to make sure everything is where it needs to be, and the job is done on time. I also take care of the snow, skate and surf teams.
What do you do with the team?
Make sure our riders are taken care of, they have the product they need when needed, handle photo-incentive. Obviously having started the company on the snow side of things our snowboard team is the largest of our teams and takes up a lot of my time. I work closely with Devun on all team matters, he scouts the talent and I work with them. It's a great system, who knows what's going on better when it comes to team riders than someone like Devun who's out there everyday pushing the progression of the sport. Our skate and surf teams are still at the early development stages but watch out.
Is there any travel involved with that part of the job?
Basically I'm in the office 5 days a week. I'd like to get out of the office to take part in all the fun I hear about on a daily basis, I'm working on that. Our riders do a good job of keeping an eye on what's going on out in the world.

So what's the big challenge?
Dealing with all the computer viruses that are sneakily attached to those special photo documents my colleagues send me daily. The reward usually outweighs the risk but why should there be a risk. Damn all you computer nerds out there sabotaging my special documents!

Besides that getting all our team riders together in one place at the same time for catalog/ad photo shoots is always a big challenge.
What's been goin' on lately?
Lately we're getting ready for the trade shows. Going to SIA this weekend, and then ISPO. Working on new images for the booth and trying to figure out how everything is going to get to the show on time. that's been keepin' me on my toes.
On the team side, Mikey Leblanc is back on the squad. We're happy to have'em on the team. A new product launch also keeps me busy. This year's signature series goggles and new sunglasses are ready to go.
The biggest thing we've been working on is the name change. That's right, effective January 26th 2004, Iris Snow became known as IS Design.
We see the change to IS Design as the next step in the evolution of our brand. With our push into the sunglass and clothing markets, this name transition will be beneficial in encompassing our entire product line. Our icon logo remains the foundation of our brand entity.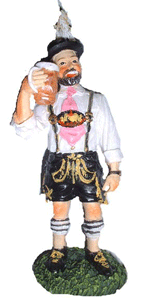 What's the best part of the job?
Working for a company & industry that allows me to deal with people that are into the same things that I'm into – skating & snowboarding. We're all young at heart; don't have to wear a tie. Or shave.
Do you look like Grizzly Adams?
Sometimes! No, today I'm looking like I can hit Wall Street, or get on Donald Trump's new show The Apprentice….You're fired!
Who me? I don't work for you?
You're fired anyway, right after this interview.
Is there anything you can tell the readers about working or succeeding in the industry (a piece of advice)?
OK, whatchya gonna wanna do...is eat a l-o-t of hot dogs, eat a lota pizza. It worked for me. Well, actually I'm not there yet so don't ask me. And if that doesn't work, it's the same with succeeding anywhere. Work hard but play harder.
---