Back to News
Agenda Festival Returns January 2018
August 8, 2017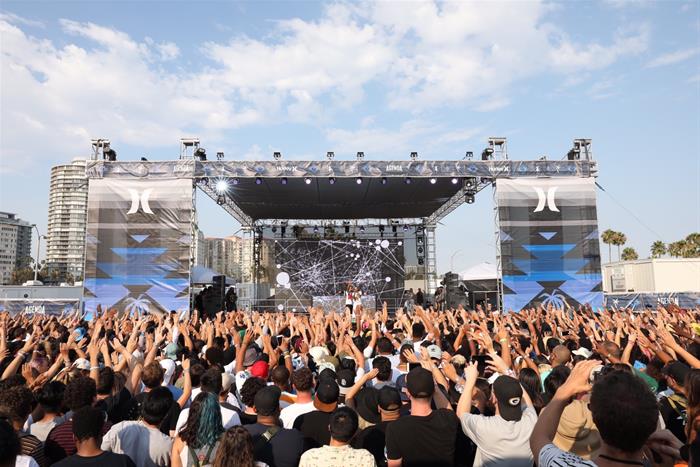 After 14 years of producing business-to-business trade shows, Agenda's summer show opened its doors to the public for the first time by welcoming over 15,000 attendees to the inaugural Agenda Festival at the Long Beach Convention & Entertainment Center. This year's event featured surprise performance by A$AP Rocky joining headliner Tyler, the Creator and over a dozen other artists. The milestone festival encompassed an immersive platform of over 500 pop-up shops, brand activations, panel discussions, skate contest, and more.
"We are living in an experience-based economy," explains Aaron Levant, Agenda founder, "Brands spend so much energy speaking to the consumers through digital marketing and we believe this is only creating white noise in the long term," says Levant. "We've cut out the noise by bringing brands and consumers together, giving the fans meaningful engagement they are seeking."
To celebrate its 15th anniversary in 2018, Agenda returns on January the 4th & 5th with its two-day trade show and Saturday, January 6th with the Agenda Festival. We expect the January edition of the festival to grow attendance by over 50%. The same entrepreneurial and independent spirit that Agenda was built on still resonates today. Agenda marks year fifteen with a strong commitment to building experience and nurturing creativity across the board in fashion, music, art, and food in an immersive festival fusing together our industry's top lifestyle, skate, surf, outdoor, contemporary, footwear, and street wear brands and retailers.
In addition to the January event, the Agenda Festival is set to return again to Long Beach in June 2018 for its Summer edition.
For more information on Agenda, visit www.AgendaShow.com / @AgendaShow For the Agenda Festival, visit AgendaFest.co/ @Agenda
About Agenda:
Agenda is the most diverse and creative lifestyle fashion trade show in the world. Since 2003, Agenda has emerged as the premier destination for brands and retailers to converge. Agenda is where passion becomes profit and the business of creativity is conducted in a truly authentic environment. What began as a satellite show with a small grouping of 30 brands has since transcended into the quintessential lifestyle fashion trade show. Agenda's portfolio now includes four shows, in two cities, expertly curated with over 1,000 brands and a recurring brand-building conference. Buyers, brands, investors, distributors, and media hail from around the globe, gathering at Agenda to build partnerships, participate in the community, and grow their businesses.
---