BACK TO NEWS
Dropout Club Intl. and Stance Team Up To Launch New Sock Collection
Today, Dropout Club Intl announced the launch of their first-ever collaboration with Stance, featuring a three artist capsule of socks. Released globally, Dropout Club Intl and Stance teamed up to design a sock and t-shirt combo that could be merchandised together highlighting three underground artists including a tattoo artist, multidisciplinary visionary and a memento mori.
Artists' designs from left to right: Nathan Kostechko, Jesse Brown and David Cook aka "Bonethrower"
Nathan Kostechko:
Southern California native and tattoo artist, Nathan Kostechko, brought his tattoo influence to the Stance threads with a unique burning palm tree design as the first capsule combo to the Dropout Club Intl and Stance collection. Kostechko was inspired to mold his own creativity, turning his art into something that is noticed both on and off the skin.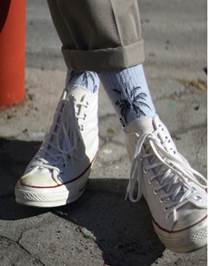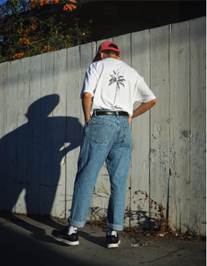 Jesse Brown:
Jesse Brown, Seattle based multidisciplinary visual artist added his unique touch to the Dropout Club Intl and Stance collection with an array of illustrations including roses, water droplets, top hats and palm trees to highlight his exploration for geometric forms, pattern, typography, shape and repetition.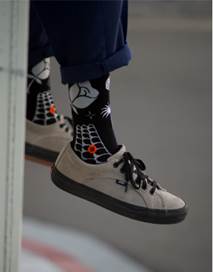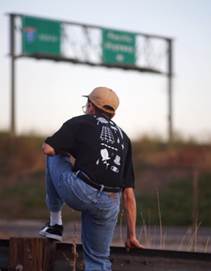 David Cook aka "Bonethrower"
Best known for his unique style and take on mysticism and memento mori, David Cook aka "Bonethrower" takes his immersive background in psychedelic art to the Dropout Club Intl and Stance capsule with his vibrant and mischievous design.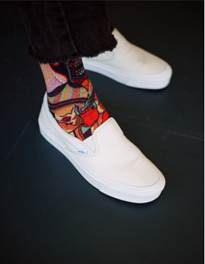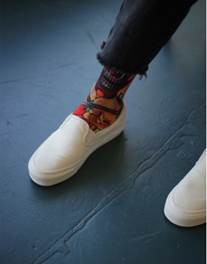 To spotlight the creative artistry and provide branding credit, each artist is labeled on the toes of their designed sock while Dropout Club Intl is labeled on the bottom. Each pair of socks is also packaged with artist and branding bios highlighting each of their unique backgrounds and origins of inspiration.
The Dropout Club Intl and Stance sock collection is a Zumiez exclusive for Back-To-School 2017 and will be released globally for the 2017 holiday season.
For more info on Dropout Club Intl, click here: http://www.dropoutclubintl.com/products
To shop the collection, click here: http://www.zumiez.com/catalogsearch/result/?q=dropout+stance&kw=dropout+stance
ABOUT DROPOUT CLUB INTL
Dropout Club Intl is a global artist collective highlighting the underground and emerging whose work is among the fringes. In order to create something special and exclusive, DCI releases limited production run of t-shirts every month, rotating between introducing new artists or new work from some of our favorites. Turn on, tune in, dropout.
---