Back to News
Photographer Adrienne D. Williams Presents: MS.RPRSNTD
August 16, 2017
A four day photo exhibition spotlighting the misrepresentation and underrepresentation of women of color in media and skateboarding culture, at Space 15 Twenty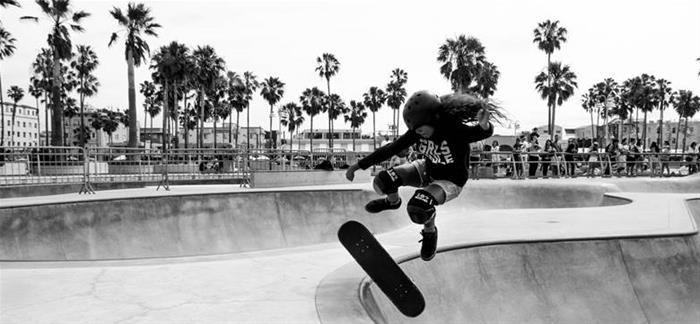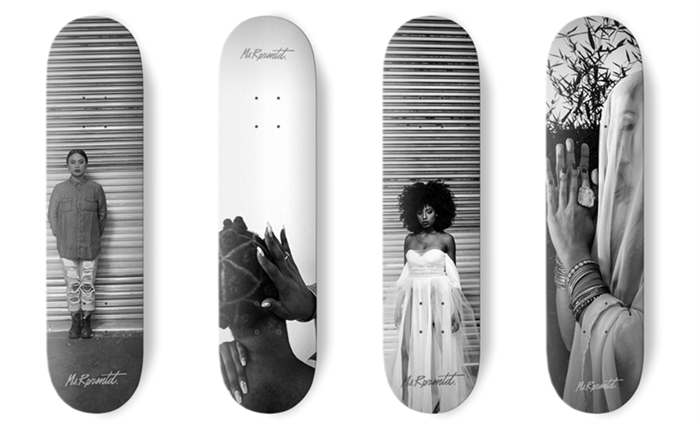 Photographer Adrienne D. Williams is proud to present MS.RPRSNTD, a four day photo exhibition seeking to shine light on the misrepresentation of women of color in media, and the underrepresentation of skater girls of color. The exhibit - featuring skateboard decks adorned with portraits of women from Black, Hispanic, Asian and Middle Eastern decent, alongside photographs of some of LA's most promising skater girls - will take place at Space 15 Twenty, Urban Outfitter's LA concept store, September 7th - 10th, 2017.
MS.RPRSNTD is a response to popular and skate culture. Skateboarding, at it's core, was created by and for white men, and although it has incrementally become a more accessible and diverse brotherhood, women and girls are still disproportionately underrepresented within the sport.
Williams states -
Growing up as a young black woman in the white suburbs of Metro Detroit, I always wanted to skate, but didn't know how to articulate why I felt out of place or unwelcome at the time. I took a step back, and instead participated in the culture by working in skate shops and photographing skaters. The purpose of MS.RPRSNTD, is to inspire young women to overcome that fear, ignore that little voice of doubt and do WHATEVER it is they want to do. Whether that's ride a skateboard, build a plane, be a Supreme Court Justice or a stay at home mom. This is why I've created images of beautiful and empowered women of color and I'm showcasing fearless girls who are out there skating every day.
When representation of women of color does happen in skate culture, it often results in hypersexualization, perpetuation of stereotypes, and further marginalization. Since the 1990s, streetwear industries have plastered provocative images of women on t-shirts, sweatshirts, posters, and skateboard decks. MS.RPRSNTD challenges these practices by eliciting conversations about proper representation, inclusion and intersectional feminism.
MS.RPRSNTD will consist of a gallery exhibition, skate tutorial taught by skater girls of color, and panel discussion featuring female thought leaders. All events will take place at Space 15 Twenty, 1520 N Cahuenga Blvd, Los Angeles, CA 90028.
Schedule of events and additional info below -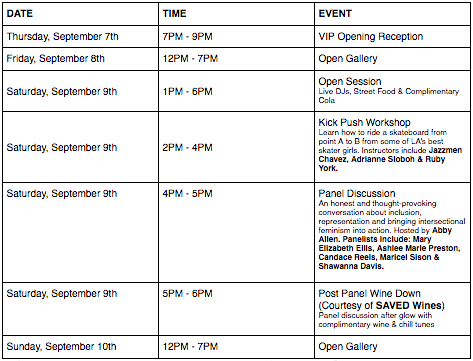 A portion of proceeds from art and apparel sales will benefit Inner-City Arts, a non-profit organization dedicated to engaging young people in the creative process in order to shape a society of creative, confident and collaborative individuals.
For more information, please visit www.msrprsntd.com.
About Adrienne D. Williams
Growing up in Washington D.C. in the 1980's Adrienne Williams has always had a camera in her hand. Being exported to Detroit as a tween, she found herself inspired by music, art and skate culture. With no space for black girls on half pipes in the early 90s, she developed an insatiable hunger to capture it all on film. Her subjects includes skate legends like Tony Alva & Natas Kaupas, and hip hop royalty NAS, Ghostface Killah and more. She has created content for brands like NIKE, Foot Locker, Live Nation, STÜSSY and more. She is sharing her narrative through her lens. Now based in LA, Adrienne has merged her extensive career in digital and experiential marketing with her social influence to create thoughtful content that has shaped brands and sparked cultural change through conversation.
---