Back to News
CEO's of Harley-Davidson and Polaris to Offer Keynote Addresses at AIMExpo
August 19, 2017
"The Future Starts Here" Kicks Off 2017 AIMExpo presented by Nationwide
- AIMExpo Welcome CEO's of Harley-Davidson and Polaris to Offer Keynote Addresses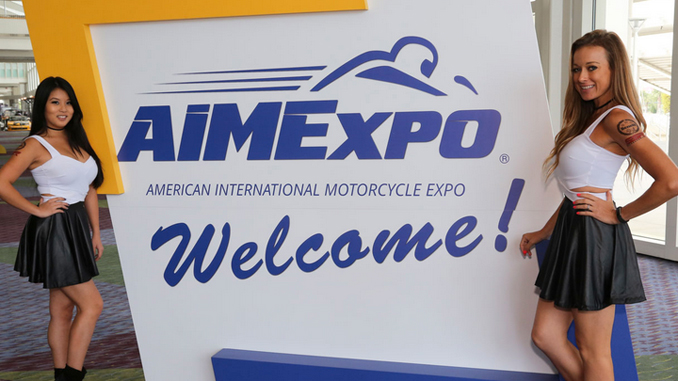 IRVINE, CA – August 18, 2017 – The future of the powersports industry lies with new riders, and how to develop these new riders is a tough yet intriguing challenge the industry must face together. To help address that challenge, AIMExpo presented by Nationwide (AIMExpo) invites dealers, media and all industry attendees to the show's opening program, where leaders of iconic American manufacturers Harley-Davidson Motor Company and Polaris Industries will share their ideas. The Motorcycle Industry Council (MIC) also will reveal a key initiative toward this goal.
AIMExpo presented by Nationwide will kickstart four days of industry business with "The Future Starts Here" on September 21 at 8:30 a.m. in the Greater Columbus Convention Center in Columbus, Ohio. Opening ceremonies will feature keynote speeches from Scott Wine, CEO of Polaris, and Matt Levatich, President and CEO of Harley-Davidson. The two industry leaders will explore the challenges and opportunities for motorcycling and powersports' future as we approach the millennium's third decade.
"The work must begin now to present a powersports riding opportunity that captures the emotion and imagination of the first ride experience to the next generations in America," said Tim Buche, CEO of the MIC, which produces AIMExpo. "The moment has arrived for everyone in this great industry to have a role in building the road to our future, and we're excited to welcome the leaders of legacy American brands Harley-Davidson and Polaris to America's premier show as we define the way forward."
AIMExpo presented by Nationwide is where all the industry's stakeholders – dealers, manufacturers, aftermarket and media – converge to share not only what products and services will be part of the business in 2018, but also to address shaping the state of the business beyond 2018 and into the future.
"Plotting the path ahead and addressing the real challenges of our collective business starts with coming together," said MIC Events VP and general manager Larry Little. "There will not be a better opportunity for the industry to meet face-to-face and discuss these issues than AIMExpo presented by Nationwide this September in Columbus."
The opening program begins at 8:30 a.m. and is open to all exhibitors and trade visitors with a trade credential. Doors to the show floor will open to trade visitors at 10:00 a.m. following the program.
Be sure to stay tuned to the AIMExpoUSA.com website and keep up to date on exciting news as it happens by visiting AIMExpo's social media pages. "Like" American International Motorcycle Expo presented by Nationwide on Facebook, and "Follow" on Twitter or Instagram: @AIMExpo.


About American International Motorcycle Expo presented by Nationwide
The American International Motorcycle Expo presented by Nationwide (www.aimexpousa.com) was created to serve as the catalyst to bring together industry, press, dealers and consumers in a single arena that creates a grand stage for motorcycling and powersports in the U.S. and North America, and delivers an efficient and energetic market-timed expo platform for B2B and B2C in the greater powersports industry. AIMExpo presented by Nationwide is the single most important event of its type in the North American market and has international impact within the motorcycling and powersports community. AIMExpo presented by Nationwide is produced by the Motorcycle Industry Council (www.mic.org).
About the Motorcycle Industry Council
The Motorcycle Industry Council exists to preserve, protect and promote motorcycling through government relations, communications and media relations, statistics and research, aftermarket programs, development of data communications standards, activities surrounding technical and regulatory issues, and the American International Motorcycle Expo presented by Nationwide. As a not-for-profit, national industry association, the MIC seeks to support motorcyclists by representing manufacturers, distributors, dealers and retailers of motorcycles, scooters, ATVs, ROVs, motorcycle/ATV/ROV parts, accessories and related goods and services, and members of allied trades such as insurance, finance and investment companies, media companies and consultants.
The MIC is headquartered in Irvine, California, with a government relations office in metropolitan Washington, D.C. First called the MIC in 1970, the organization has been in operation since 1914. Visit the MIC at www.mic.org.
About Nationwide
Nationwide, a Fortune 100 company based in Columbus, Ohio, is one of the largest and strongest diversified insurance and financial services organizations in the U.S. and is rated A+ by both A.M. Best and Standard & Poor's. The company provides a full range of insurance and financial services, including auto, commercial, homeowners, farm and life insurance; public and private sector retirement plans, annuities and mutual funds; banking and mortgages; excess surplus, specialty and surety; pet, motorcycle and boat insurance. For more information, visit www.nationwide.com.
Nationwide, Nationwide is on your side and the Nationwide N and Eagle are service marks of Nationwide Mutual Insurance Company.
Source: American International Motorcycle Expo
---