Back to News
Zeal Optics Releases Highly Anticipated Portal//RLs
October 3, 2017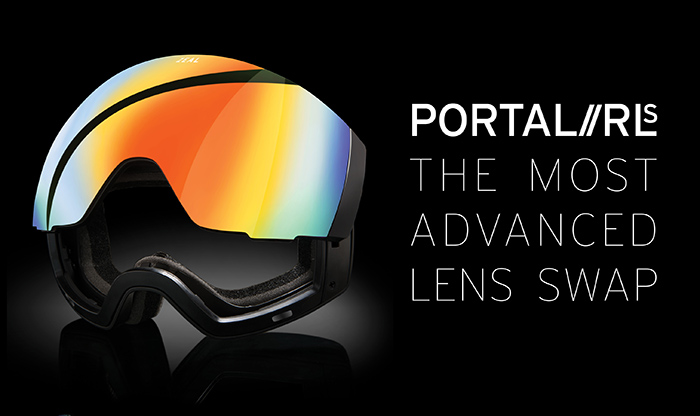 Addition of Nomad Goggle and Automatic+ GB lens Bring Unmatched Clarity to Collection

Zeal Optics is thrilled to announce that the acclaimed Portal//RLs is now available to consumers. The highly innovative frame turned heads at Outdoor Retailer and SIA Snow Show, earning a total of six 'Best of Show' awards including Digital Trends, The Manual, Freeskier Magazine, Ski Magazine, RANGE – Radical by Design and Gumption Gear Review.

Designed from the inside looking out, Portal//RLs is Zeal's first goggle to feature their new patent-pending Rail Lock System (RLs). This one-of-a-kind quick-change lens uses a dual sliding rail system that guides, slides and locks your lens into place in one swift motion for a safe and secure closure that also keeps out snow and ice. In addition, the rimless design of Portal offers unsurpassed peripheral vision for an elevated optical experience.

"After two years of intense R&D on the Portal's 'Rail Lock System', we're incredibly excited by the industry's response to this unique design," says Zeal's Mike Lewis. "We set out to create a system that solves the problems we saw with other interchange systems and highlights our lens technology, with amazing peripheral and non compromising optics."

Another new addition to Zeal's goggle fleet is the sleek, yet simple silhouette of Nomad. Enjoy Nomad's wide color palette that pay tribute to heritage outdoor brands. The midsize goggle sits comfortably on the face with its triple layer foam and offers boundless field-of-view

Pushing optical performance a step further, Nomad and Portal//RLs are compatible with ZEAL's new Automatic+ GB lens, a polarized lens that automatically adjusts tint from Grey to Rose in varying light conditions. The Automatic+ GB features lighting fast photochromic technology, transitioning from a grey tint 38% VLT to a rose tint 18% VLT within seconds.

Check out the official trailer for Portal//RLs HERE. For more information please visit www.zealoptics.com or the Portal//RLs page.




---