Back to News
Mr. Holland is a Badass. Chasing Your GOAT with Jim Holland.
October 16, 2017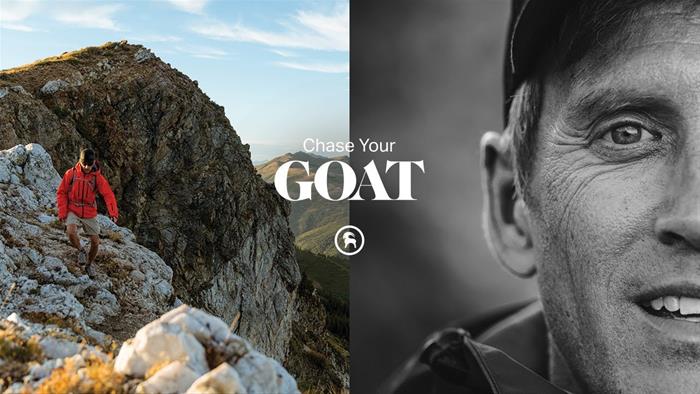 Jim Holland lived a very successful life as a competitive ski jumper attested to by his two Olympic appearances in 1992 and 1994. Not long after his last Olympic appearance Jim was on to something new. He and his friend John Bresee put their heads together and came up with an idea to sell gear for the outdoors online. So, in 1996 when the business world was first sinking into electronic communication and electronic commerce life-long friends Jim Holland and John Bresee founded Backcountry.com. They were well ahead of the game and turned Backcountry into one of the most important Ecommerce businesses in the outdoor and active lifestyle industries. Fast forward through two decades of success and we're here today to share Jim's story of Chasing Your GOAT – a campaign to highlight accomplishments of people in the Backcountry community.

Mr. Holland is a badass and you're about to learn why.

When fear is winning over courage and optimism where do you go mentally to work yourself out of that place? Can you tell us about the first and most powerful step to working into a positive mindset?

Well first off I should probably say that I'm human. Rest assured I cuss to myself now and then!
That said, I think that a positive mindset is like a habit that you create, something anybody can do. Every night before I fall asleep I recount five good things that happened in my day. You can learn to filter for the positive things in your life. Sometimes I have a passenger in my car and I get a green light and I say, "I always get green lights - look, there's another one!" Of course that's a joke, we all get the same amount of green lights and red lights (excepting maybe for the UPS driver). Some people pay more attention to the red lights, some pay more attention to the green lights. Notice all the green lights in your life and appreciate them.
Is that the same process you used when competing in the Olympics as you used in growing Backcountry, other life challenges, and now in your battle with Parkinson's disease?

Yes basically. At some point I managed to convince myself that I always had my best jumps when it really counted - in competition. And what I came to believe came to be true (because ski jumping is really 90% in your head) - that's how it works, I think. With respect to fear, that's obviously something that you confront as a ski jumper. We worked with some great sports psychologists and ultimately spent lots of time doing imagery or visualizing ourselves maintaining our composure and really stepping up in challenging situations - it's windy, the track is sketchy, the jumper in front of you just ate it, it's a big competition and all eyes are on you. If you can visualize a successful outcome (and you actually spend some focused time doing so), it's much more likely to play out the way you want.
What was it like to compete in the Olympics with your brothers? How much fun was that?!

I was the youngest of three brothers. My brother Mike was a jumper, Joe was a Nordic Combined skier. My brothers mentored me and encouraged me and helped to teach me the formula for succeeding as an athlete. I only overlapped in one Olympics with my brother Joe (Albertville). And yes, the Olympics were so much fun! There's such great energy at the Olympics and so many human moments. I love the sportsmanship and I love the way that everyone is pushing each other and inspiring each other to dig a little deeper, to reach a little higher… at the highest level.
You started Backcountry with John Bresee two years after your last Olympics. That's a quick transition from Olympic class athlete to desk jockey. What made you two decide to go for it?

Backcountry was a marriage of a few things that I get excited about; outdoor adventure and the gear that makes it possible, computers, technology, and ecommerce, and frankly the sheer challenge of making a business that's great, a business that really wows its customers. We talked a lot about creating "the best customer experience imaginable!" That challenge felt exciting.
The notion of being a "desk jockey" did not inspire me at all! John and I were always sort of anti-corporate. During my delayed entry into the real world I had a lot of time to think about what I did not want to do after I retired from skiing. You asked about fear earlier. One thing that I used to fear was that I might one day grow up to work in a dull office under fluorescent lights in a place where people lacked passion. I can feel it in my stomach now when I think about it! Backcountry, thankfully, is not that place! There are smart, passionate people here who are really engaged in what they do. Culturally there's a constant striving to be better. That atmosphere is energizing. Also, being in Utah, there are countless great adventures to be had when you're not exercising your brain at a desk. I have this huge amazing topo map of Utah at home. I stare at it often and contemplate where I might target next!
1996 was the beginning of the Internet, almost! What was the first business email you sent?
Ha. I have no idea. Probably some communication with John about a Usenet group or indexing with Alta Vista or Lycos.
10 years after your first sale of a Pieps 457 Opti-finder avalanche beacon a controlling stake in the business was sold to a third party. Why and what did that enable you to do with the business?

That enabled us (personally) to take a few chips off the table and diversify. Although we had reached a good level of success by 2007, every dollar of that achievement was tied up in inventory. Any wise financial advisor will tell you it makes good business sense to diversify at some point regardless of how confident you are in your business. John and I were able to lock in some degree of this success and in turn felt more comfortable continuing to experiment, innovate, and take risk. There were also some really smart people at Liberty Media and their e-commerce companies and we learned a lot from them.
Bringing us to present day, it's been 10 years since that (selling part of Backcountry.com) we're in the middle of your GOAT campaign. Where did the idea for this campaign come from and what's the overall point of it?
We hoped to connect with people and to inspire them by sharing some personal stories, struggles and victories as relates to the outdoors. The idea came from realizing that "Greatest of All Time" moments are deeply personal - your experience in the outdoors is unique to you. The campaign seeks to share a variety of these kinds of moments, so that are audience can reflect on what it means to them. It's not about A particular moment, but the feeling that keeps you coming back to the outdoors. This is what Backcountry is all about.
What made you decide to share your GOAT story? What do you hope people will take away from it?

I'm totally comfortable talking about this Parkinson's predicament I find myself in. It's not something that needs to be hidden. I find that I now connect with others who face health challenges and that's a positive. Not long ago I felt pretty invincible and I didn't really get what so many people around me were experiencing. We're all human, we're all mortal. Understanding what others experience builds compassion and that's probably a good thing. And I hope that I might somehow inspire people to get outside, seize the day, and dive into some great adventures!
>

---