Back to News
"A Walk on Water" Closes 2017 Surf Season in Malibu With Surf Therapy Day Event on Nov. 11
October 27, 2017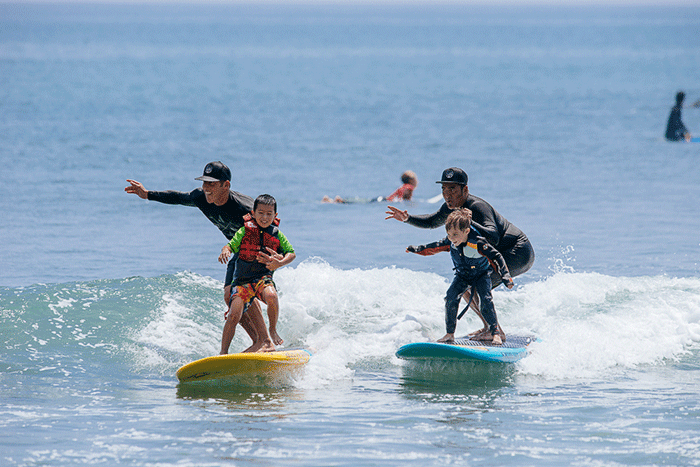 Special Needs Children and their Families Experience Unforgettable Day of Surf Therapy and Restoration at Surfrider Beach

A Walk on Water (AWOW), a California-based nonprofit surf therapy organization, returns to Surfrider Beach, Malibu on Saturday, November 11 to provide a day of surf therapy for children and adults with special needs, along with their families. From 9 a.m. - 3 p.m., athletes and guests are invited to gather at First Point (the break closest to Malibu Pier) to check in for a day at the beach that will include: surfing, relaxation, healthy food and beverages, arts and crafts, yoga, massage therapy and more. Each session (morning and afternoon) will conclude with an awards ceremony, recognizing participating athletes and their families.

"We are looking forward to returning to Malibu for a powerful day of healing and celebrating with the courageous kids, adults and families as they experience the restorative power of the ocean through surf therapy," said Steven Lippman, president, AWOW. "This year, we held more events than ever before, reaching more families than previously possible, and it has been spectacular to witness. From water safety to bystanders, everyone at the beach gets to be part of it, cheering on these incredible kids and adults, making the day special for the families. The Malibu surfing community continues to be a welcoming safe haven for our athletes and the perfect location to conclude our 2017 slate."

"We have been a part of AWOW for about five years and it has felt like a family from the very first time we attended an event. We were treated to a 'typical' day at the beach in an extraordinary way - it's a beautiful day of triumphs and positivity for families who are sometimes limited to what they CAN'T do because of our special needs kids. And, this is something we CAN do because of them," said Lisa Hutson, parent of AWOW Athlete Leo. "This amazing opportunity is given to us because of the selfless, giving spirit of hundreds of people volunteering and donating. The athletes feel like rockstars and the families get to see that, possibly for the first, and maybe the only time, for their child. It's awesome beyond words."

The November 11 Surf Therapy Day marks the fifth event AWOW has hosted in Malibu since 2014, and the final event in the organization's 2017 surf season. It is one of five communities on either the east coast (Montauk, N.Y.) or west coast (Malibu, Ventura, Santa Cruz, Huntington Beach) that welcomed and nurtured AWOW events in 2017.

Special guests and friends of the organization will include AWOW Ambassa-dog Haole the surfing Labrador Retriever who will be supporting on November 11, along with others. Past AWOW ambassadors and supporters have included celebrities Scott Caan ("Hawaii 5'0"), Pierce Brosnan ("James Bond" actor), surf legends Allen Sarlo and Flea; pro surfers Courtney Conlogue, Reef McInotsh, Pancho Sullivan, Keali'i Mamala, Sam Hammer, Shaun Tomson and many more.

AWOW exists largely because of amazing volunteers who return year after year as they find the entire event and experience priceless. For families and volunteers interested in getting involved with AWOW, go to www.awalkonwater.org or @awalkonwater on Instagram.

The AWOW Surf Therapy Day is sponsored by Paul Mitchell Systems and hosted by Surf Relik. AWOW would also like to thank Vintage Grocers, Humblemaker Coffee Co and Katin USA.


---