Back to News
Autonomy Skateboards Makes Official Debut at Exposure Skate, The World's Largest Women's Skateboarding Event
November 3, 2017
Today, Autonomy Skateboards announced it will make its official debut as a skater-owned and operated company at Exposure Skate 2017, the world's largest women's skateboarding event held in Encinitas, California November 3-4, 2017. Autonomy is a self-governing community for independence and freedom with a mission to build a community of educated, healthy and empowered youth through skateboarding.

"Autonomy Skateboards is dedicated to skateboarding, its lifestyle and the independent freedom found from every push on a skateboard," said Micaela Ramirez, co-founder of Autonomy Skateboards.

Ramirez has been giving back to the skateboarding community for more than 20 years as part of her passion to empower youth and positively change the mindset of society though skateboarding (in her efforts as founder of Poseiden Foundation). She says, "we're not just selling wood decks with graphics, we tell stories that educate and give back to our community – it's what separates us from the pack."

Autonomy Skateboard's first collection, The Progeny Project, pays tribute to three famous, autonomous women in history who pushed boundaries of what was considered the norm for women of their time. The collection is a deliberate attempt to remind and
inspire others that they too can overcome suppression, stereotypes and accomplish their goals.

The Progeny Project features women who rose up against all odds to do things their own way, to include (left-to-right): Anna Lee Fisher, Amelia Earhart and Celia Cruz

Autonomy Skateboards has a strong team roster of girls that are committed to skateboarding and have a passion for empowering and sharing the joys of skating with today's youth. Team riders, include: Eliana Sosco, Jessica Florencio, Rayssa Leal and Jazzmen Chavez.
"Revealing Autonomy at the Exposure event this weekend is a big deal to us, and we are looking forward to announcing the brand's first pro on Saturday, legendary Brazilian skater, Eliana Sosco. Come by and celebrate with us," said Ken Perkins, co-founder and janitor.

To learn more about Autonomy Skateboards and to shop the collection, please visit: https://autonomyskateboards.com/ and follow @autonomyskateboards on Instagram and Facebook.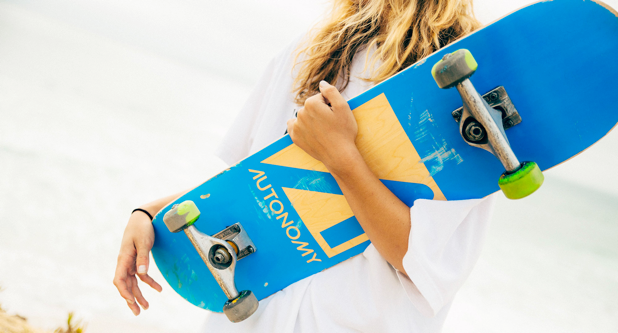 About Autonomy Skateboards
Autonomy is a skater-owned and operated company that is dedicated to skateboarding, its lifestyle and the independent freedom we find from every push of our board. Whether it's a solo curb session in front of our house or slaying the local spot with a group of friends, we hope to inspire others through our passion and authentic mission to help progress the pure fun of skateboarding and build a sense of community. Autonomy is a lasting reminder that it is all about the good times that come with getting there and being with friends no matter what your ability. To find out more, please visit: https://autonomyskateboards.com/



---