BACK TO NEWS
Industrial Profile
11/6/2017
The Story Behind Fallen Waterman's Foundation, with Mark Hanley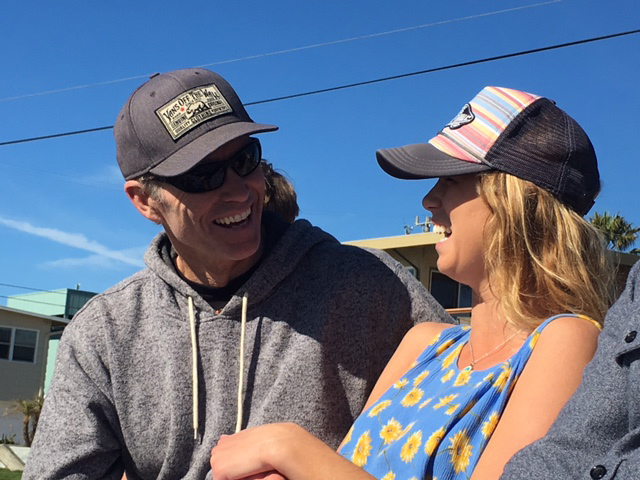 Mark Hanley, pictured above with his daughter.

"I believe I'm a better husband and father because I am doing something to help others." Mark Hanley on what his pursuit of the Fallen Waterman's Foundation does for him. Hanley, Rob Green, and Remington Hotchkiss came together to form The Fallen Waterman's Foundation, a charity with a mission to help the children of fallen watermen and women get college educations and counseling their parents would want them to have. The creation of the FWF has been much bigger undertaking than any of them realized it would be. The trio attempted to form the non-profit in 2007 but hit a number of roadblocks until a friend of Hanley's who's a partner at O'Melveny and Myers Law Firm in Los Angeles, presented it to the firm's Community Services group. O'Melveny and Myers did the application process pro bono and even paid the fees.
With the help of Marcos and Paz Mafia of Mafia Bags FWF launched its website in June 2017 and is now in Phase 1 now which is to raise revenue by building a FWF Family of Ambassadors. These volunteer ambassadors reach out to the members of their local "Waterman" community to pursue donations, create events and work with the companies and establishments in their area that profit from our passion for the water. Their other critical responsibility is to identify the families in their "Waterman" community that are in need of help due to the loss of one of the parents. Phase 2 will be to distribute the college grants to the children that qualify.
How did you, Rob Green, and Remington Hotchkiss come together to form Fallen Waterman's Foundation (FWF)?

We all share a passion for the water. The three of us make a good team since we have different interests when it comes to the activities that we use to define who is a "Waterman". We focus on participants of the Surfing, Diving, SUP, Sailboarding and Kiting communities. We feel a true "Waterman" or "Waterwoman" usually does more than one of these disciplines and that's what makes them deserving of such a title.
I focus more on surfing and open water swimming while Rob and Remington both surf, dive and stand up paddle as well. We've also pulled in some other advisers that give us credibility in some of the areas we don't know as well like Kiteboarding. Marcos Mafia was a professional kiteboarder for years before he started Mafia Bags. Mo Frietas is one of the Top Stand Up Paddlers in the world and is our Ambassador for the North Shore of Hawaii and the World Paddle Association.
Who is eligible to be a beneficiary of FWF and how do people find you and vice versa?
Many of us know a family in our "Waterman" community that has lost a Dad or Mom prematurely of cancer or a tragic accident and has young children still at home. The fallen parent did not have to have perished while pursuing their passion in the water. The FWF is open to not only professional or sponsored athletes but also to these people that had figured out way to make the ocean and water part of their lives.
I mentioned the FWF Ambassadors earlier. They are the conduit to these families since they are part of their local communities. Especially in the Surf Culture, you'll see an entirely different crowd at Fort Point than you do Fort Cronkhite, even though they are only a few miles apart. These are tight knit communities and the stories get shared in the parking lots and in the water. In fact, this is how we came upon the need for counseling as well. I was introduced to a 19 year old woman who had lost her Dad 3 years ago. He had taught her how to surf. When I told her she would be eligible for an FWF College Grant she quickly looked down and said, "I'm not really ready to go to college". It hit me like a ton of bricks that some of these kids probably need counseling before they'd be ready to pursue college. I've reached out to some local therapists who have offered their time for free.
The easiest way to apply for assistance is to go to the FWF Website's Application Tab.

It's pretty concise, we ask for the child's age, target years for college and include an area for the Family's story. We also ask that they include a picture of the paddle out ceremony. In our eyes, this is a pretty defining piece of whether someone was a true waterman or woman.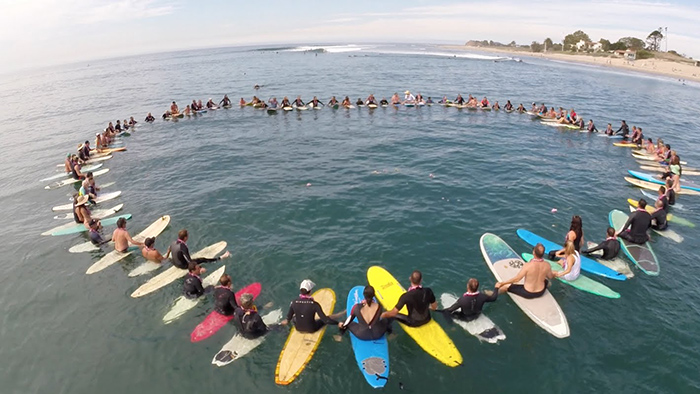 How does support from FWF to an individual or family play out over time? Is it a onetime donation of money, on-going support, or hybrid of sorts?
A lot of this will be dependent on how Phase 1 works out. Our goal is to cover the costs of a 4 year undergraduate college degree. Tuition is the cleanest piece to cover but we also want to help with room and board if possible. Since college isn't the answer for all kids the FWF will also support trade school or technical school programs as well.
Option #2 would be to help cover as much as we can, dependent on the number of kids that we are helping at one time. The challenge is that a 4 year degree at a state school can cost upwards of $100,000. Finances are always the biggest obstacle a family faces when they lose one of their leaders and college savings plans usually are the last thing to get funded.
What areas / regions of the country or world does FWF reach?
It's been amazing to see how the FWF Facebook page has evolved. I'd say that over 50% of our followers are from outside the United States. With that said, our Articles of Incorporation and our 501(c)(3) status apply to the U.S. so initially our focus is going to remain here.
In regard to regions of the United States. You would think because of the connection to surfing that all of our interest would come from the coastal states but what we're finding is that the diving, SUP, Sailboarding and Kiting enthusiasts are connecting from all over!
How do you manage working full-time, family & friends, and running a foundation?
In a way, they are all connected. I worked for Vans for 15 years. Doug Palladini, Vans Global President, has been one of my biggest moral supporters of this project since day one. My current company, Sunshine Commercial Construction, is owned by a surfer and is one of the FWF's first sponsors.
Friends have stepped up to become ambassadors or have connected me with others that could help our cause. In regard to Family. I believe I'm a better husband and father because I am doing something to help others. The FWF gives me more of a sense of purpose which, somehow, makes me feel more balanced. Does that make sense?
Where are you taking FWF from here?
Your last question about "How do you manage working full-time…" is a big part of where we are taking the FWF. None of us have the time or desire to just go out and try to drum up donations. Our goal is to create some ongoing sources of revenue through collaborations with the various companies that benefit from our passions for the sports they represent. For instance, Socksmith out of Santa Cruz, just committed to a 3 year sponsorship.
We also depend on our Ambassadors to make sure we have all our bases covered. Jon Berger, is our Ambassador for Huntington Beach. I met him through a friend at Vans. Jon has a full-time job but also shapes boards under his Bald Jonny's Longboards label. He glasses the FWF logo into every board he sells and gives the FWF $50 per board. Imagine if we did this type of collaboration with Rusty, Channel Islands or Firewire!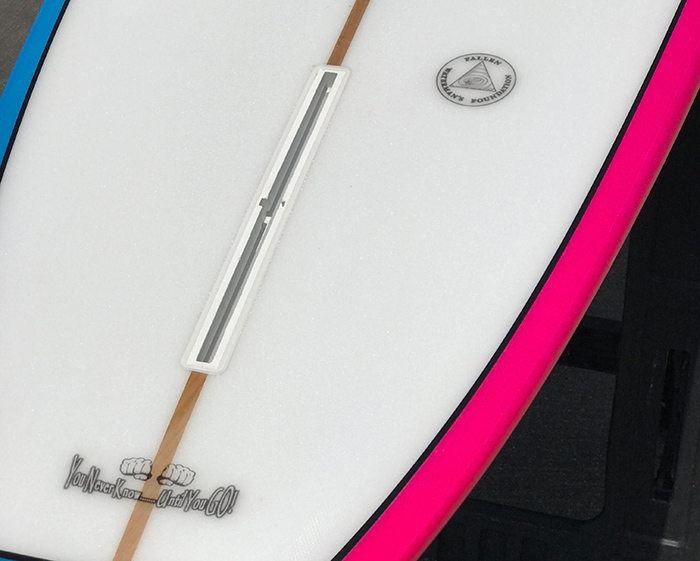 Our goal is to not build up a huge endowment and never spend any of our funds. None of us are taking a salary from the FWF. Surfrider Foundation tries to have 85% of their funds go toward their projects. Our goal is to have 95% of our revenue go to fund college grants. The ongoing sources of revenue will enable us to help future generations of children of fallen watermen.
What is the "Talk Story" section about on your Website?
This is the other vehicle we are developing to raise money. The "Talk Story"' tab is a place where people can go and tell their own rescue stories. Either as the rescuer or of being rescued. We also want them to include some information on the lives that were affected by the event good or bad. We want to compile these stories into a book and publish it and have the proceeds go to help pay for more college grants. In some cases, if a person is not confident in their writing ability, I'll have them tell me the story and I'll write it up and send it back to them for corrections until we get it right. An example of this is a story on our website that is about the attempted rescue which inspired me to start the FWF. It's called "Meant to Be There" and may be good inspiration for someone to write their own story.
At the end of the day, the FWF's ability to help the families of fallen watermen and women will be determined by the involvement of the members of our "Waterman" Community and the companies that profit from our passions for the water. Everyone can find out more by going to our website or they can reach out directly to me.
www.fallenwatermansfoundation.org



---