Back to News
The Writer Speaks; Adventure Writing With Shawnte Salabert
November 6, 2017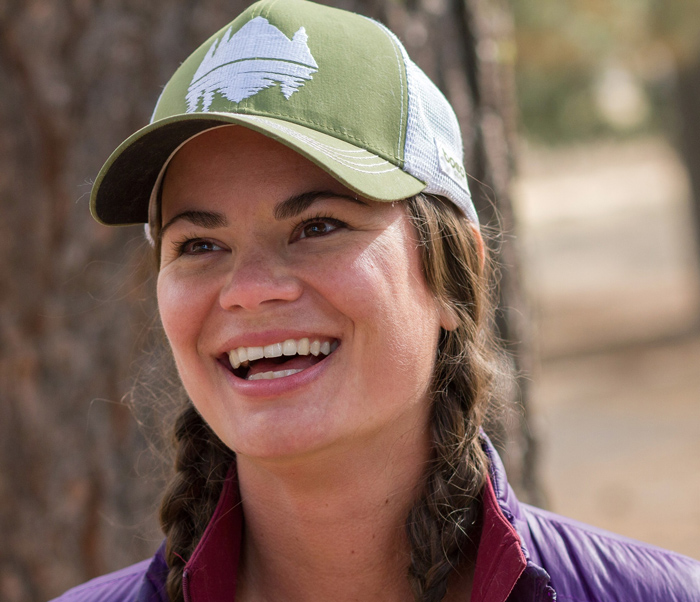 "I outran a lightning storm on Glen Pass, nearly high-fived a cinnamon black bear deep in Kings Canyon, ate lunch surrounded by naked people at Deep Creek Hot Springs, was spooked by a mountain lion near Donohue Pass, and choreographed an entire dance routine with a pal (and a willing stranger) at the trail's highest point, Forester Pass," says Shawnte Salabert on adventures of writing her book, Hiking The Pacific Crest Trail; Southern California. From music industry professional to outdoor and adventure writer in a very short time, her bylines from some of the outdoor industry's most notable publications demonstrate success. Now, the writer speaks.
What brought you to the west coast from Wisconsin?
My path from the south side of Milwaukee to the east side of Los Angeles hasn't been a straight shot by any means. While I was studying for my Master of Social Work at the University of Wisconsin-Madison, I traveled to Charleston, South Carolina to visit a friend over Thanksgiving. Even though I was on a very different career path at the time, I was also writing and the place knocked all of my creative senses into overdrive – within an hour or two after arriving, I knew I was going to move there. I spent five years in Charleston, first working as a clinical counselor at an alternative school, then as a music journalist and studio manager for a photographer. When the photographer decided to move across the country to Venice, I followed a hunch and headed north to New York, where I continued to write and worked for an arts organization. When they ran out of funding, the photographer happened to be visiting his agent in town and suggested I could head out to Los Angeles and work for them again if I'd like. I figured I'd maybe stay a year; it will be eleven in January.
How did you find your way into the music industry?
Complete happenstance, honestly! While I was still in New York, I was scrambling to find work. I answered a Craigslist ad one day and ended up helping a musician prepare for a European tour. She mentioned that her manager was looking for some help at his record label and offered to put us in touch once I moved. Her manager hired me the day I interviewed, and I ended up transferring over to his music licensing company a year and a half later. I actually worked there full-time until about a year and a half ago, when I decided to make the leap into freelance writing.
Going from music to writer about the outdoors is a big jump, some might say. Why and how did you make it?
Funny you should ask! Yes, it's a big jump, but writing has always been in my blood. I used to make magazines and "books" for my mom when I was a kid, wrote for various school papers, and was a staff writer for the Charleston City Paper, the local alt-weekly, when I lived down there. When I was young, I wanted to be a writer and a park ranger; in a way, this decision was me returning to my roots. The lightning bolt moment came one night when I was on a two-month sabbatical doing field work for my book in the Sierra. I was camping alone, looking up at the night sky, and it was almost like the cosmos knocked me on the head – Woman, take this opportunity and run! I always wanted to write for a living – and here I was with a book deal. How could I not look at this giant green light and go full speed ahead? Even though it wasn't the easiest thing to tell my boss when I returned, the decision was one of clarity and lightness.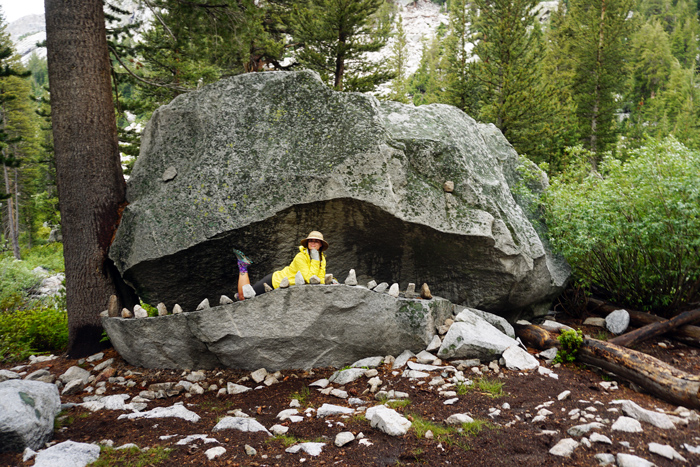 Shawnte Salabert being eaten by the LeConte Canyon rock monster. Clearly willing to go the extra mile.

You've written for some of the most well-known publications in the outdoor world, and at a very quick ascent. What would you contribute your success to?
Oh, I'm still such a newbie! This year has been such a wild ride, and I'm grateful for every second of it, even those moments when I found myself sobbing in a heap, wondering why the hell I exchanged a cozy income, paid-for health insurance, and daily human contact for the often lonely, unstable, and financially insecure world of freelance writing! Truth is, I made it my goal to give this dream everything I had. I knew I could write and I knew I could find stories to tell, so I had to figure out how to convince editors that despite the fact that most of my clips were music- or entertainment-related (and well over a decade old!), I had the chops to write pieces they would be proud to publish. I took a pitch technique class with incredible writer and editor Julie Schwietert Collazo, workshopped some big ideas, then crossed my fingers and blasted them into the universe. And then I did that again and again and again – in fact, I think I sent out something like 20 pitches last month alone! I still get up and dance every single time one is accepted – all of this is so brand new, and I can't take any of it for granted. The hustle is real.
When did you discover the Pacific Crest Trail and how has your relationship with it developed?
I've been in love with the outdoors since I first went to summer camp as a kid, but moving out west amplified my connection to the land in myriad ways. I've been fascinated with long-distance hiking for a long time, and was similarly intrigued by the Pacific Crest Trail, since it sort of wraps around Los Angeles via the "local" mountains. I felt a little jolt of excitement every time I hiked along a portion of it, and dreamed that one day I'd be able to do the whole thing. My relationship with the trail – and honestly, Southern California itself – has deepened since I started work on my book. Car culture is embedded into California life, so it's almost surprising how intimate it feels to walk through the land here. The trail feels like an old friend now – one I hope to visit for the rest of my life.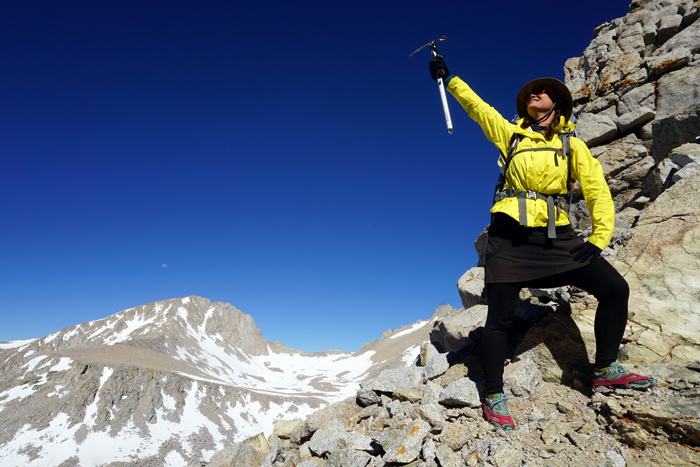 Shawnte Salabert getting to know the top of Forester Pass.

Your book, Hiking The Pacific Crest Trail; Southern California, is a very practical guide to the trail from the far southern tip in Campo, up to Tuolumne Meadows in ol' Yosemite. Why did you take this approach?
To be fair, the publisher dictated the overall approach to this book! However, I would have never signed on if they intended it to be a dry instructional manual. Instead, it feels very personal – my voice and experiences are absolutely reflected throughout the entire book. In fact, it just arrived in the mail the other day and flipping through felt like reliving the two years of my life I spent hiking, photographing, and writing the trail. I hope that when people pick up the book, they feel like I'm sort of their personal guide – that there's a real human in there who wants them to find their path along the trail.
Who's your publisher and was it difficult to find someone to back your idea?
It's a bit of a backward origin story compared to a lot of other writers' experiences; the publisher is Mountaineers Books, and here's the funny part – they found me. I was writing for a regional outdoor website called Modern Hiker at the time, and they reached out to its editor, Casey Schreiner, to ask if he'd like to submit a proposal to write this book. He ended up passing along my information (without telling me!) and I heard from them something like eight months later. It was very surreal, but I couldn't turn down the opportunity – I spent two weeks crafting a proposal, then chewed my nails for probably a month before I heard back with the good news.
Wildest adventure making the book?
Oh, there were so many! I outran a lightning storm on Glen Pass, nearly high-fived a cinnamon black bear deep in Kings Canyon, ate lunch surrounded by naked people at Deep Creek Hot Springs, was spooked by a mountain lion near Donohue Pass, and choreographed an entire dance routine with a pal (and a willing stranger) at the trail's highest point, Forester Pass. But perhaps my favorite adventure was an ill-advised trip through the Scodie Mountains with some friends in early January. I studied the forecast and assumed most of the recent snowfall would have melted to reasonable levels, but we quickly found out that nearly every north-facing slope was coated in deep, unblemished snow drifts. Still, we waded through (me, in trail runners, like an idiot), and slid around, singing Christmas songs to really get in the spirit. There's a short bit in the book about my friend's experience with a frozen wedgie during this trip, but what didn't make in is that when we reached our intended camp at McIver's Cabin the second night, the ground was a giant mud puddle, so we couldn't camp there. Instead, we had to hike back up to the trail and use our trowels to carve platforms in the snow for our tents. Luckily, we had some whiskey to get us through the night!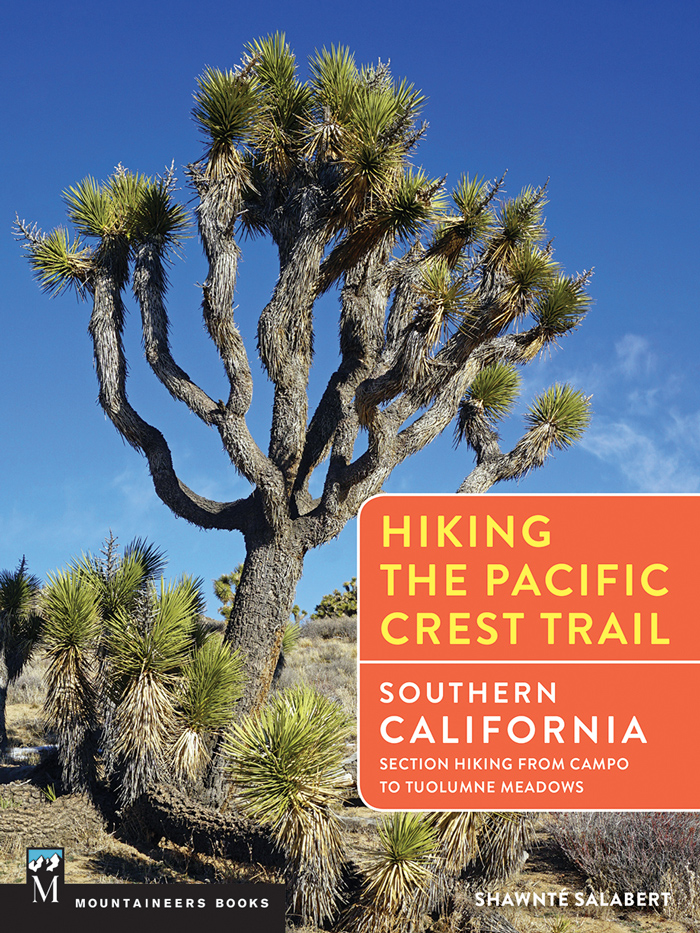 Shawnte's book is available for sale here.
---