Back to News
PUBLIC Snowboards Second Season of Product Hits Shops
November 14, 2017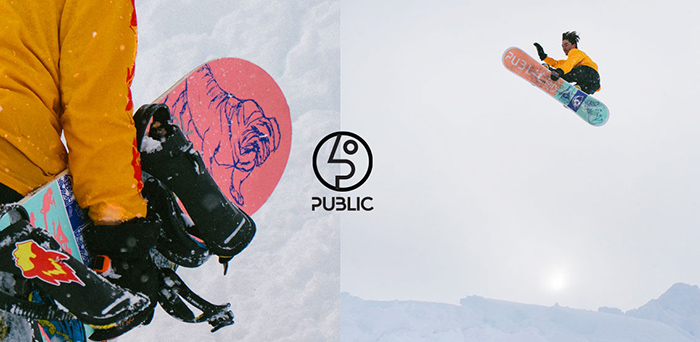 New Collection Inspired by Joe Sexton, Darrell Mathes and Chris Bradshaw
Last winter, the initial line of PUBLIC snowboards sold out quickly, and the new 2018 collection is now available in snowboard shops around the world. This year's line is made up of four models – the Joe Sexton THERAPY, Darrell Mathes DISPLAY and Chris Bradshaw OPINION as well as a team board called the GENERAL PUBLIC.
PUBLIC is proud to have the endorsement of Transworld SNOWboarding and Outside Magazine going into its second season. The DISPLAY won the BEST PARK BOARD in the prestigious 2018 Annual Transworld SNOWboarding Good Wood, the most comprehensive snowboard test on the planet. In addition, after extensive testing, Outside Magazine supported the DISPLAY board by including it in its winter 2018 Buyer's Guide that is on newsstands now.
"We were honored to be the first board company to offer Darrell Mathes a pro board, and hyped that it was recognized by both Outside and Transworld SNOWboarding!" said Founder Joe Sexton. "I can't wait to hear what everyone thinks of our new line."
Sexton started PUBLIC with the goal of staying connected to the kids, shops and general public that surrounds the sport he loves. As demand for PUBLIC has grown, Sexton has committed to bringing all operations in-house with the goal of creating the best products available for the snowboarding community.
For more on this rider-owned and operated brand, follow @thisispublic and look for updates on the site here: publicsnowboards.com.


---