Back to News
Applications Open for SDSI Springboard Business Accelerator Program
January 15, 2018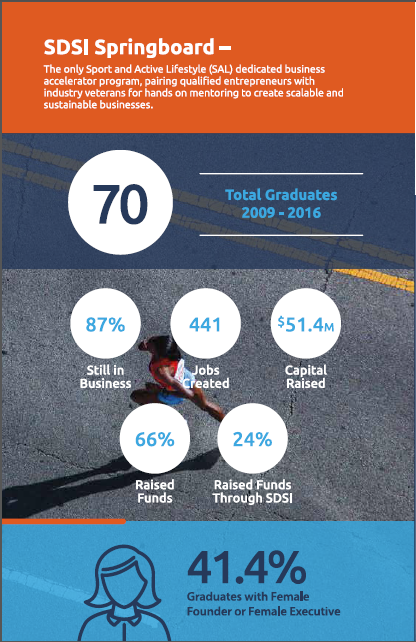 SoCal's only business accelerator dedicated to Sports and Active Lifestyle businesses
Learn more and apply http://www.sdsportinnovators.org/the-springboard-program/
San Diego Sport Innovators (SDSI), the non-profit business organization dedicated to supporting the growth of Sports and Active Lifestyle (SAL) businesses in San Diego, is now accepting applications for their highly successful business accelerator program SDSI Springboard, sponsored by K2 Insurance Services.
SDSI Springboard is a 20-week intensive, mentor driven program that pairs successful executives and seasoned entrepreneurs - from companies like Callaway Golf, Road Runner Sports, Active.com and Competitor Group – with growing companies to create and strengthen plans for growth and scale.
"Springboard continues to be a point of pride for SDSI," says Bill Walton, SDSI Executive Chairman. "In less than 10 years, we have helped to build 70 different companies, those companies have raised more than $50 million in business-building capital and have created nearly 450 real jobs here in San Diego, all with the help of thousands of volunteer hours from top business executives in San Diego."
SDSI Springboard is open to SAL companies of all sizes who are facing significant milestones like: launching a new product, starting a new business, shifting their business model, preparing to raise capital or working through a significant growth phase.
"The SDSI Springboard program establishes San Diego as THE place to be if you want to grow your business in the sports and active lifestyle industry. I'm infinitely grateful for all I've learned- the program far exceeded my expectations." - Elizabeth Skwiot, Founder, Cirque-It Fitness
Those interested can apply for free at http://sdsportinnovators.org/springboard/ through Monday, February 12th. SDSI Membership is required upon acceptance into the program. To learn more about becoming a mentor, industry executives can contact Dana Rowley at [email protected].


---