BACK TO NEWS
Drop MFG Is Now Exclusively On a Direct To Consumer Path

Drop first launched out of the North-East in the late 90's as a snowboard glove and accessory company. Fast forward more than 20 years and meet the Drop MFG of today – an exclusively Direct-To-Consumer company that offers top quality product, using premium components such as Gore-Tex, at unbelievably low prices. Drop's Creative Director Chris Gougeon shares the story of modernizing the company.
How's the product line and product quality in this second incarnation of Drop?
The all-new product line up for Drop is a very concise collection of premium gear only, with six styles of gloves and mitts, two goggles, and a small assortment of beanies. The focus is on top quality features, design elements and durability – at an incredible value. Every piece is designed to be the best in its class with all premium everything…except the price.
All the gloves feature high-end components including Gore-Tex® or Aquabloc® inserts, Primaloft® insulation, genuine goatskin leathers, 3layer softshells, touchscreen compatibility and more.
The Traffic Goggle comes in two sizes (Medium & Large). They both feature a magnetic, interchangeable lens system, making swapping lenses easier than ever, and come with two lenses; one for bluebird and one for low light conditions. The lenses are spherical shaped for optimal peripheral vision, dual paned for anti-fog and feature a flash-mirror treatment to reduce glare and eye fatigue. Every feature you could want in a goggle.
How are you able to sell profitably at half of traditional retail, and maintain quality?
The premium quality is a result of our history in the space. The pricing model is the future of it. Our goal, as a brand, is to bring the end user the absolute highest quality product for the best price possible. Snowboarding and skiing has gotten too expensive and we don't think you should have to sacrifice quality or tech innovation for price. Especially when it comes to accessories. Our years of research and expertise in the market, as well as our long-standing relationships with our factories and technology partners, have allowed us to produce the highest standard of quality products and by selling them direct and bypassing many of the traditional markups, we can offer them at a better price.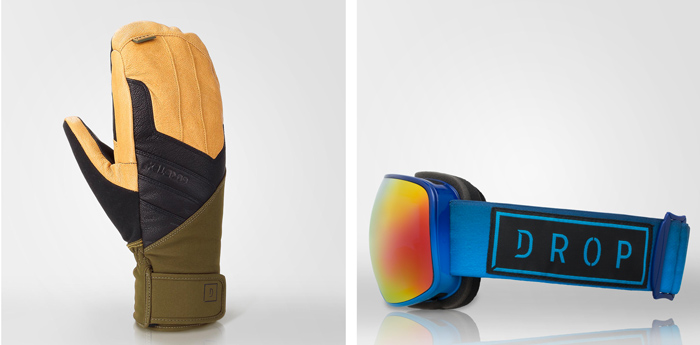 Pictured above, Tahoma Gore-Tex Mitt and Traffic Goggle

What are the marquee pieces in each product line with this new launch?
Very difficult to pick, but I guess the highest of the high-end are the Tahoma Gore-Tex® Mitt / Cascade Gore-Tex® Glove (basically glove/mitt counterparts to each other) and the Traffic Goggle.
The Tahoma/Cascade really have every premium feature you can throw into a glove. Literally $150 worth of features and style, and we're able to offer it at $77.
And with the Traffic Goggle, again, premium features without the premium price tag. As we like to say, 'They call it a $200+ goggle. We don't.' It's only $100 but it compares feature-to-feature with all the more expensive styles in the market.
Does Drop have any retail or Ecommerce partners or is everything direct to consumer?
All Drop gear is now direct, from us, to the consumer. With free shipping in the US, to boot.
What are you finding to be the most effective advertising channels so far?
Social media, without a doubt. The unlimited ways you can define your audience (geographically, age, gender, interests, income, and so on) through Facebook and Insta easily offer the most advertising value, and easiest way to make sure you're reaching the right people with your message.
What are the most notable differences between then and now?
Looking at 'then' as ten-or-so years ago, versus now, I would say the biggest difference is how comfortable consumers are with online shopping. Payment channels (like Paypal, etc.) are more secure than ever before, and the consumer knows that, if they're not happy with a product, the return process will be easy and it's a process they're quite familiar with. I also think consumers are more open to newer and smaller independent brands now than they used to be. Real innovation is coming from brands of all sizes and it's nice to see that Drop can have an impact in a market that was historically led by a few behemoth brands. People are looking for quality, performance and design and they are willing to look beyond the usual suspects to find it now.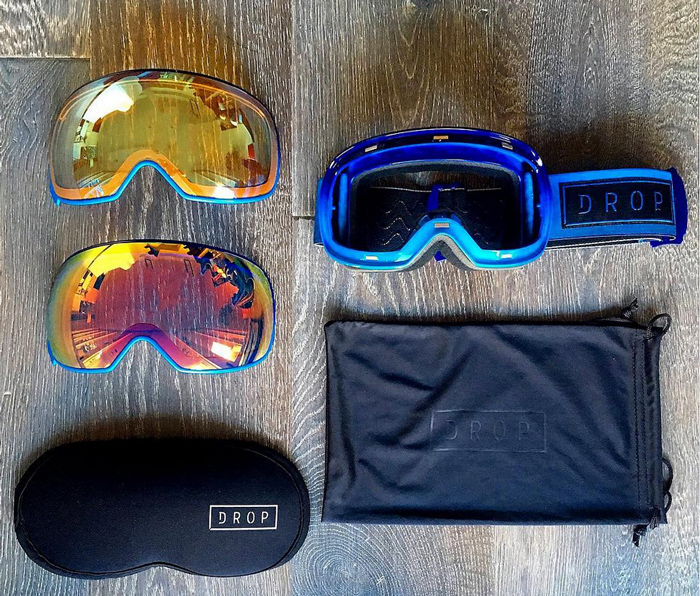 Traffic Goggle kit for $100

What do you think are the most important factors for Drop to succeed in this business model?
Word of mouth is key, whether digital (social media) or otherwise. Continuing to get nothing but top quality gear on people and making sure they're happy with the process and the product is number one. With that will come a following of loyal customers that will be happy to spread the word of Drop's 'Premium Gear without the Premium Price'.
What's most exciting for the brand and people of Drop?
It's extremely exciting to be able to offer people a new way to buy their snow accessories, and to be at the forefront of a new way of doing business within our industry. It's also exciting to be in complete control of our brand and its message, not only to the US market, but to an international audience.
Probably the most exciting thing for us inside of Drop is that this is just the beginning. There's a lot more to come.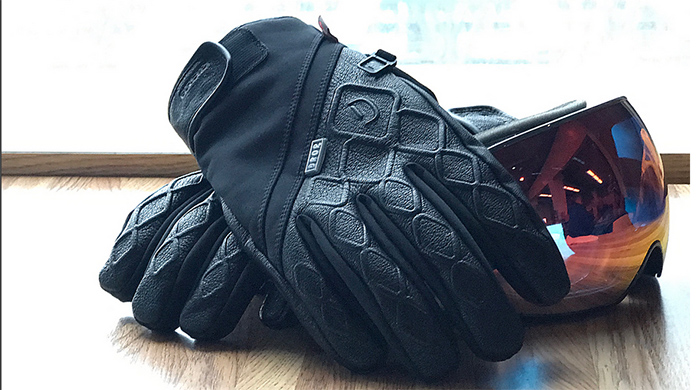 Drop's Web glove - made for resort riding.
Drop has a special offer for Malakye readers, 15% off site-wide. Follow this link and the discount will automatically be applied.
https://dropmfg.com/discount/MALAKYE15
---