Back to News
Launch Party For Girl is NOT a 4 Letter Word Collaboration With Dusters California and artist Priscilla Witte
January 17, 2018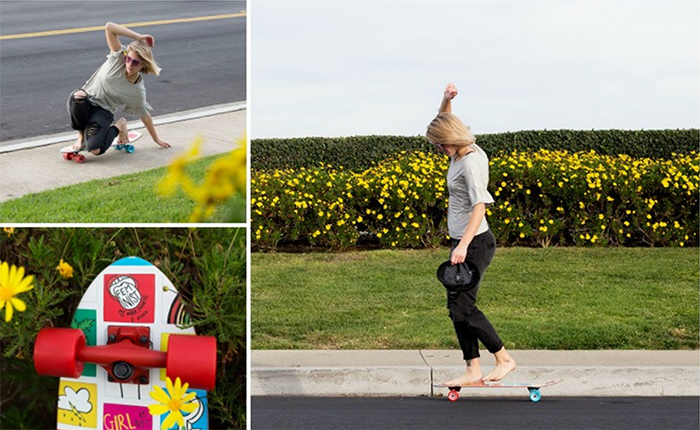 Photo collage by Alex Barnes

The Dusters California x GN4LW "GIRL POWER" cruiser skateboard kicks off this weekend with a launch party event at The Odells Shop (3906 Sunset Blvd. Los Angeles, CA), January 20, 2018 from 12-5 pm. The event is open to the public and features a meet and greet with pro skaters, female skate photo instillation by photographer Ian Logan, "It's Not About Pretty" book signing, music by DJ Palomar, food by The Back Cat LA, and , beverages by Lybations Cocktails, and Nica Craft Beer and the new GIRL POWER board will be available for purchase.
In a time when women have to work twice as hard for half the respect, Girl is NOT a 4 Letter Word collaborates with Dusters California and artist Priscilla Witte to give women a boost of GIRL POWER.

"Women are fighting for equality and respect in all industries," said Cindy Whitehead, GN4LW founder. "The GIRL POWER cruiser is one way I can tell the women of the world that I stand with them." Cindy hopes to empower and inspire women with messages such as, "FEMINIST, my other favorite F word," and "Be a Rebel. Take a Risk" scattered throughout the board's illustration.

"As an artist, I felt it was important for me to use symbols and words on this board to help remind female skaters to stay strong, conquer your fears, be yourself, follow what inspires you, and reach your goals," said Priscilla, who's known for her simplistic, quirky, and relatable style.

The GN4LW "GIRL POWER" cruiser skateboard is designed for both a women's mind and body, coming in at 8.25" wide, 31" long, with a 16.5" wheelbase. It includes Tensor trucks, Dusters 62mm 83A wheels, and 1/8" riser pads. It's pre-gripped with clear broadcast griptape and boasts a signed illustration of an iconic Cindy photo, which features her skating a halfpipe in the 70's with headphones on (listening to Joan Jett of course!).

Cindy has led the fight for women's equality in skateboarding ever since she conquered the male-dominated profession of pro-vert skateboarding in the 70's. To this day, she is the only female to be featured in the centerfold of a skateboarding magazine with a two-page article, her skateboard history has been taken into the Smithsonian's National Museum of American Sports History collections, and her TEDx talk has empowered women everywhere. Cindy was inducted into the Skateboarding Hall of Fame on May 13, 2016 with an introduction by legendary rocker, Joan Jett. Cindy is also the author of book, "It's Not About Pretty: A Book About Radical Skater Girls".

This is the 7th deck in a long line of Dusters and GN4LW collaborations where a portion of the sales benefit a 501c3 non-profit. This year's recipient is Bridge to Skate: a nonprofit that uses skateboarding to transform the lives of youth by creating dynamic new paths to self-confidence, personal empowerment, and responsibility for each other and their communities.
In support of the GN4LW x The Odells "GIRL POWER" event, one of Ian Logan's photography images of female skateboarders currently graces a billboard located at 2101 Sunset Blvd and was made possible by POP Outdoor Media Billboard Company.
Additional Information:
GirlisNOTa4LetterWord.com


---