Back to News
Guy Kawasaki Keynote at SDSI Conference on Future of Sport
January 23, 2018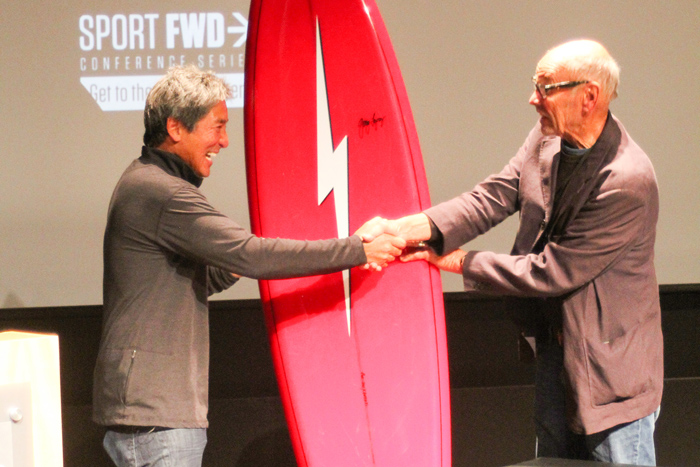 SDSI hosts thought provoking conference pushing the boundaries of the future of sports
San Diego Sport Innovators, in partnership with Attention Span Media, shattered the status quo of sports, presenting new perspectives on the future of sports at a content packed Sports Forward Conference at The Qualcomm Institute Innovation Space at Atkinson Hall at UC San Diego. The oversold event brought together more than 200 sports and active lifestyle business executives and community leaders.
"You guys ruled," said Liquid Force founder Tony Finn. "Really fun, informative and thought provoking! Plus, met some cool people and rekindled relationships with old friends!"
The panelists presented new perspectives on sport and how technologies, such as Biohacking, eSports and AR/VR, already are, or soon will, expand and enhance how the future of sports will unfold - from fan engagement to athlete training and everything in-between. Perhaps the most thought-provoking presentation was that from scientist Dr. Raymond McCauley of Singularity University on the potential application of biohacking and CRISPR technologies to create superhuman athletes and its ethical implications.
Key Note Speaker Guy Kawasaki once again inspired the crowd with his core message to young entrepreneurs: "Don't ask the experts, don't ask your customers, don't listen to the "bozo" advisors or naysayers, just build a product YOU want to use and meets YOUR standard." Amen, Guy!
For the surfers in the room, or those fond of surfing's heritage, a special moment was SDSI Executive Director Bob Rief's on stage presentation to Guy Kawasaki – a one of a kind "Pipeliner" surfboard, personalized and hand shaped by world renowned surfer and shaper Gerry Lopez.
See the full list of conference speakers and panelists and the post event coverage in The San Diego Union-Tribune.


---