BACK TO NEWS
Mahindra Unveils New Off-Road Vehicle: ROXOR
Mahindra introduces ROXOR, creating a new sub-category in the Side x Side powersports segment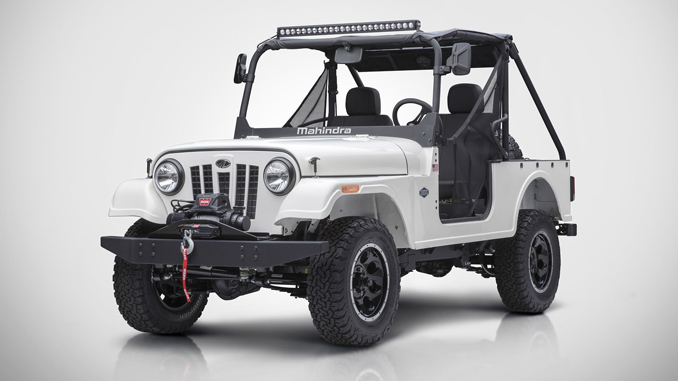 Mahindra's auto business began 70-years ago with a license to build Willys vehicles for the Asia region.

Mahindra launches new powersports dealer network to distribute ROXOR

AUBURN HILLS, MI – Automotive and powersports journalists from across the country, along with high-ranking federal and state officials, gathered March 3rd for the public unveiling of Mahindra's ROXOR—a new, off-road vehicle that signifies Mahindra's commitment to introducing their tough, no-nonsense automotive heritage to consumers in the North American market. ROXOR's design demonstrates that Mahindra intends to stay true to their roots of industrial-grade construction and durability.

"Mahindra's 70-year automotive history has been forged by making authentic, rugged, purpose-driven vehicles; ROXOR is the embodiment of this history…and our brand," Mahindra Managing Director Pawan Goenka stated.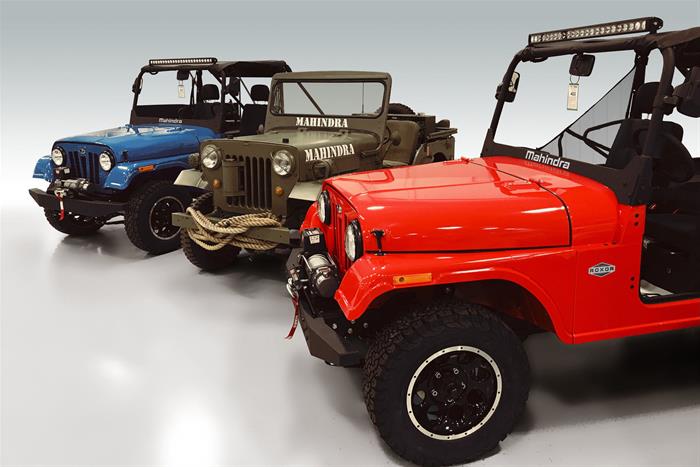 Unlike the plastic-bodied, belt-driven vehicles long accepted in the Side x Side category, ROXOR offers a simple, hard worn approach, featuring a steel body on a boxed steel frame, a heavy-duty Mahindra turbo-diesel 4 cylinder engine, and an automotive style 5-speed manual transmission.

"The ROXOR creates a new sub-segment in the Side x Side industry, and the response we're getting from our newly appointed dealer body has been really outstanding. We have a National Dealer Meeting scheduled on March 18-20th, in San Antonio, Texas, where we'll sit down and discuss the roll-out and future product offerings. We're approaching our goal of 300 '1st wave' dealers, and expect that we'll reach this target between now and the end of the show," said Rick Haas, Mahindra North America Automotive's President and CEO.

ROXOR was conceived, designed, engineered and is being produced in Metro Detroit by Mahindra Automotive North America (MANA). MANA is part of the $19B Mahindra Group and recently opened a new NA Automotive headquarters and manufacturing center in Auburn Hills, MI. MANA's new operation is the central component of the 400,000 sq. ft. (spanning 3 facilities) footprint Mahindra now has in Metro Detroit, and is the first OEM manufacturing/assembly facility to open operations in Southeast Michigan in over 25 years.

www.ROXORoffroad.com

Mahindra Automotive North America has, to date, created 300 new jobs and invested over $230 million into Southeast Michigan. As both ROXOR production and other programs ramp up, Mahindra anticipates creating an additional 400 jobs and investing another $600 million in the local economy by 2020.

About MANA
Mahindra Automotive North America (MANA) is Mahindra's North American automotive headquarters. In addition to leading all North America activity, MANA is a comprehensive automotive design, engineering and vehicle development center. Established in 2013 and located in Auburn Hills, Michigan, MANA's team of veteran executives, engineers and designers working with affiliate Mahindra automotive teams in India, Korea and Italy, is playing a key role in growing Mahindra's global automotive business.

Learn more about Mahindra Automotive North America at: www.mahindraautomotiveNA.com

About THE MAHINDRA GROUP
The Mahindra Group is a $19B federation of companies that enables people to rise through innovative mobility solutions, driving rural prosperity, enhancing urban living, nurturing new businesses and fostering communities. It enjoys a leadership position in utility vehicles, information technology, financial services and vacation ownership in India and is the world's largest tractor company, by volume. It also enjoys a strong presence in agribusiness, components, commercial vehicles, consulting services, energy, industrial equipment, logistics, real estate, steel, aerospace, defense and two wheelers. Headquartered in India, Mahindra employs more than 240,000 people across 100 countries.

Learn more about Mahindra Automotive North America at: www.mahindra.co





Source: Mahindra Automotive North America

---