BACK TO NEWS
VANS
VANS, Inc.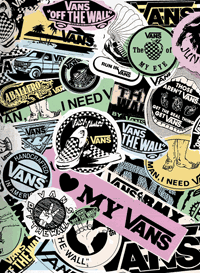 VANS was created in 1966 as the pioneer skate shoe company. Over the years the company has grown to employ more than 1800 people (2003 statistic from Hoover's Online) worldwide between its headquarters, overseas operations, and more than 140 Retail shops throughout the U.S.

With one of the largest workforces in the Action Sports industry, you can imagine finding and hiring great people is one of the Company's top priorities. And an ever-present task. In fact, so important Vans has rolled out the first management trainee program in the industry, adVANS. Where shining star college students are able to work within 6 departments at Vans: Retail Operations, Design and Development, Merchandising, Marketing, Customer Service, and Sales

This Company Q&A provides you with information you should know when considering the company's job opportunities.
What are the first things you look for when a resume is submitted for your openings listed on Malakye, or from any other source?
There are several things we are looking for when reviewing resumes. Those areas include duration of employment, experience, responsibilities, level, and salary.
Understanding duration of employment (and reasons for short durations), from employer to employer is important. Next is applicable experience, for example if we have a product design position open, and our job requirements indicate five years of product design experience, then we're looking for candidates with that particular job history.
"Key Word" match is another consideration. We look for specific current or past responsibilities in a person's resume that match responsibilities of the position applied to.
Resume submissions should also be to positions at a comparable career level to job openings. If we're looking for a National Accounts Manager, then we're interested in candidates who have that level of experience.
Due to job titles and actual responsibilities varying from company to company, it helps us to know an individual's salary history.
Providing a relevant cover letter is also important. Occasionally we'll receive cover letters with a different company name referenced. So if you're going to submit a cover letter, here are a few key points to address:
Make sure it's directed to the right company.

Make it specific to the position applied to.

Make sure it contains: the position you're applying to, a synopsis of experience and how it fulfills the responsibilities and requirements of a position, and your resume backs it up.

Allow for your passion for our brand to come out.

It's a good time to share a brief story that shows affinity towards our brand, because that information is not usually reflected on the resume.
How important is it for a candidate applying to a design job to provide samples with application, or an easy way for you to view samples (i.e. – link to portfolio website)?
It is so important it's almost required. If samples are not provided in the first application, we call and ask for samples - for all design positions. The best format is electronic submission via PDF file.
What is your feeling about people who apply for jobs which they obviously don't qualify for? Or apply to multiple openings at once?
We'll start by sharing the fact that most resumes submitted to Vans openings are received by one person.
Applying to multiple positions is ok if the candidate is truly qualified for each one. For example, if someone has a very strong background in Sales and Marketing experience, then it's understandable why he or she applies to different openings at the same time.
We dislike when multiple applications from one person are received for multiple positions they're not qualified for. Sometimes we'll receive three consecutive applications from one person, for different openings, that don't match up.
Then there's the issue of submitting your resume several times to the same position. It really only takes one application to one position. We review all resumes for each position.
If you see another opening that's a match to your background, submit your resume and make reference to other openings you've applied to, and how this one could be a better fit.
Finally, it's best to read the posting, and adhere to any specific instructions included on how to submit a resume; specifically within Retail. If there's a specific email address indicated for resume submission, send your resume there.
How relevant are the responsibilities and requirements of your job descriptions? Does a person need to meet all, or almost all, of your specifics to be considered for an opening?
Candidates should really meet the majority of listed responsibilities and requirements. It's safe to make sure you have at least an 80% match.
Can you provide insight to key opportunities that exist in your company for experienced professionals?
With the recent acquisition by VF we expect that there will be a lot of opportunities for Vans as a brand to grow, and consequently opportunities for experienced professionals will continue to grow across all departments.
Is there opportunity for career advancement with Vans; within the corporate headquarters, and through Retail operations?
Yes. Opportunity to advance within a department and profession definitely exists. We consider candidates at all professional levels.
What about people who live out of the immediate area (i.e. – require relocation)?
Relocation is considered when the opportunity presents itself. We look at everyone; it doesn't matter if they're out of state. Our focus is the person's skill set, not location, however we prefer local candidates when possible.
What is the basic process you go through when job opportunities open up?
We post the position. Collect resumes. Review all of the resumes - and we do go through all of them.
The first step is a phone interview. Many people will be interviewed at this stage, and those that are successful are put in a "candidate pool". Then we'll determine who should come for an in-house interview. On average there will be two in-house interviews, and occasionally more depending on the type of position. Depending on level we'll bring in 3-8 people for first round in-house interviews. The entire process usually takes 3-5 weeks, but can take several months.
What can job seekers expect in interviews?
Our interview process tends to be casual as our environment is pretty casual and comfortable. First you'll meet with HR; we look for a cultural fit, team fit, company fit, and skill set to successfully perform the job. Then an interview with the hiring manager and possibly the team members within the specific department.
After the interviews are over a decision can be made the next day, or 2 months later. It really depends on the candidate pool. And the process can take longer than average because we're dealing with availability and travel schedules of the person in charge of a final decision.
In any case we always like to get back to interviewees, and keep them informed on where the process is. It's also ok for interviewees to follow up after an interview. Preferably via email, and we'll provide a quick answer as soon as possible.
What is the worst mistake someone can make, or has made, in an interview?
Preparation – not being prepared is a real bad start. It is highly recommended that you go visit one of our stores (if possible), and read up on our company before you come in. We have 160 stores in the U.S. If there's not a store nearby, go to our website vans.com.
What can job seekers do, in the short or long-term, to increase the chance of employment with your company?
Have and show passion for the brand.

That can go a long way.

You may only have a year of experience, but if you love Vans, or are really dedicated to one of the sports, or the industry, it's going to help.
Have a personality.

In addition to the proper skill set, we're looking for strong interpersonal and communication skills.

Treat every employee in the company with respect.
In the long-term:
If you're short on experience, go out and get the experience. Even though the experience might not be in the industry, do whatever it takes. Focus on professional development. If you're not too knowledgeable about the industry, learn it. Do your homework. Be able to walk into an interview and make reference to our athletes and events in addition to having developed a job skill set applicable to your profession.
What else would you like job seekers to know about your company?
What sets us apart from our competitors is our heritage. We are the pioneers in the action sports industry. If you want to work in a company that has talented people, a fun environment, and an outstanding balance of work, life, and fun, then this is the place.
Employees are treated well and our company is staffed with top-notch talent. There's opportunity for career and company growth. There are also great discounts and perks.
Day to day, what is it like working at your company?
This is a great place to work with great people - fun, exciting, challenging. Employees have a lot of pride in the product. When you walk around the halls, the majority of our employees are wearing our products. We are all proud to be a member of the "Vans Team"!
---