Back to News
adidas Skateboarding Reveals the Skate Copa Collection
April 30, 2018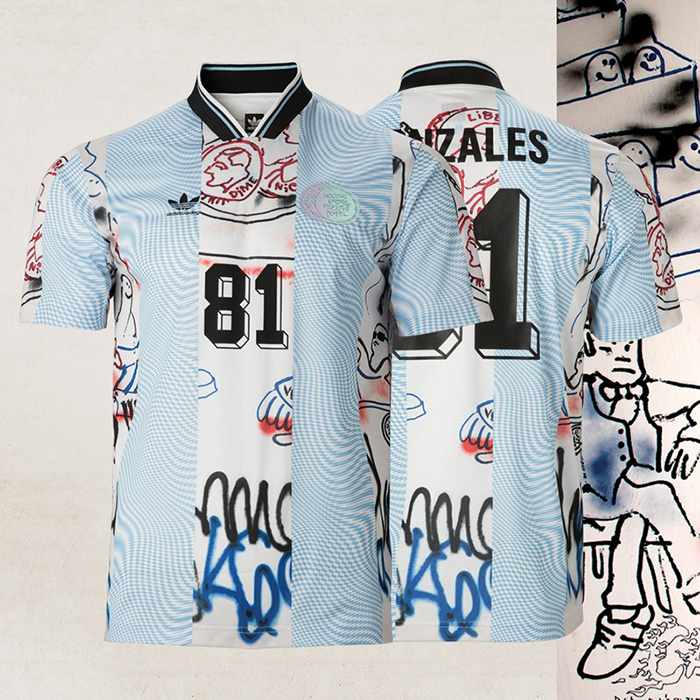 Jersey Pack Designed by Mark Gonzales and Members of the adidas Skateboarding Team


adidas Skateboarding and internal design hub, the Brooklyn Creator Farm, teamed up with icon and long-standing team rider, Mark Gonzales, to celebrate soccer heritage with the Skate Copa Collection. An eight-piece jersey pack co-created with Pro skateboarders Blondey McCoy, Na-kel Smith, Tyshawn Jones, Marc Johnson, Miles Silvas, Daewon Song and Rodrigo Teixeira. In honor of the brand's rich legacy within the sport, ahead of this summer's highly anticipated tournament, adidas reintroduces the soccer jersey to skateboarding with newfound inspiration and elevated aesthetics.

Gonz and the Brooklyn Creator Farm worked closely with each skater to reimagine and revitalize the traditional jersey, imbuing each piece with their signature style. Designed in varied silhouettes – from long and short-sleeve to crew and v-neck, each custom Climalite® jersey conveys a story through distinct features like oversized stripes, color-blocked necklines and embroidered accents. All eight jerseys feature a special 'Gonz' team badge and Trefoil logo on the chest, as well as the iconic three-stripes piping on the sleeves, and each rider's name and number printed on the back.

Throughout the design process, the team focused on soccer's ability to unite people globally. According to Mark Gonzales, "the theme that seemed to coincide with everybody was that they hated a negative vibe. I played with various phrases and one that stood out for us was 'Negitve Energy, Posetive Peopel', so I thought to do a design and put it on each of the jerseys." The Skate Copa Collection brings the juxtaposing worlds of soccer and skate together with a blend of unique elements that playfully references both cultures.

The Skate Copa Collection will be available at specialty adidas retailers worldwide and on the adidas Skateboarding website starting May 3, 2018.


---