BACK TO NEWS
Tilly's Hillbilly Golf Tournament Raises $140K
On Monday, several hundred influential individuals came together and raised over $140,000 net at the Mission Viejo Country Club in Southern California for TILLYS 11th Charity Golf Tournament to benefit Tilly's Life Center (TLC). This year's hillbilly-themed golf tournament, auction and party attracted parties from local businesses and action sports brands who enjoyed a day of golfing, free-flowing drinks, food, hoedown and performances by Sam James and The Outlaws and Moonsville Collective.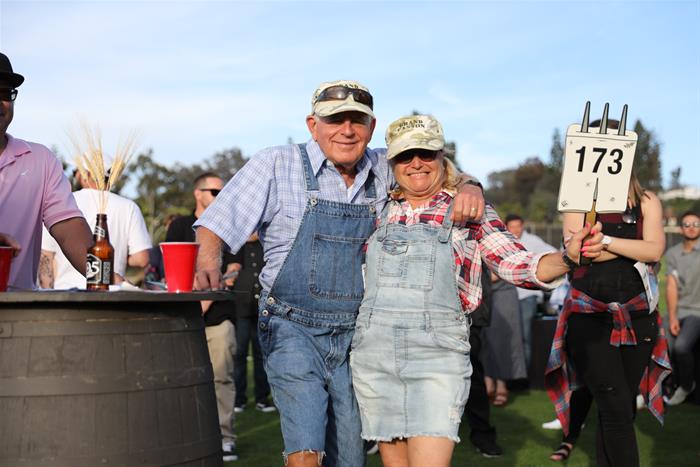 TILLYS Co-Founder and TLC Founder, Tilly (right) and her Husband Larry Levine (left) Dressed to Impress and Bidding for Live Auction Items

"We want to thank all of our sponsors, brands, executives, volunteers and friends for being a huge part of this special event and supporting our mission to empower youth across Southern California," said the co-founder of TILLYS and founder of TLC, Tilly Levine. "Our sole purpose is to equip teens with social and emotional life-skills, inspiring them to reach their full potential and giving them the courage and confidence to pursue their dreams. With the funds raised and our community's generosity, we are one step closer to our goal of incorporating curriculum like TLC in all high schools."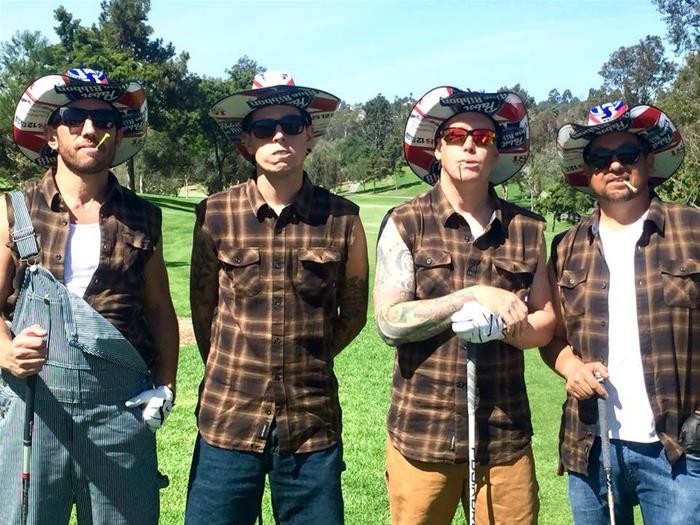 Team Vans Seth Stern, Stephen Mullen, Adam Brown and Henry Cosio Dressed Up and Ready to Golf
In true hillbilly style, it was a "hoedown" event, attracting key supporters and executives from brands such as: CSI Electric, North Face, Oakley, Adidas, Union Bank, CPTN Apparel, Vans, Nixon, Nike, Simon Property Group, Volcom, Goldman Sachs, UPS, Quiksilver, DC Shoes, Hoonigan, Primitive, LRG, Villa Lighting and many, many more. The tournament began with a putting contest, followed by a shotgun start at 10:00 a.m. that sent golfers out in redneck-inspired golf carts to compete on Mission Viejo Country Club's 18-hole course.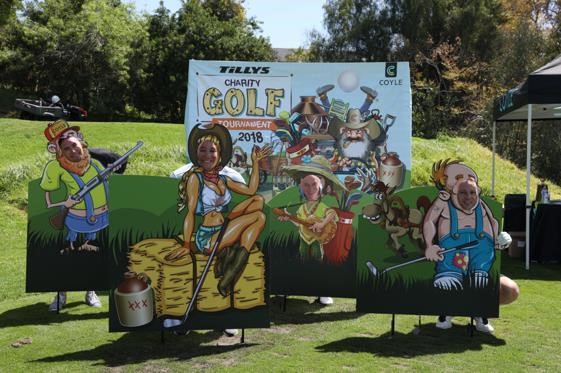 The 60th Place Solutions, Orange Coast Magazine and Tillys Foursome Stopping by Hole 6 (sponsored by Coyle) to Compete in one of the Closest to the Pin Challenges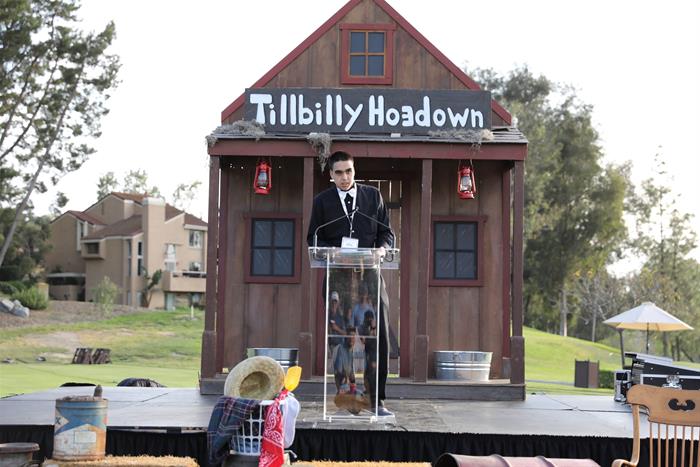 TLC Students Like Eric Were Given the Opportunity to Tell Their Stories and Inform Attendees How TLC Has Helped Them

Golfers enjoyed hole activations featuring games, giveaways, drinks and contests such as closest to the pin, a putting contest and longest drive. This year's hole activations were sponsored by: Trust Me Vodka, Layrite, Volcom, PBR, Coyle Reproductions Inc., Tilly's Life Center, Vans, Neff and Cuater by TravisMathew. Following the tournament, attendees joined TILLYS and TLC at the watering hole for its "Tillbilly" Cocktail Party with appetizers, popcorn, bite size southern pies, drinks, a silent and live auction, speeches from two of TLC's teens and entertainment by Moonsville Collective.
The gross and net winners at TILLYS 11th Charity Golf Tournament included: Coto Real Estate, Coyle Reproductions Inc., Dakine, Imperial Motion (First Net), Simon Property Group (First Gross), Direct Edge Media (Second Net), DC Shoes (Second Gross), Michael Gerald (Third Net) and Union Bank (Third Gross).
TLC and TILLYS would like to thank all our sponsors – Above Sea Level, R.E.B.B. Holdings LLC, Suavecito Inc., Landel Facilities Services, JanSport, World Marketing Inc., Alliant Insurance Services, FedEX, Adidas, Huff, Igloo Corp, Screenworks, Rainbow Sandals, Sun Bum, The Golfer's Journal, Coyle Reproductions, Vans, Neff, Layrite, Volcom & PBR, Cuater by TravisMathew, Chronic Tacos, Trust Me Vodka, James Haunt, Maw n Paw, OWYN, Eat Super Bowls, Vox DJs, K.C. New York, California Packaging, NC Builders, Sunrise Apparel Import Inc., James Sampson, Coastal Clothing Inc., Massive Apparel, Baron HR, B&Y Global Sourcing LLC, Da Colors, Wesco, Fortune Dynamic Inc., Carole Incorporated, Westside Accessories, Teri Lingerie Company, Jewelry Sales, Boss Facility Services, Distortion USA, Global Facilities Management & Construction, Socialite, Independent Trading Co, Shout House, Ideoli Group Inc. and all our live and silent auction donors and supporters. TLC and TILLYS would also like to provide special thanks to its devoted staff, volunteers and brands for all of the support.
To stay connected with TLC and TILLYS, follow:
Facebook: facebook.com/tillyslifecenter and facebook.com/Tillys
LinkedIn: linkedin.com/tillyslifecenter and linkedin.com/Tillys
Instagram & Twitter: @tillyslifecenter and @tillys

---