Back to News
Get Social with Two Farmtables And A Microphone
May 8, 2018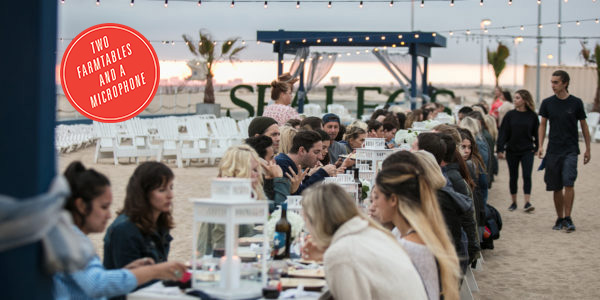 Sealegs at The Beach in Huntington Beach, California.

Live events are a great part of professional life. They are a great way to build connectivity with your professional network and community. When you work in an industry you love to be a part of, these things are FUN. Live events are an important part of what we offer at Malakye and one of the best resources is Two Farmtables And A Microphone. Mark Sperling, Co-founder of Group Y, sheds some light on what makes these events great.

Who founded Two Farmtables And A Microphone, and why?

Two Farmtables And A Microphone (2FTAM) concept was created about two years ago. It came about as a way to combine inspiring speakers, with farm-fresh chef-prepared meals while developing a sense of community among our attendees. As we say, we invite our guests to feed all five senses while creating food-for-thought.

In our first year, we launched with seven sold-out dinners at different locales. On the sands of Huntington Beach, California, at a farm in Oceanside, San Diego, within an art museum in Aspen, Colorado, in an airstream camping oasis in Ojai, California and among the lush gardens of North Shore, Hawaii.
2FTAM allows us to expand upon what we've been doing for the past 12 years with Group Y. Our goal has always been to help educate, connect and inspire our industry. Now with 2FTAM, it allows us to bring together another unique experience with speakers we normally won't have at our B2B-centric events while inviting guests from all corners to participate.

How does the night unfold?

Our dinner guests arrive to enjoy music, drinks and appetizers our incredible chefs have prepared while connecting with other guests. They are then seated at our communal tables to be served a multi-course meal which has been sourced from local farmers and suppliers. Near the end of the courses, our guest speaker comes to the stage to deliver a stimulating talk based on a pre-selected topic. We encourage open discussions among our guests based on the talk as the evening continues to the end. You will walk away with a full belly and head brimming with inspirations, ideas and new acquaintances.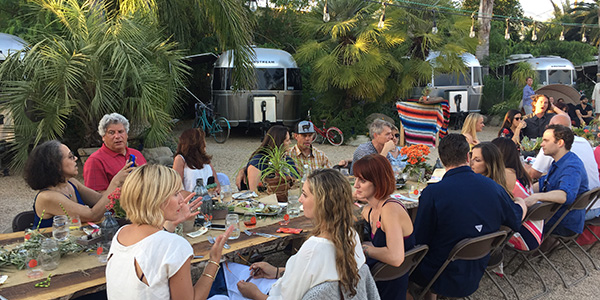 Caravan Outpost in Ojai, California.

How are speakers chosen?

We have a diverse array of exciting guest speakers from the frontiers of entertainment, technology, and culture. Our past speakers have included award-winning storytellers, gold medal Para-Olympians, VR/AR experts and industry thought-leaders. This year we kick off with more exceptional speakers who have stories to encourage and inspire our dinner attendees. First off is Beth Sanden, an amazing Paraplegic athlete who is a Guinness World Record Holder and who has finished a marathon on all 7 continents, including the North Pole! She is also an ambassador to a great organization called Challenged Athletes Foundation (CAF) which we will be supporting. Other speakers throughout the year include Sebastian Terry who will talk about "100 Things – What's On Your List," our good friend & an action-sports industry leader Michael Marckx talking about the power of belief, and award-winning brand marketer Afdhel Aziz will discuss "How To Love Your Work In the 21st Century / How To Lead with Purpose." More speakers will be announced over the next few weeks.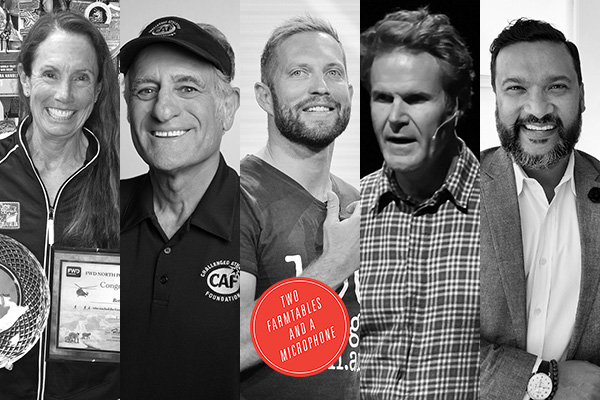 Who would enjoy experiencing a 2FAM event?

It is open to all – we encourage you to come with an open mind and an empty belly.

Is there anything new being added to the experience now that you're in the second season of these events?

We are returning to our favorite locations like Sealegs At The Beach in Huntington Beach, California, Caravan Outpost in Ojai, California and Cyclops Farms in Oceanside / North County San Diego, California. This year we have included a few new venues; the beautiful Rancho Las Lomas in Silverado (close drive within Orange County), the exclusive Terra Club in North Shore, Hawaii, Towne Park Brewery in Anaheim, California and Nemo HQ in Portland Oregon. We will be announcing a few more locations in Los Angeles, California very soon.

As for the overall experience, each event will be completely different from the others as it will be based on the speaker's theme and the venue.

Is there anything exciting you can share that hasn't been covered yet?

We are looking forward to kicking off our second season and sharing these experiences with our community. We hope to see you all there!

EVENT INFO
Check out more images, see the full event schedule, speaker bios, and find tickets at:
http://www.2FTAM.com

Follow us on Instagram & Facebook at @2FTAM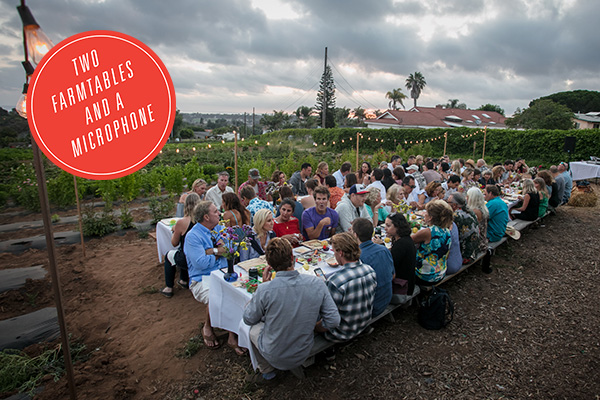 ---