Back to News
Climbing Launches Competition Channel
June 6, 2018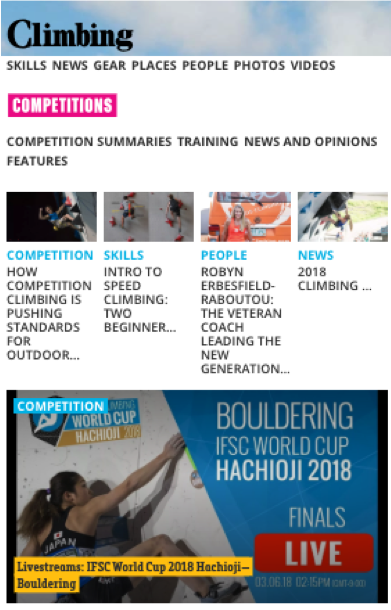 Climbing Magazine today launched the "Competition Channel" (Competitions) dedicated to covering domestic and international competition climbing leading up to the 2020 Olympics. The editorial channel is the first to provide a centralized spot for both U.S. and global comp coverage.
"Our new channel is the one-stop clearinghouse for competition information," said Matt Samet, editor of Climbing. "Competitions are the main driver of performance climbing today—and no longer just a subset of the larger sport. The world's best climbers are competition climbers; they train so hard for these events that when they go out on the rock, they're making quick work of some of the world's hardest climbs and boulder problems."
The new channel is home to a deep reservoir of competition and training stories, including livestreams of the 2018 IFSC Bouldering World Cup in Hachioji, Japan; a profile on Robyn Erbesfield-Raboutou, one of the world's leading youth coaches; and a series of training pieces for improving your comp skills.
The new channel will cover domestic and international climbing competitions, provide training tips, and feature post-event and state-of-the-scene opinion articles like those by noted Climbing contributor John Burgman.
"We're building up coverage to the 2020 Olympics and providing information in a way that's relatable for both core and casual audiences," said Samet.
Competitions launches today. Visit the page now at: climbing.com/competition/.


---