Back to News
adidas x BEYOND THE STREETS Unveils Shepard Fairey Shoe
June 7, 2018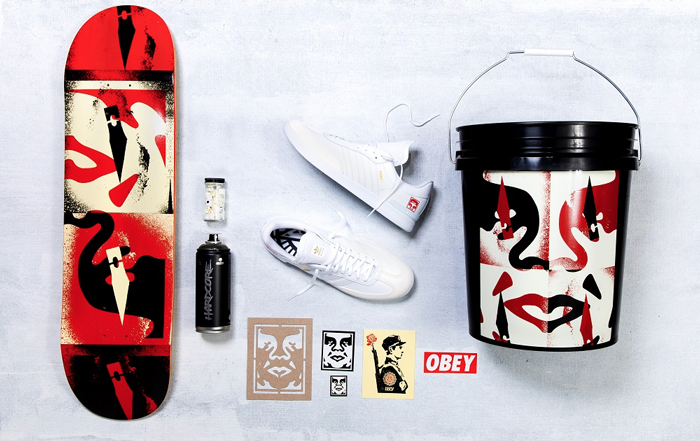 adidas Skateboarding, in partnership with BEYOND THE STREETS (BTS), celebrate the life and work of renowned street artist Shepard Fairey with an ultra-limited signature Samba ADV. This indisputable collaboration between artist, brand, and exhibition is in recognition of Fairey's enduring contributions in skateboarding and street art worldwide.
"I've been rocking adidas for work and play since the 80s," says Fairey. "I even have an old pair of adidas covered in paint in my section of the exhibition. BEYOND THE STREETS is arguably the most ambitious survey of street art and graffiti ever put together. It's cool to genuinely work with partners who I support and support me."
Drawing on Fairey's long-serving connection in skateboarding and personal attachment to the three-stripes brand, adidas designers and Fairey collaborated on the aesthetic of the Samba ADV — a heritage model Fairy has championed for decades, newly enhanced for skateboarding.

The collectible Shepard Fairey Samba ADV boasts a clean all-white upper with classic icon motifs on the heel counter, an all-over print "Star Gear" sockliner, and Shepard Fairey's name emblazoned in gold foil alongside the brand's iconic three-stripes. A randomized assortment of Fairey's icon motifs from the Star Logo, Icon Face, Star Gear, OBEY Logo, Peace Dove, X-acto Blade to Broken Bottle create unique left and right pairings that are discoverable only after purchase.

The Shepard Fairey Samba ADV comes packaged with a custom skateboard deck and Montana spray paint can and other collectible items. The collectible bundle will be sold exclusively at the BTS Gift Shop for $300 USD on scheduled release dates beginning June 9, 2018 and through the duration of the show.
A portion of the proceeds will benefit Homeboy Industries, a non-profit community-based organization that serves high-risk, formerly gang-involved men and women with a continuum of free services and programs.
Visit BEYONDTHESTREETS.com for more information.


---