Back to News
G.W.R. by Nikita Clothing x Exposure Skate Comes to Dew Tour Long Beach
June 7, 2018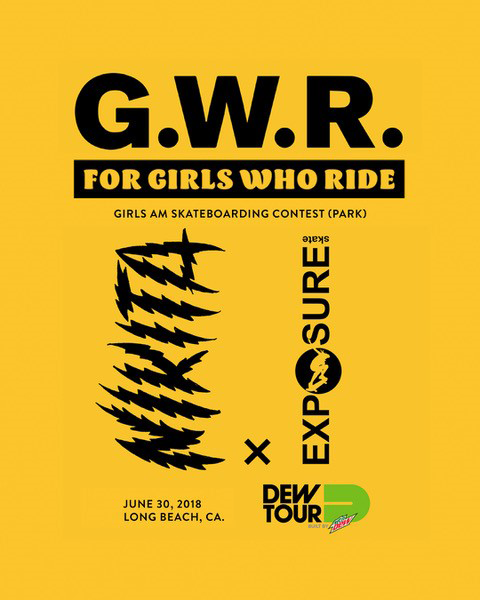 Nikita, in conjunction with Exposure Skate, are set to host the global premiere of the G.W.R. skateboarding event series at Dew Tour Long Beach on June 30th, 2018 in Long Beach, CA. This is the first year that girls will be competing in Dew Tour Skate, and both Nikita Clothing and Exposure Skate are proud to be able to bring the amateur event to the Dew Tour arena.
G.W.R. (Girls Who Ride) by Nikita x Exposure is an invite-only skateboarding event taking place on the Park Course at Dew Tour Long Beach. The best amateur skateboarders from both the US and abroad have been invited by Exposure Skate to compete, with the field of girls ranging in ages from nine years old up to 15. With five events now in four countries across two continents, G.W.R. is having a highly successful first year. Standing for progression and creativity in skateboarding, G.W.R. gives a platform for advancement and growth in the next generation of girls.
Says Nikita's Jenna Kuklinski of the G.W.R. event series, "Nikita has had overwhelming success with the first G.W.R. events. Partnering with Exposure Skate and bringing the series to skateboarding at Dew Tour Long Beach will open up a whole new side of opportunity for the girls and the event. We couldn't be more excited to bring another event to realization for girls who ride."
G.W.R. by Nikita x Exposure will take place on June 30th from 10 a.m. to 11 a.m. Spectating the event is free and open to the public, and fans and event goers are encouraged to attend and show support for the competing girls support in their first ever Girls Am contest at Dew Tour.
For more on the G.W.R. series and everything Nikita, check out www.nikitaclothing.com and follow Nikita @nikitaclothing #forgirlswhoride on Instagram. To learn more about Exposure Skate go to http://exposureskate.org/ or find them on Instagram @exposureskate. For information on Dew Tour, visit www.dewtour.com.


---