Back to News
Check In To Loge - 5 Locations and Counting With Strong Backing
June 12, 2018
The experience economy is where it's at. Whoever figures that out has a solid future in business. The validity of these statements is supported by the success of The Loge - a hospitality startup that offers overnight motel and camping accommodations catering to surfers, snowboarders, outdoor enthusiasts, and a target market that will continue to grow and evolve. The idea of The Loge is so good it attracted early investment from Bryce Phillips, founder and CEO of evo; Ira Gerlich, partner at evolution Projects; Alan Tabor, founder of Mountain Hardware; and Dan Nordstrom, former CEO of Outdoor Research. That's a group of very forward-thinking, successful leaders.

The Loge was founded by Johannes Ariens, who has a design-build construction background and Cale Genenbacher, a West Point grad from Illinois who was working at Microsoft.

You and Cale Genenbacher wrote very similar business plans but didn't know each other. Who had the bright idea to connect the two of you? That person earns a high-five for sure.
He sure does! Luke from www.compassoutdooradventures.com (who we now happen to share an office with!) introduced us as he was familiar with both our business plans and had a strong feeling we'd get along well. Guess he nailed it!

Both of you laid out destinations for the first 10 Loges and you had 7 matching. What were the first 7?
Westport is our first location but was a bit more of a wild card. We had Leavenworth, Bend, Durango, Tahoe, Estes Park, Big Bear Lake, Bozeman... among others.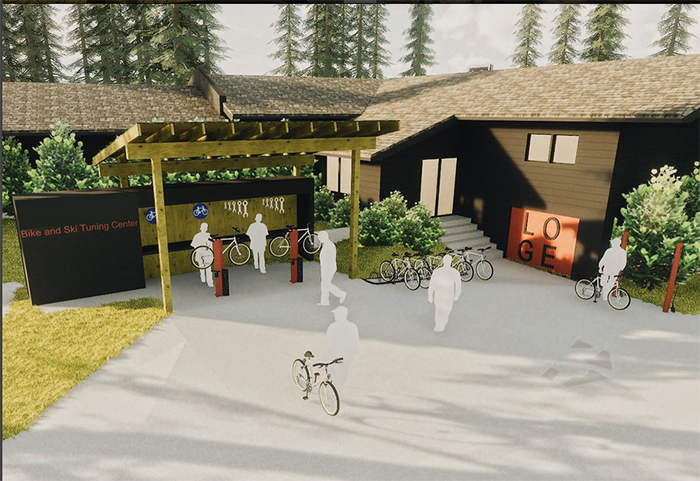 Pictured above is the artist's rendering of Loge in Bend, Oregon.


What's the basic overview of The Loge experience?
We often say "more than a place to spend the night". What we mean by this is that it's actually a place to come together and we design to that. From fire pits to outdoor kitchens with LOGE we endeavor to give folks opportunities to interact rather than simply just go into a room and shut the door. It's not uncommon for a solo traveler staying in the hostel to get adopted into a big group because both were using an outdoor kitchen at the same time. It's these opportunities and little things that create unique and lasting experiences.

Who would have a great time at The Loge?
Our user group is far more diverse than we ever imagined and we are stoked on it! We have college kids crashing in the hostel, young families with kids running all over the place, to retired folks excited to catch some music on a Saturday evening or bring their entire family together for a reunion. We've also been rolling out our corporate retreat sales program and that is going very very well!

Do people visit solo, in small groups, large groups, or a bit of everything?
A bit of everything as we've done our best to create a product spread to accommodate every type of traveler and price point.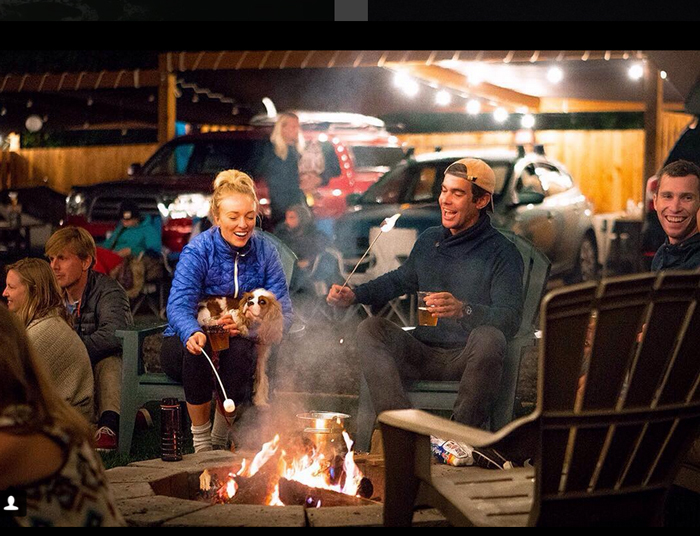 Good times by the communal camp fire.


How did Bryce Phillips from evo become involved?
I've known Bryce for years from skiing up at Snoqualmie Pass and generally being involved in the Outdoor Industry in the Pacific Northwest. What really brought him in though was when about two years prior to opening our Westport location we chatted at a NAIOP Meeting and I told him about what we were up to. He was interested but we didn't get much further than that at the time. A couple years later I sent him a note to grab lunch, we met up, and I told him we'd closed on the project and work was underway... I think he was pretty stoked and a bit surprised we were getting after it so hard which is probably really helped get the conversation moving.

Is that what led to your all star outdoor industry group of investors?
It definitely gave us a serious boost and some serious credibility. Bryce is incredibly passionate and infectiously energetic, pretty hard to not want to get involved when you've got folks like him hanging around...

How are things going so far compared to your expectations?
In our original business models we'd scheduled Leavenworth (our second location) for a 2019 opening. We opened Leavenworth November 2017, five months after opening our first location and on our one year anniversary we are at five total. Safe to say I feel pretty good about how things are going...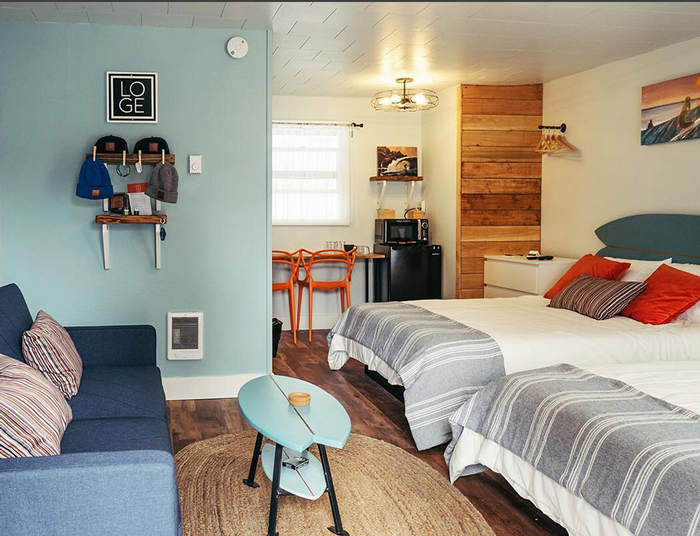 Comfortable accommodations at Loge.


You have 5 locations so far - Westport, Wa. Leavenworth, Wa. Snoqualmie Pass, Wa. Bend, Ore. and Mt. Shasta, Ca. - where next?
I can't disclose specifically as we are in active negotiations but what I can say is we are currently pursuing projects in multiple new states from the Rocky Mountains west and in planning on multiple nationwide objectives.

Where is the company headquartered?
Seattle

What types of job opportunities exist now and in the future?
We are currently hiring for group sales and about to launch a Manager Position for Mt. Shasta. Looking ahead we'll likely have multiple site based management positions as well as finance, ops, marketing, real estate, hospitality, and HR in our Seattle office.
Find Loge:
---