Back to News
Loki Box Design, BRP Earn Gold Marcom Award for Can-Am Maverick X3 Desert Experience
November 30, 2018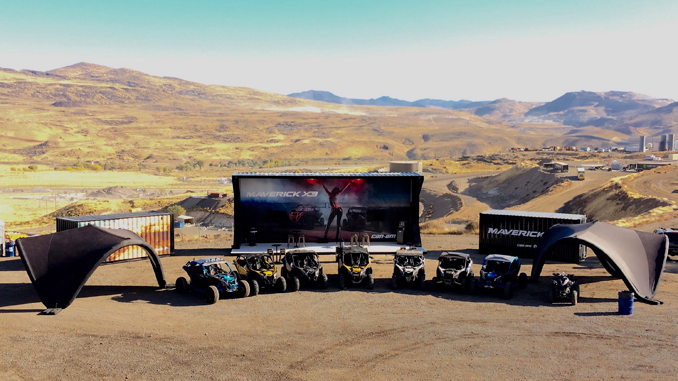 * Loki Box Design and BRP receive gold award in Self Promotion Category for stunning installation at the Can-Am Maverick Southwest US Tour

* Experimental marketing display and demo tour provided consumers with immersive Can-Am Maverick X3 side-by-side vehicle desert experience

VALCOURT, QUEBEC, CANADA – November 29, 2018 – In the Self Promotion Category, Loki Box Design and BRP took Gold for the remarkable event installation as part of the Can-Am Southwest US Tour, which highlighted the features, benefits and off-road functionality of the Maverick X3 family of off-road vehicles.




The major mobile experiential marketing event featured a central display unit in the middle of the Imperial Sand Dunes Recreation Area (ISDRA, aka Glamis) with a unique diagonal hinge that opened to an enormous 40 feet long by 16 feet high, making a show stopping backdrop for the brand activation. Two other 20-foot shipping containers and stunning sun shelters formed a corral around the Can-Am Maverick X3 side-by-side vehicles on display in the dunes.

Video Look:
https://vimeo.com/246804843

The large display and installation included a specialty module that designed for assembly up to 16-feet in height to be viewable from afar as well as put BRP's Can-Am Off-Road brand front and center in a high-traffic Halloween weekend that numbered more than 100,000. In addition to the significant displays, the event and marketing effort also included real product demonstrations through a custom sand course with authentic product testing and expert walk-arounds to produce captivating vehicle engagement with participating consumers.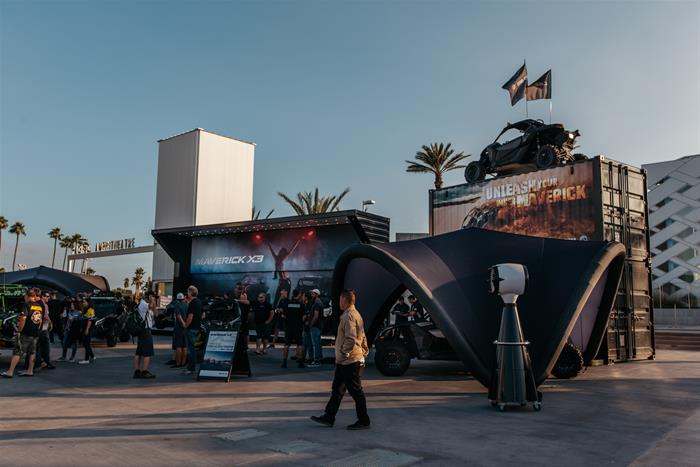 The setup included several all-black, industrial-chic mobile showrooms laid out in a horseshoe shape, some with canvas awnings to keep out the sun and sand. The main section was set like a stage, with a larger-than-life backdrop of a race set to begin and several large screens streaming videos of the recreational products BRP offers. And, once the show was complete, the portable and self-contained design allowed the showroom to be packed up and hauled away for another location. The portable event foundation also made stops at the King of the Hammers, Sand Sports Super Show, Nitto National Championship, SxS Adventure Rally and more.

The MarCom Awards recognize individuals and companies involved in the creation of print, visual, audio and web materials and programs. Entries come from corporate marketing and communication departments, advertising agencies, PR firms, design shops, production companies and freelancers.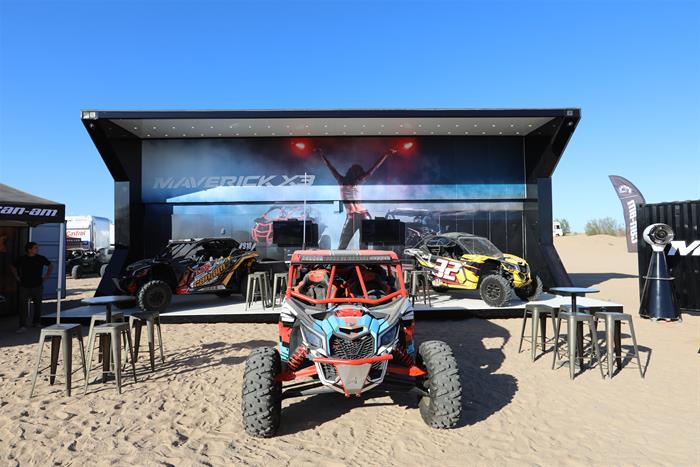 For more information about Can-Am off-road products, the family of championship-winning Can-Am Maverick X3 side-by-side vehicles, visit CanAmOffRoad.com.

About BRP
We are a global leader in the world of powersports vehicles, propulsion systems and boats built on over 75 years of ingenuity and intensive consumer focus. Our portfolio of industry-leading and distinctive products includes Ski-Doo and Lynx snowmobiles, Sea-Doo watercraft, Can-Am on- and off-road vehicles, Alumacraft and Manitou boats, Evinrude and Rotax marine propulsion systems as well as Rotax engines for karts, motorcycles and recreational aircraft. We support our lines of product with a dedicated parts, accessories and clothing business to fully enhance your riding experience. With annual sales of CA $4.5 billion from over 100 countries, our global workforce is made up of around 10,350 driven, resourceful people.

Ski-Doo, Lynx, Sea-Doo, Evinrude, Rotax, Can-Am, Alumacraft and Manitou, and the BRP logo are trademarks of Bombardier Recreational Products Inc. or its affiliates. All other trademarks are the property of their respective owners.

Source: Bombardier Recreational Products Inc.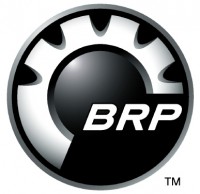 ---