BACK TO NEWS
Patent-pending Skateboard Tool by SKEEZE™ Skate Keys Builds Momentum Following January 2019 Soft Launch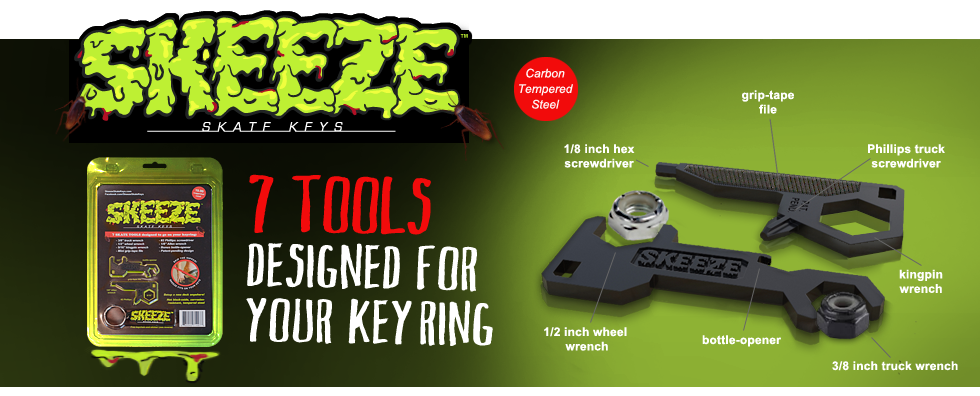 SKEEZE INC is already creating a healthy amount of buzz after launching their flagship skateboard tool in January of 2019. The innovative skate multi-tool bridges the gap between skateboarders' need to always have skate tools available-without bulkiness or significantly increasing the likelihood of injury when falling. Another core value SKEEZE brings is the fact that virtually every skater heads out the door to skate with shoes, a skateboard, and his or her house-keys. With SKEEZE, skaters get 7 indispensible tools without ever having to remember an additional item to bring since each set consists of two keys similar in size and weight to a standard house-key.
When asked about the initial reception SKEEZE is getting in the marketplace, its founder shares, "We're getting some sales off the company website and we're pleased to say Braille Skateboarding picked up SKEEZE for resale right off the bat. We've gotten positive feedback from people at Sole Tech, some pros including in Europe, and even industry veteran Steve Steadham which is awesome. He has his new shop in Vegas "STEDMZ" and is a living icon. Also response has been huge in Brazil. That's been a nice surprise and Spiry Skateboarding News there just finished a piece about SKEEZE. Martin Kotora Skateboarding on YouTube has become a partner to help get the word out as well. And we've sponsored our first pro, Tim Prozorov, also riding for DC Shoes, Silver Trucks and Plan B. Tim and Vincent Kelsey put out a sick film called An End has a Start skaters can watch on the SKEEZE homepage."
The patent-pending SKEEZE skateboard tool hit the market after eighteen months of research and development led by lifelong skater, Don Holm. Each "key" measures 1/8 of an inch thick and is made from tempered carbon steel and finished in hot black oxide weighing 15 grams each. Key one features a small allen wrench, a kingpin wrench, a Phillips screwdriver, and a steel grip-tape file. Key number two features a wheel wrench, a 3/8 wrench, and a bottle-opener. For added value, a logo keychain and sticker are also included.
When asked about the start-up's next moves to capitalize on momentum, he adds, "We have some big things in the works starting to take shape. The patents should be finalized in the coming months and we're really focused on strategic partnerships. A set of SKEEZE hanging on the laces of a pair of skate shoes as a value-add and differentiator seems highly intuitive. We're flowing some product to be a community player, and trying to connect with some key pros that could expand distribution and participate in the upcoming pro 'signature series' SKEEZE. The Olympics pose great opportunities for sure. But honestly these things are inherently cool and tough as nails so they don't take a very hard sell. Every time I see my set of keys I'm stoked to have them and use them."
The company has presence in Los Angeles and Nice, France with product information in a variety of languages and currencies on its desktop website. Prior to SKEEZE its founder held V.P. and Dir. roles at a handful of international tech companies and holds a master's degree from the University of Denver.
Dealer and media inquiries should be directed to [email protected] or +1 323-739-5498 in North and South America. EMEA/APAC inquiries can be sent via email or call +33 06 60 60 94 39. Further information is available at www.skeezeskatekeys.com.



---