BACK TO NEWS
Party Pics: Polymer_ Launches SS/19 Line and Art Show to Benefit Local Surf and Wildlife Charities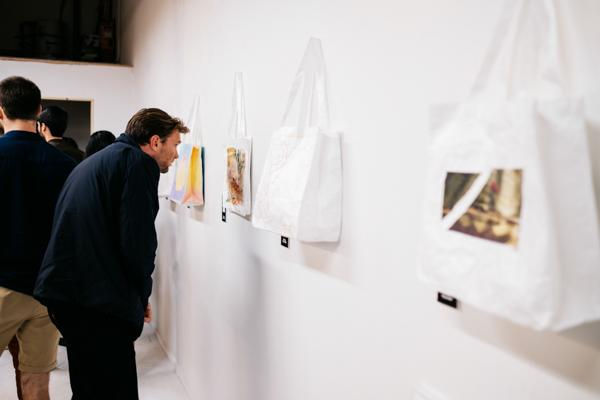 Polymer_ splashed into Spring with their SS/19 launch party and art show on March 16. With more than 200 attendees spilling into the street, the label showed off their new 1,300-square-foot studio in the Wrigley neighborhood.
"I am blown away by the support of the creative community in Long Beach," said Polymer_ Founder Eric Basangan. "I was happy so many people were able to make it out and it was exciting to see everyone together in one venue."
As a Long Beach resident for more than two decades, Basangan's passion to create a brand and platform for the creative community has been a long time coming. The original headquarters was a 1957 Franklin trailer, which doubled as a mobile shop, but soon it became clear there needed to be a permanent showroom.
Flanked by Managing Partners Ryan Russell Ward, Chris Velasco and Jonathan Blua , Basangan said they wanted the brand's location to be an organic representation of the community, it's lifestyle and the individual's daily passions.
This collaborative mindset spilled into the event, featuring over 20 local Long Beach artists who used Polymer_'s Tyvek tote bags to create a unique piece of art. The bags are available for purchase with all proceeds to benefit both the Surfrider Foundation and Marine Mammal Care Center of Los Angeles. To learn more about donating to these charities or to purchase a bag, email [email protected]

Attendees also enjoyed signature beers by local brewer Ambitious Ales while rock band Spirit Mother performed between vinyl sets by Christine Mai Nguyen.
Enjoy these party photos and give Polymer_ a follow to stay current on happenings at the brand.
The OG Polymer_ office quarters
Nick Trapasso cruised through on his Italian Stallion
Josh decked out in the new Polymer_ Tactile Woven shirt
The new office is open for business!
Polymer_ pins for days! Love seeing these on jackets around town
Enjoy Yourself
These new floral pieces by Ryan Ward are totally a perfect fit for this seasons vibe
@helygonzalez
The band Spirit Mother pre-face melting performance
Ain't no party without our boy Jordan Kreisberg in the house
LBC muses
As the sun went down, the crowd begin to thicken
Screen projections of the SS19 campaign- by Polymer's own Chris Velasco
Lost in translation
Two of the evening's standout artists- Brandy Wayne and Shaina Turain
Brandy Wayne went above and beyond with her magazine reading inspired bench
Nothing but people truly enjoying themselves!
Braided, faded, and chains out!
Shaina Turain- our favorite art educator in town
Ian Bragg always coming in with "high" expectations
The classic art show beer line...don't forget to tip your bartender!
Spirit Mother ready to knock the socks off your feet
All eyes were looking up on the heavy riffs of guitar and violin
Friends and family all around...is that a GRBG made hat?
Great capture of the crowd and Spirit Mother jamming on the second story
Warm hearts and cold beers- Ben Kilpatrick, Cameron Strand, and Nick Brown
Sean McCormick slaying the shred stick from above
Long Beach turning into LA with the OG street dogs
Newly Weds! Shonn and Marianne Oquendo
Long hair whips throughout the set!
Supra footwear's Joe Donovan...Thanks for the Gold kicks my dude!
Camera's all over the place - Cody in the Infuse burnt woven
Spirit Mother got them in a trance!
Danny from Ezekiel was in the building!
Ben Kilpatrick and De Marquis McDaniels came to peep the goods
PHX girls, Macie Alana and former Polymer Intern Kailee Ackman
Christine Mai Nguyen blessing us on the one's n two's
Two peas n pod, Willy Mammoth and Bo Boses
Ain't no Long Beach party without the doggs!
Christine Mai Nguyen and Polymer_'s main man, Eric B
Bo Boses and Alex Galles didn't like what they were about to see...
---