Back to News
Marketing Director (Global) - Matt Patterson
January 1, 2005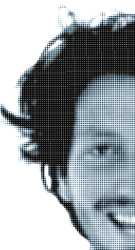 With Matt Patterson, Global Marketing Director of Analog
Pick up a Happy Magazine (http://www.happymag.com) to see the Industrial Profile in print.
If you had the chance to deliver a message to millions of people throughout the world, what would it be? How would you do it?
Matt Patterson, Global Marketing Director of Analog, is responsible for delivering his company's message to the world. Simply saying this job title might allow for the enormous significance of the position to be underestimated in your mind. The day-to-day activities of this position reach every continent, country, state, and city where Analog exists. Over a decade of experiences working for several companies, from start-up to the biggest in the industry, has led Matt to this position.
Let's start with a history lesson.
I'm from Newport Beach, born and raised at 54th St. At about age 16 I was sponsored by Quiksilver. I actually dropped out of high school after my sophomore year. Quiksilver rented me a house on the beach and was paying me $500 bucks a month to surf. I was living the life and Danny Kwock was acting as a surrogate parent to a bunch of us guys who wanted to be involved in the excitement of Quiksilver and the whole industry at that time!
By about age 18 I was working for Quiksilver as a part-time marketing guy. I would help out Danny Kwock with picking photos, coming up with slogans for the brand, and a lot of other things along those lines. DK is a genius and he has a gift for seeing creativity in people. He taught me how to look at a company as a brand – he shows me the psychological side of marketing. At that time Richard Wolcott was the team manager. In 1990 Wolcott left Quiksilver to create Volcom. A couple of months later I went with him, along with Troy Eckertt, and Tucker Hall.
Being a part of the first Volcom family in the early nineties was like going to graduate school for action sports industry marketing. Wooly created an entire environment of creativity balanced with hard work and a love for what we were doing.
After almost four years with Volcom, I moved on to Arnette Sunglasses (at that time Arnet). At that time accessories had not been categorized, so it was completely untapped. We went from having no competition to 12 major competitors after 3 years. I worked with them all the way up until three months before they sold.
In the wake of Arnette's success everyone started making sunglasses. Quiksilver got into the sunglass game too, but it didn't work at first for a few reasons.
In 1997 Quiksilver hired me back on as the Marketing Manager for eyewear, and I worked on it for 3 years. In 2000, they rolled me out of that position and into a Marketing Producer position for the whole brand overall. It was a great experience. I always had opportunities on new projects. While I was there I got to produce all the creative on the website and I produced two films: These Colors Taste Like Music with Sonny Miller and Nathan Fletcher, and the second was Kelly Slater's People Skills a 20-minute short video that I also wrote all the music for.
In 2001 Quiksilver was really focusing on how to get exposure outside of the industry. The challenge was how to get in front of the mainstream audience. Danny Kwock had been brainstorming on this idea and convinced some networks that a daily news show on our sports could work. The idea was simple – ESPN for skating, surfing, and snowboarding. It sounded great at the time.
I signed on with FOX as a segment producer for 54321 and only lasted there for eight months. The show eventually failed because it didn't instantly get ratings. In the TV-world everything has to be instantaneous. Instantaneous success and ratings or they'll try pretty much every gimmick you can think of to make it get ratings. It needed time to build, but they didn't want to give it time. So it inevitably failed because of having to come up with gimmicks.
I was so emabarressed going to work, I finally had to quit. I took about 6 months off of work, and now I'm here. About 14 months ago I was hired on by Analog as the Global Marketing Director.
It's the best fit I've ever had.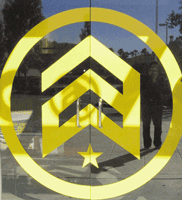 You held a lot of positions that you might possibly consider as your best fit, what makes your position at Analog the best fit for you?
I've been exposed to the epicenter, or driver's seat, of a lot of cool companies as they're being built from the ground up, but I was not the right guy at the right time to build and deliver the brand's message on a world-wide basis. For the first time in my life I'm at the right place at the right time. The brand and I are at the same stage and ready to move forward.
In the whole span of my career it's never lined up as well as it is right now. I'm lucky enough to be the guy who is responsible for Marketing on a world-wide level. We have an amazing opportunity here at Analog.
What makes Analog an amazing opportunity for you?
The industry is going back to the days of how it was when I was at Volcom. I hate to refer to Volcom again, but the company's success is a great yardstick. When Volcom started up Retailers wanted to carry new brands that had that unique energy and message. There would be all of the big guys, and then companies like Volcom, SMP, and other small brands. You go into a store now and it's similar to the way it was then. Today there are companies like RVCA, Matix, Mada, but none have really taken off yet. So there's the opportunity. We're doing everything right, and our product is on the way up.
The market is competitive, no doubts, what can you tell us about your position & strategy?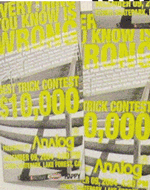 The way the market is now, for the first time in a long time, everyone is doing everything very well. For example, Billabong can make a pair of $60 dollar jeans that look like G-Star. In the early 90s, you could get away with bad product if you had a really unique brand. But that's not the case today. If you want to be successful, no matter how big or small your company is, everything has to be at a top-quality level. To think that you can come out with great product and advertising is not enough anymore. Everyone is operating at an A+ level.
At Analog, we're lucky because we have an amazing staff. When we look at our Marketing and advertising our #1 objective is to be and look like nothing else out there. Be as unique as possible, and as high-quality as possible.
The position and approach we're taking definitely shows in our advertising. If you look in a magazine, our ads look nothing like anything else out there. Most ads include a top-level team rider, the product, and some cool artwork. You can almost just switch out the shoe for the watch or the watch for the cut n' sew. We're adamant that we don't follow that routine. Our ads are bold and really different. They make a statement and people have to figure out for themselves if they like it or not. Sure we loose some of the people, but the people who do get it become extremely loyal.
The evolution of the brand is on the way. In some ways it's crazy. Opportunities come up for free ads, and great riders are willing to join the team for less than market value. But we don't jump on the opportunities because that's not what we're about. We're conscious of our brand's lifecycle and know exactly where we want to be. We have the resources to do what we want, if we wanted to spread Analog all over and make it a huge "flavor of the month" we could. But that's not what we're about and we don't want to have to produce the new flavor every month.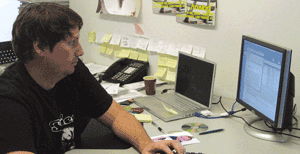 What type of "Tool Box" does your job require?
For me the job is broken into categories – Advertising, POP, Events, Product, and more. In advertising we use several mediums print, web, and so on. With POP we make everything from banners & stickers to custom build outs for retail. Each of these major categories has sub categories. And they all require different tools. All of them together are like a book that is "Marketing", and I break them out into chapters.
So you put one hat one week, and another hat another week. But no matter what hat you're wearing the objective is always the same. For us, it's to take a stand and keep it. Open some minds and change some ideas and values.
Is there any type of routine?
Honestly there's not. This is what I love about it. Yeah, you go to work every day, eat lunch every day, but you definitely don't go home every day at the same time. There isn't any day-to-day ritual. Except for continuing to be more organized. Because the nature of what we do is off-the-cuff and loose. Some of the best marketers in the industry are those that show up at 10am and leave in the middle of the night. But the more organized you can be, as long as you can be creative and unique, the better you are.
What is the most significant challenge as the Global Marketing Director?
You really have to think about how your actions / strategy in one area, such as the U.S., will affect your efforts in another area, such as Europe, Australia, or Japan. One school of thought is if you succeed in the U.S., you'll succeed everywhere. But there are several major global markets, and they're all different. Very different people, culture, and demand.
It is feasible to say that if you're making it in the U.S., then you can make it anywhere. But I don't look at it that way. Our #1 objective is to succeed here in the states first, because if we're crushing it at the most reputable retailers that will produce a lot of momentum. But we also include our international affiliates in the process. Rather than approaching it with tunnel-vision we involve our international affiliates. They're great and provide great input and influence. Our international affiliates definitely have fingerprints on the brand. In this industry it is pretty safe to say "all roads lead back to southern California", but if you want to make it outside of here and the U.S., you might as well put all of the cooks in the kitchen from the beginning.
What's the most rewarding aspect of what you're doing?
It's great to be in one of the driver's seats during the early years of a successful young brand. It's really hard to describe how it feels. It's like when you first start dating someone.
There's a true sense of ownership in the work we're doing. We're experiencing these little successes that are tell-tail signs of what's to come. There's the same energy & promise as what I experienced earlier in my career. There is this feeling of belief in the air, and we're getting there emotionally. That's what's so exciting.
What's cooking in the Analog kitchen?
It's called our Retail Army. The Retail Army will be comprised of 50 shop employees throughout the country who will ride & represent Analog. Rather than being a rep-rider, the Retail Army guys have a direct line of access to the company. When they want gear, they can call us to have a box sent out. They'll be involved in round-tables, provide input / feedback and more.
There are about 8 people in the Retail Army now, and within a year we'll be up to 50. So if you work in a shop, and are interested, make sure to ask your Analog rep about the Retail Army.
Is there anything you can tell the readers about working or succeeding in the industry (a piece of advice)?
Find a company you love and you absolutely marry yourself to it in everyway. You'll find almost no one will close the door for you. Ask what's going on, and get involved at any level you can without annoying someone. I've been involved with a lot of great companies. The red-hot companies are a family, a brotherhood, a gang... If you come to it with that attitude of "what can I do" something will work out. We have a kid here who is interning and we'll end up hiring because he has so much energy. That is how I got my first job at Quik, then at Volcom and so on. I can't thank Danny Kwock and Richard Woolcott enough for the start they gave me in this game.
---