Back to News
Mammoth Mountain Terrain Park Director Oren Tanzer & Park Cat Supervisor Mike Gerstner
February 1, 2005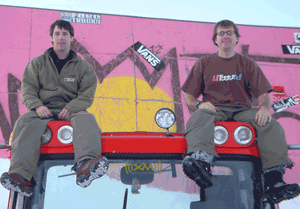 Interview with Mammoth Mountain Terrain Park Director Oren Tanzer & Park Cat Supervisor Mike Gerstner
Pick up a Happy Magazine (http://www.happymag.com) to see the Industrial Profile in print.
When snowboarding was first permitted at resorts throughout the world the sport was pretty simple. Strap on the board, go down the hill, and look for something to jump off or jib on. Before you know it resorts start building parks. In the early 1990s the park staff was a few guys working with hand tools, and telling the Cat drivers where to push the snow to build jumps and jibs.
Today, things are different.
Take a resort like Mammoth Mountain for example. A top rated park, and #1 half pipe in North America. 75 acres of park terrain, 3 parks to accommodate different ability levels, over 100 terrain features, 7 Cats solely for the terrain parks, and a staff of 30 working 24/7.
This Industrial Profile features two guys who've been building parks since the 1990s - Oren Tanzer and Mike Gerstner.
How did you guys get involved with building snowboard parks?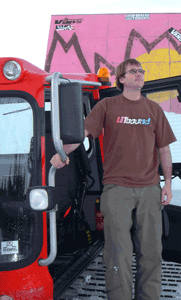 Mike Gerstner (MG): It all began in 1994-95 in Big Bear, when I lost my job at the video store. My friend Matt Newman was building the park at Bear, and he offered me a job. I started out on the day crew / shovel crew – maintaining all the jumps, pipes, etc.
At that time there was nobody from the park crew driving the Cats. The mountain's Groomers would drive the cats. We'd ride shotgun and tell them what to do. We didn't know the capabilities of the cats, and they didn't understand how jumps needed to be built – ramp, transition, etc. It's really hard to tell someone how to build a jump that doesn't understand the basics of a snowboard jump. I worked on the park staff at Bear for 2 seasons, and by the third season I started driving Cats.
Then in the winter of 1997-98 I moved to Mammoth to build the park with Josh Chauvet. Josh was establishing a new program and needed someone he knew understood jumps and cared about the park.
Oren Tanzer (OT):
I grew up skiing and snowboarding in Canada and then moved to Los Angeles in 1994. Hated LA. Ended up in a very round-about way in Big Bear, and got the first job I could get as a Lift Operator. I saw these guys that kept coming on to the lifts with rakes and shovels, and knew that was for me. That season, every day I had off from Lift Crew I volunteered in the park. Raking jumps, digging, whatever needed to be done. That year they had the USASA event at Bear and the park guys offered me a job. Keith Phafler gave me my first full-time park job.
Between my first park job at Bear and my job at Mammoth today I also worked at Mt. High with Keith, Shane Smart, Cliff Mason, and a few other guys from Bear. During that time I learned how to operate the Cat and build jumps with it. I was able to travel all over the U.S. and abroad building parks with Keith.
Keith ended up quitting Mt. High and since I had been awarded employee of the year at Mt. High, they thought it was the natural next step to put me in charge of the park program. At the end of the 2001 season it wasn't working for me, it felt like something was missing. My friends Josh Chauvet and Mike Gerstner were in Mammoth building the park. I called Josh and talked about moving to Mammoth to work the park. The only thing he had was a $9 / hour job and I said "yeah, I'll take it!"
My first year in Mammoth all I did was build for special events - Mack Dawg, Super Park 5, a huge Oakley shoot. It was fun; I really got to express myself building those jumps. I had 0 responsibility except to get creative and build monster jumps.
That summer I moved back to LA with Josh to do part-time Marketing & PR for Mammoth while going to school. In 2002 I got a phone call from Josh asking me if I wanted to move back to Mammoth. I wasn't going to move back to Mammoth just to operate cats, but the offer wasn't to just build the park; it was to run the program. In April of 2002 I took over the park, and then I ended up taking over the June park. Now I'm the Director of Mammoth & June snowboard parks.
Oren, what are you up to right now, as we speak, and in general?

Right now, sitting in a snow Cat at June Mountain. Mostly these days I'm not in cats. It's a special occasion for me to get in a cat. I'm building a couple of transfers for the Volcom team. Shaun White, Chris Brown, Eric Leines, and Willie Yli-Luoma had an idea for a double-transfer line. Kind of like a rhythm section. The riders came up with a vague idea of something they'd like to try and I'm making it reality. Each jump is around 60 feet long.
In general, I average about 80-90 hours a week, and it's always something different. I always know I'm going to work at 7am, but I never know when I'm going to finish. I have 30 employees, and am responsible for a budget of about $1.5 Million. The big difference about my position here at Mammoth when compared to many of the other big mountains is that I control the operational side of the park, as well as Marketing & Events. I have the final say on everything from color of our rails / boxes, athletes we sponsor, layout of ads, new marketing initiatives for the youth action sports group. It's the middle of January and real soon I'll be coming up with Marketing plans and programs for next year.
There would be 3 people doing my job in places like Breck or Whistler. So, with Mammoth and June mountains under my belt it's like doing the job of 6 people.
I traveled to a lot of resorts building parks. No place operates like Mammoth. Nobody puts that kind of money into their parks and pipes.
Mike, from 1998 to today you've been driving the Cat and building the park at Mammoth. What is your title, and what's the job like now?
I'm the Park Cats Supervisor. Today I supervise 10 Cat operators, including myself. For our terrain parks at Mammoth we have a total of 7 Cats - 4 Park Bullys and 3 Pipe Cutters.
We take the park day-by-day. I communicate with Oren; get feedback from the day-time park staff to find out what's working, not working, etc. For example, the take-offs get a little too poppy or flat so we'll plan out those adjustments. We'll get it all worked out as to what needs to be done, and I'll delegate the tasks to the other guys on the shift and myself.
3 of the 10 guys on the park staff - Danny Rossier, Billy Ganley, and Doug Mercer – dedicate all of their time to doing the half pipes. So it's a given that one of them will be on the pipe each shift. We cut our pipes every day. That's a big reason why we've had the #1 pipe for a few years now.
You just gave up the big secret for how to have the best pipe in the country. Now Park City is going to be chomping at your heels?
Good luck to them.
Ooohhh!! What else goes on in the daily routines Mike?
It also depends on what we have to build. Right now we're recovering from a huge storm. Well over 180 inches during the end of December/beginning of January. We have 38 removable rails that all had to be removed so they wouldn't be buried till spring. Now we're working on getting them all back in place.
So on a night like tonight, I'll be putting in a rail, and have someone help me doing that. Guiding it into place etc. And one of the other operators will work on the tables / jumps in the park.
We have two parks areas (Main Side and Canyon side) and 9 dedicated park runs. We need to make sure the maintenance is properly balanced. They're all maintained daily but whatever park is done during the graveyard shift (Midnight till you're done) will be soft in the morning and will be chewed up quickly. So we alternate. If we do Canyon side (South Park/Canyon Park) during graveyard, and the main park during the swing (4pm-12pm), then we'll switch it up after a couple of days.
Oren, you mentioned making Marketing plans for next year. Are plans for the park going on now too?
Plans for next year are definitely going on right now. My style of management is to surround myself with really talented people so I get constant input. We are always planning. Building things like jumps is controlled by the terrain and snow fall. But things like rail design can come from a trip to the Reno airport. See a hand-rail on the trip, or something along those lines, and modify it into a form that works for the mountain.
I have a full-time welder, Jeremy Cooper, who works all summer, and operates a Cat / welds during the winter. Because it's the two of us around all summer we brainstorm. We have a pretty ridiculous weld shop. For example, we built a 64 foot S-Box inside with lots of room. As well, we built our wall ride (16'tall and 32' wide inside! Nobody else can do that. I already have some good ideas for next year.
Do you want to share the ideas?
NO!!!!!!!!! SECRETS!!!!!
Does the layout change in major ways from day to day, or throughout the season?
MG: It's hard to change the layout of the park. We can't really change the layout drastically during the season. If we had a jump on the left side, and wanted to move it to the right side we'd have to close the park. Moving snow is a very slow process. People don't know because it mostly happens at night. During that time there'd be no park. Over the years people have complained about the park getting "old", but they complain a lot more when the park is closed. People drive a long way to get here and if there's no park when they get here they are bummed out.
What's the biggest jump ever built at Mammoth? How do you dream these things up? How do you know that you haven't created something that is too big?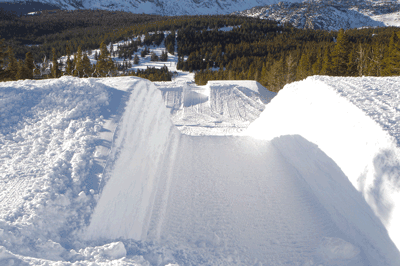 MG: We've had a couple of jumps that are over 100 feet for past Super Park events.
For size, it all comes down to how much speed you can get. The first big jump we built the riders had to be towed into it. The jump I'm talking about is the one that Kurt Wastell did a backside 3 over.
A couple of years ago Oren and Josh built a jump that was for Skier Super Park that was supposed to be a hip, and one guy was jumping the whole thing – end to end. That was pretty impressive.
OT: The biggest jump since I've been here was built for Skier Super Park 6. It was a 125 foot hip, and took over a week to build. It worked. People hit it.
My philosophy on building in general has changed since a few years ago. I'm not too concerned about building massive jumps anymore. I'd much rather make more progressive stuff. Smaller jumps that have a little more transition. It used to take a 90 foot jump to do a 900. Now we're building 55 ft jumps with good take offs and real long steep landings. Really good quality.
If someone asks for 80 or 90 footer for a photo shoot, we'll do it but that's not the norm.
How did Mammoth become one of the top rated mountains for snowboarding?
OT: Mammoth was one of those original resorts to embrace snowboarding. June Mountain was too. Remember the Op pro back in the day?
The Owner / President, Dave McCoy, who is 89 still has regular office hours and rides dirt bikes. Last year Warren Miller came to interview Dave McCoy. Dave wanted to do the interview at the base of the Super Pipe. Our CFO actually competed in a USASA half-pipe event a couple years ago. Everybody supports it. It's the culture of the mountain from the top down.
We've done park counts to estimate the number of annual users. We have about 400,000 users in our terrain parks per year.
MG: It's not an overnight process. In 1995-96 Josh Chauvet started at mammoth building the park, and it was the first time there was a park open at Mammoth from the beginning to the end of the season. It also all comes down to the management of the mountain. Mammoth's management was willing to give us the resources. Nature is also working in our favor; Mammoth has one of the longest seasons in North America, the most snow, and great weather also adding to the cause.
What's the best part of the job?
MG: I think the most rewarding aspect of this job is the idea that I get paid to build jumps.
OT: I love working with people. I love my crew. I'm real lucky to have a lot of professional people around me to build the park.
At the end of the day you have something to look at. To be able to look out at what we've all built is amazing. It's like sculpting with snow as a medium. All these metal structures mixed in with snow. The creative side of it is really cool.
It's also good to see people happy with what we've built. It's great when the pros and guests are happy. It's also great to see that stuff in the magazine and say hey, I built that.
What type of "Tool Box" does your job require?
OT: You've got to love snowboarding, number one. A progressive mentality is also key. Imagine if you were in charge of one of the best parks in the world, what would you want to see? The "tool box" is the ability to think of what people want and then deliver it.
MG: The tool box is the ability to deal with all of the variables such as the amount of snow, weather conditions, building for skis & snowboards, average wind conditions. And deal with constants such as the trail / terrain.
There's no measuring involved. We're not out there trying to take angle measurements and all that. Usually I'll build the best, longest, steepest landing and then try to build a take-off that matches. I'll build the take off and then look at it from a side view. I'll visualize someone hitting the jump, and the trajectory and make sure they line up.
Mike, how do you manage to not measure things like the angle?
I've snowboarded for a long time so I have a lot of experience hitting jumps, so that was a good foundation. I can feel the transition while driving the cat.
What is the most significant challenge?
MG: We're the first generation of park builders. If you become a carpenter or mason you have hundreds of years of evolution backing you up. We're sort of figuring it out as we go along. Working at night can be tough. It makes it hard on your social life; you have a tendency to sleep.
OT: I say it's probably coordinating 30 employees on two mountains that are 25 miles apart. Some of the staff are 18 years old and just want to snowboard. Others are 50 year old career guys. Getting from one mountain to another, a lot of my days start at Mammoth, then to June, and finish back up at Mammoth.
What's the most rewarding aspect of what you're doing?
OT: It's my passion. It's my lifestyle. I'm not going to be a millionaire and I don't want to be. I want to stay in the mountains. I'm just a snowboarder that got lucky. When I was 18 I was pushing myself, learning tricks. I came to a realization. I found this way that I could ride and be in the mountains. I still try to ride.
MG: Its fun to be around and meet pro-riders. I get to travel from time to time. Last year Oren and I went to France for a ski clothing company and built some stuff. I also have spent the last two summers building parks in Australia.
Oren, what do you have on tap for the season?
We moved away from the big crazy events like Triple Crown, etc. and are going more grass roots. We have an event that we put on called the West Coast Invitational. It's a big spring time event with warm weather, good parties, and a lot of fun. Last year Mark Frank Montoya took home a suitcase with $10,000 in it! Other events we're putting on are the Forum Young Bloods series, the Volcom Peanut Butter & Jelly Championships, and a ton of photo shoots.
Is there anything you can tell the readers about getting into building snowboard parks?
MG: You have to be able to work at night. The best way to get into it is to get a job grooming at a resort. Learn how to drive a Cat. And then you're going to need a healthy knowledge of freestyle snowboarding and skiing.

OT: It's ok to not have tons of experience. I don't mind training people with little experience, it's better than hiring people with bad habits. A big part of what we do is guest interaction. If you worked at Vons as a bagger, that's important. If you were the best knarliest snowboarder at your local mountain, that doesn't really matter.
Be prepared for long hours. A lot of jobs you have to work over time, but this is every day. My short days are 10 hours, normal are 12-14 hours, today will be a 17 hours. And I don't get to sleep it off tomorrow. It's back to work at 7am tomorrow. It's not easy, but it's rewarding.
Is there anyone you would like to give a shout to, or thanks?
OT: Josh Chauvet for giving me the opportunity. Mikey "New York" Gerstner for making me look good every day. Julien Lecorps for working his ass off. Pam Murphy for being the best boss anyone can ever have.
MG: All the park and pipe builders at Mammoth: Jeremy Cooper, Isaac Smith, Steven Simmons, Richard Hui, Sam Poffley, Chris Zajec, Danny Rossier, Billy Ganley, Doug Mercer. Plus all the day crew staff, and last but not least, Oren Tanzer and Julien Lecorps.
---