Back to News
Brand Manager - Moto X - Kenny Watson
August 1, 2005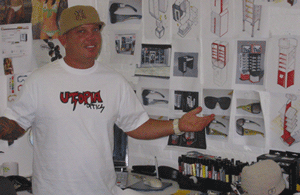 Interview with Kenny Watson, Moto-X Manager at Utopia Optics

10 years ago it was rare to see skate & surf based companies in motocross, as well as motocross based companies in skate / surf. It's common now. In the beginning it was Crusty Demons of Dirt and Moto XXX movies were where you could first start to see a emerging trend in motocross. People like Brian Deegan, Mike Metzger, Cary Hart, and Ronnie Faisst in hilarious spoofs on the culture of the motocross racing industry.
Kenny Watson was involved in quite a few significant events that helped shaped the Freestyle MX industry. He's also been involved in racing for a long time. Today he heads up the Moto-X department at Utopia Optics. This Industrial Profile with Kenny covers what things were like then, the transition time, and what it's like today.
How did you get involved in the industry?
I grew up riding and racing, but I didn't put a lot of energy into it because I also played baseball through high school and college. After I got out of college baseball was out of the picture and I started riding a lot. Some of the guys I rode with were really, really good. But I had to get honest with myself because I didn't have the ability that they did.
What was the next step for you?
An opportunity to do something new in the moto industry sort of came out of the blue. A friend of mine named Kyle Lewis (3x Japanese moto champ) was going to Oklahoma and needed a mechanic and I went for it. That turned out to be my niche. What's crazy is I didn't even know how to change an air filter. I would take his bike for a few days to work on it / get it ready, but instead of taking the bike to my place, I'd have my friends at Racers Edge do it up. I'd watch closely to learn quickly. There's an old saying, "fake it till you make it." Back in the day being a mechanic was knarly. You didn't work for a team, take a plane from one side of the country to the other. You had to drive, by yourself. These guys that are mechanics today don't get it. Bitching about plane being late for a plane or delayed, try 60 hours a week driving cross-country by yourself.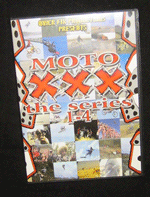 Working as a mechanic is a really different role than what you do now. How did it happen?
I always had an eye on what was going on when I traveled to events around the country. I could see the beginnings of Freestyle MX starting to happen in the early to mid 90s. Good racers were getting board and fed up with racing, and the race culture and that pretty much opened the door wide for something new.
I was at the point in my career where I was going to sell out. I was going to work as a mechanic at Honda or there were these guys (Kurt Haller, Eric Sanden, and Jordan Burns) that wanted to start a race team influenced and supported by rock n' roll. Crusty Demons of Dirt was born, and at that same time I started working with Kurt Hower to create Moto XXX. Kurt wanted to create a company that combined moto-x and punk rock. Moto XXX had the backing from Eric Sanden, drummer of NOFX and Jordan Burns of Strung Out. They were into the idea and wanted it to happen. We put together a race team, and made 4 movies, the Moto XXX series. Guys like Metzger and Faisst were in the movies, back then those two had no tattoos – not a single mark. We ended up getting support from more and more punk rock labels and bands. The promo and what we'd do at races and events would get out of control, and people loved it. It's what moto-x needed. The whole thing offered an alternative to the old school stuffy, collar shirt buttoned to the top hole, run by 70 year old, non-swearing moto-x Gestapo.
Was this the beginning of the integration between moto-x and other Action Sports?
I'd say so. This time period marked the first skate shoe company getting into moto-x. When we were growing Moto XXX I approached skate shoe companies to get on board with us because it seemed like a natural progression. I went to Kurt Sotto and Steve Van Doren at Vans about 1995 to get them going with it and they passed, said they were going to stay strictly skate and snow. So then I went to Sole Tech and talked to Don Brown – he said, "let's do it." Sole Tech had one guy that knew moto-x named Matt Chapman who worked in the warehouse. He became Team Manager and Etnies became the first skate shoe to sponsor and build a presence in the moto-x industry.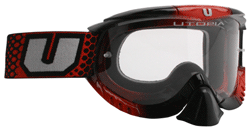 Jumping forward to today, how did you end up with Utopia?
A friend named Jim Hartman, who I grew up with and have known for most my life has a knack for doing the right thing at the right time (he invented the swatch watch guard). Jim had a dream to get into the moto industry. When he decided to go for it, he called me. Jim and our company president knew I was going to be able to do.
What's your title?
Hmmm….there's no title on my card. I don't care about my title, I want this company to go. Utopia is a young company, started in 1998. I've been here since 2003. When I started working here we had 3 people – me, the president, and Jim Hartman. Today my deal is to pretty much oversee everything there is to do with moto-x. That includes finding and sponsoring riders, maintaining the team, working on product development, developing the brand and working with others on our overall direction, as well as anything else that comes up.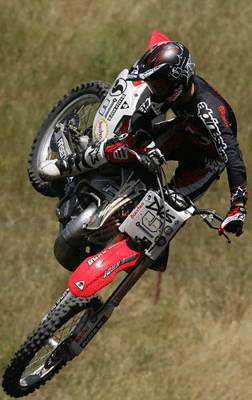 What's happened since 2003?
When I first came to Utopia our first moto-x goggle line was in development. I jumped right in to help with that and began building a team. 2004 was our first full year in production of goggles. Our moto line is insane, looking really good. I've also been successful in putting together a strong team of Freestyle MX riders, as well as racers. The team is a major key to succeeding. First we have to build the team, and then we have to make sure the public knows that these guys use and back our product. Overall it's been really successful for the past two years.
What makes the job you do important to the company on a whole?
What I do is very important because it has a lot to do with our overall revenue from moto-x. In this industry you really need to have respected, solid riders endorsing your product, a strong presence at events, and advertising to back it all up. How successful you are in putting that together is directly related to revenue. I'm the guy that makes all of that happen, from picking riders, to going to every event, and maintaining relationships with photographers and magazines.
What has made you successful in what you do over the past 10 years?
I never quit believing in myself. I knew if I worked hard and believed in this brand, or any of the others, I could and can make it happen. There are a lot of big optical companies out there, but I think realistically from starting at 0 and where we are in a 2 years we're doing great.
Everyone has a skill or natural talent that makes them great at what they do. What's yours?
My skill, I'm a people person. I can read people and I'm just a likeable guy.
What is the biggest challenge you've faced here?
Starting from scratch. It's something I've never done before. The closest to this was working with Moto XXX, but there were already the beginnings of a program established there. The majority of my background is in the racing end where I was a mechanic or team manager. Now I'm involved in team management, product development, marketing, and sales. In two years I've made a lot of mistakes, but I kept going.
And the results?
When I look back at where we started and where we are I can't believe it's only 2 years later. It's still a challenge, but we're moving forward and doing well.
What's the daily routine like now? Is there a routine?
No routine. Every day has a new challenge – a new project. The only thing that happens on a regular basis is travel. I go to every moto-x event I can from super cross to FMX, and a lot of things in between.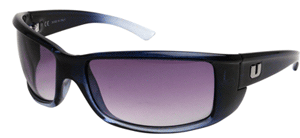 Do you have anything about to break?
Definitely, we have a whole new sunglass line that will be coming out at ASR. We have new goggles for motocross and snowboarding.
We should have some great news when the outdoor moto-x series comes to a close, and we've got a good presence at X-Games with Twitch and Faisst. Darryl Hurley, one of our riders won his first moto-x championship in Australia. One of our other, Mike Brown, riders is leading the 125 U.S. Motocross Championship. With all that, there will definitely be things breaking all the time.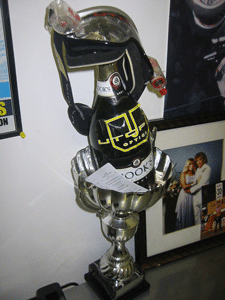 What's most rewarding aspect of what you do?
Opening a magazine and seeing the product in the magazine on riders, and when I go to an event and Utopia riders are on top of the podium. That makes all the hard work worth it. It's also great to see people wearing our goggles and sunglasses at the race track.
What can you tell someone who wants is building a career within the industry, or looking to start one?
Getting your foot in the door is kind of hard, but you got to keep knocking on doors, and find the opportunity. Try looking on Malakye. Stay true to your roots and believe in what you think is right, and don't sell out to the corporate world.
---