Back to News
Direcotr of Retail - Kevin Ashford, MCD
September 1, 2005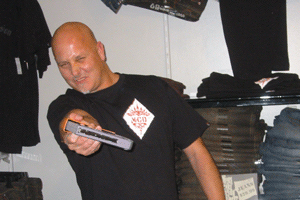 Interview with Kevin Ashford, Director of Retail Operations
Working at a developing company is a challenge in today's Surf industry. The industry's biggest companies have product offerings ranging from footwear, to apparel, to wetsuits, to boardshorts, and everything else in between. Their distribution, marketing budgets, and brand awareness can't be touched by the smaller guys. But there are the new or re-established companies out there as well. How do they compete with the big guys to distinguish themselves and carve out a niche to grow their young enterprise? We sat down with Kevin Ashford from MCD to find out how he and MCD have been tackling it and where they're going.
How did you get involved in the industry?
My decision to get involved in the "industry" was definitely a conscious one. I decided that while I was stationed in Somalia – I joined the Navy after I got married (neither was my brightest move) and ended up sitting on a boat on the other side of the world. I did get some education benefits out of it as well as my son, Trevor (he's so rad).
After the military I decided to do the dream thing. Open a Surf Shop and coach the local surf team. In 1995 Surf Addiction opened and I was coaching the Fountain Valley Surf Team. It was a good year, although a challenge to support a family while chasing a dream.
I had a 4 year run of owning and operating my retail shop and started a surf mag called 5 Star Surf. It was so much fun (for awhile) and was a huge experience for me. After my split with my ex, I decided to change it up for something steady and did some sales training for the Marriott. It was good to clear the head and gain some focus. Now I'm back in the game with MCD and I couldn't be more stoked.
How did you join up with MCD?
I was hanging at Rockin Fig's in Huntington, where I also worked for awhile, and Fig introduced me to Greg, the Sales Manager for MCD. He offered me a job on the spot as a Sales Rep with Inside Sales responsibilities for California. I then started handling more territory and eventually became the National Sales Manager.
And Now?
The future direction of MCD involves a handful of retail stores we're developing in western locations. That's my new focus for the brand. Ned McMahon has come aboard to assume the VP of Sales for our wholesale operations. Ned came from Town & Country and brings a lot of experience with him to MCD. Plus he's a veteran shaper. I like surfboard shapers, they are their own breed. I'll learn a lot from him.
Typically branded stores are only opened by companies like Quiksilver, Billabong, Vans, and Element. What led MCD to this decision?
We realized opening our own retail stores would give us the ability to better service our existing retail customers. It allows us to have total control over building our brand identity as well as testing our product. Also, with our outlets we can more easily accept merchandise from our retailers so they can keep in the fresh goods on their floor and we can do our liquidating.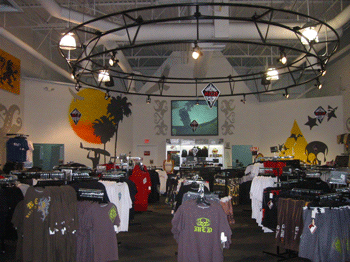 Where & when did you open your first store – how's it going?
The Block at Orange in July 2005. The store is killer. Right across from the Vans Skate Park. Biz is good and getting better. Not everyone knows that we were born in 1989 and at one time had the best boardshorts and surf team in the business. So we're letting them know.
Are any of the original founders involved today from the original MCD crew created by Gotcha in 1989?
That's one of the best parts. The original founder, Michael Tomson and his crew are designing and they are so on top of it. The new MCD product is just insane.
And what's different / the same now vs. then?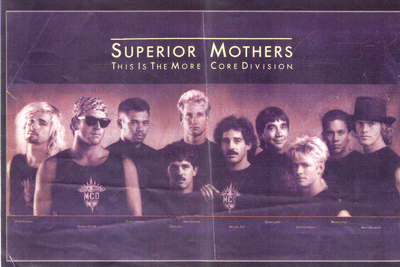 I wasn't really around MCD then so it's hard for me to say. One big difference is the force that was behind it in the beginning. The original MCD team is one of the heaviest ever, and of course Andy Irons and Archy are sorely missed.
We are rebuilding the team now and are considering a broad base of athletes that fit the More Core image. Flynn Novak has been doing really well for us. He charges hard and gets the photos. Dean Randazzo also had a really good last year. We are also really into sponsoring bands. We love going to shows and supporting them. They are stoked as well and wear MCD on stage. What else could we ask for?
What's it like competing directly with industry giants?
As they grow they keep swallowing up the competition, or diversifying their product lines - shoe companies making boardshorts etc... You can't go head to head with them. You have to stick to your niche.

What's enabled you to succeed in carving out your niche so far?
Our niche was carved a long time ago. We make great boardshorts. Everything else stems from that.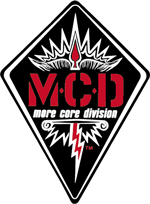 What is the biggest challenge you've faced in building MCD?
With MCD standing on its own, the biggest challenge we were facing in 2003 was finding our place in the market. With specialty retail being so saturated it forced us to truly think differently and find our spot. There were a few key indicators working in our favor as well. Our sell through was consistent wherever we had good shelf space, but a major challenge was getting that space. Our accounts that really bought into the brand and gave it a good presence in their stores would do great. It's just getting better.
What are some of the notable results of your strategy?
Besides positive feedback from our retail customers, our events have picked up steam, sell through has stayed consistent, and the MCD brand itself is getting stronger. It's definitely noticeable that our customers are excited.
What's going to be the key to success over time?
Consistency. If we consistently put out great product and a great vibe we will become great.
What makes you valuable to the company?
I pull my own weight and then some. I expect the same in return from my teammates.
Do you have any quick words of advice for those thinking about getting into a career similar to yours?
Build a reputation as a hard worker wherever you get your start. Then learn as much as you can from good, experienced peers.
---