Back to News
ARTEC Project Art Contest Winner Builds his Custom Deck
September 13, 2005
ARTEC Project Art Contest Winner Builds his Custom Deck
The Artec Project Art Contest was held from November 2004 until February 2006 – a great success-story! We received more than 300 submissions from designers all over the world. All design can still be viewed on our website in the "win stuff archive" at:
www.elansnowboards.com/win_stuff/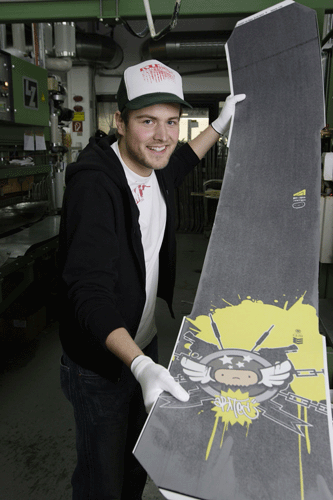 Aleksi Vanninen, our long-time International Team rider, was chosen to be the head judge of this Art Contest since he has an in-depth design background being involved in various projects such as lately, designing the AV LTD board. At the end of a thourough evaluation session, Aleksi picked Chris Janetzki from Germany as the winner of our unique design contest.



Chris visited the Elan Snowboards Factory in Fürnitz/ Austria in July to build himself the custom designed board based on his winning graphics. He was stoked on the opportunity to constuct his own designed deck, supervised by the observant eyes of the P.Lab. Watch out for more covetable contests to come this season and check www.elansnowboards.com for all announcements.
For more information about Elan Snowboards go to www.elansnowboards.com.
---