Back to News
Westlife Distribution - 686 & Sepia
October 1, 2005
Westlife Distribution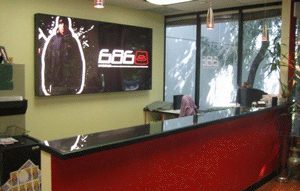 Forget your backpack. Bring your heart and soul to work at Westlife Distribution home of 686 and Sepia. Westlife started out as Mike West's college project at USC in 1992. When Mike was in the Entrepreneur program at USC, he had an idea of starting a clothing company which would combine his lifelong skateboarding & snowboarding addictions with business. Mike's teacher decided the idea & project were worth a B+. Today, 14 years later, it's pretty clear the idea was an A+.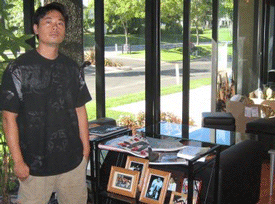 Mike started 686 from his dorm room at SC with t-shirts and denim jeans. After a short stint in the dorm room, a great friend of Mike's who owned Plane Sane offered him a corner in his office at the LA Brewery. The company started taking shape; years of snowboarding and working at Bear Mountain were influential in the direction and growth of Mike's company. In 1993 the first 686 breathable jackets were made. It was a little bit of patchwork at that time, Mike bought breathable fabrics from Oregon, and had the jackets made in downtown Los Angeles. He quickly realized you don't make outerwear in Los Angeles' garment district. His product and dedication were strong enough to land key accounts in the very beginning. ET Surf, Spyder Surf, and Wave Rave all chose to support him.
Fast forward to today; 686 has become one of the most innovative and quality-driven outerwear (and most recently outdoor-active sportswear) companies in the industry. Their "more than expected" mentality of designing high-end products is known around the globe. 686 is not afraid to take chances, or be the first. That might be because the motivation for making next years products doesn't come from trying to dupe what other people are doing, it comes from wanting to make a great product giving you, "more than you expected." One example is 686's new TIMES line which brings two progressive companies together to produce something that's very different. The DX-Limited jacket and pant is a 10,000mm, fully seam taped bells and whistle machine, which even includes a limited edition 686 x Dragon goggle - No other company in the industry has done this. Then there's the Hello Kitty collaboration for the Women's TIMES line, the ever popular Smarty line (which is copied across the outerwear industry today), which is a trademarked system that enables you to unzip the liner of your jacket or pants and wear it around town, the ACE line (Artist Collaboration Effort) of artistic inspired designs and art shows, which 686 started well before the industry thought art was cool, the Gaper line of funny retro designs, unique accessories like the patented Toolbelt, the ARD (After Ride) line of "après snow" casual apparel, which all translates into the new outdoor-active sportswear line launched Fall of 2005. 686 is product driven outdoor-active company with roots in snowboarding and skateboarding that's well established and definitely one of the leaders to watch.
What makes Westlife a unique company?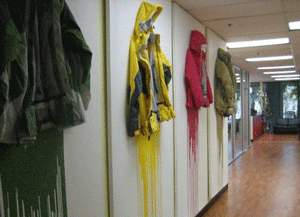 We don't have a formula or text book where we say, "Here are 3 brands that are doing it right, let's emulate or aspire to do things the way they do it." We don't want to do that. We lay our own tracks and strive to be a little different.
Our growth has been organic since the beginning with an objective to be happy creating new things; content, proud, and happy. We've always been driven by that. And one of the philosophies that have developed as a result is "more than you expected." We work to give our customers something they can be emotionally attached to – making products that feel like much more than a new pair of snowboard pants, or jacket. It's the element of small innovations and surprises along with high-quality that keeps our customers coming back for more.
The 20+ people who make up Westlife share this mentality. We focus on that sort of thing and stay far away from things such like silly politics or backstabbing. Anything like that is snuffed out real quick.
Who would thrive in this environment? Are there general "core skills" that transcend departments which a person should have?
Someone who would thrive is a person with an open mind that can really listen and learn. It's a person who is able to figure out how his or her talent fits into the equation and then plug in that experience to make our company that much better. We're always learning new things here. Those that always have a motivation to learn are going to do the best.
It's also the type of person whose work can speak for itself. People who rely on the reputation of their last employer won't make it. Ask anyone here what it's like to work here and they'll most likely tell you something along the lines of, "I worked at…, and now I'm working twice as much here, but I'm happier here." It's not always easy, but we do focus effort on making sure people are happy and content. We provide flexibility and try to give everyone what they want or need out of their job. We also maintain balance by doing fun things like take a company trip once a year. In the beginning it was simple, actually a dinner and not a long trip. But over the past few years we've been taking trips to places like Ensenada, Puerto Vallarta, and most recently Hawaii. We give back and it comes back in many other ways.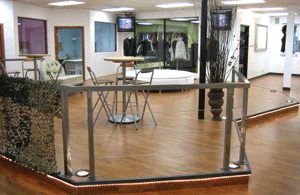 In an average year, how many job opportunities open up as a result of growth or turnover? What departments will you be hiring for in the near future?
It's hard to pin down an average. A lot of people have been here quite a while. But in the coming year we'll be increasing the size of our staff by about 30%. We're going to be doing everything from front to back - from design, production, marketing, warehouse operations, sales, and accounting. It all goes down under one roof.
Departments which we'll see the most growth are Warehouse, Design & Merchandising, Sales, and Front Office.
Why do you have such low turnover?
We've been fortunate to have really good people. We try to hire people who are a great all-around fit. People do come and go, but in more than 14 years of business every person that has moved on, has done so on good terms. We stress truly open communication which creates good relationships and mutual respect between everyone. When it's someone's time to leave then it is. We'll work it out so it's a good situation for the individual and the company. We're firmly against bad-mouthing and hanging people out to dry. There's a lot of that in this industry and we're not about it.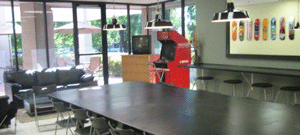 When people come to work with us it's an equal investment. We invest in them and they invest in us. We want everyone to know how the whole process works, and how any one job contributes to the entire process. We actually have periodic meetings where one person will explain to everyone else what they do and how they work through the product season so everyone else in the company understands how that person plugs in to what we do. It's equally important whether it's someone who works in the warehouse or designing, or working in accounting. It's that unity and culture where everyone is treated equal.
What are the professions in which it is difficult to find talented, top-tier individuals?
Higher level senior positions are harder to fill, but high-level positions don't come up often because we focus on promoting from within. When it comes to hiring for high-level positions it's the match between an individual's experience and passion with our organization's culture and objectives that makes it such a challenge. It becomes 1 in 1000 to find the right fit instead of 1 in 100. Merchandising, Design and Production are usually the most challenging.
Do you consider people who are located outside of the immediate area, say another state?
Definitely. The last two years we've brought people in from out of state. It's a done deal if we find someone who really fits and wants to be here.
What happens internally before a job opportunity is announced to the public?
Ideally we work through our internal networks. First we'll see if there's someone that we can promote - we're all about molding people to progress. If we have someone here that is really working and into it, then we want that person to have the first shot at the opportunity. We're not about bringing people in to the company to, "Stay there, we like you how you are."
Then we'll go to our employees' personal networks, and then we actually go to Malakye.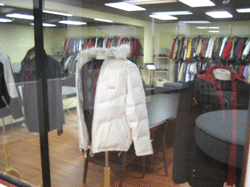 Is there a general process that happens from opening to hire?
The process starts out fairly typical – put together a job description, advertise, and begin reviewing resumes. Once we review a promising resume, we'll establish contact through email to ask a few questions pertaining to the person's resume. That's when it really starts. We look for a quick response, preferably in the same day, or next morning. Not a week later. Each person here receives 100s of emails a day, and always responds quickly, so we expect it in return as well. When it comes to the questions, each answer provided by a candidate is closely reviewed. It's easy to immediately tell how much thought goes into a response. If there's no effort, then it's clear he / she is not right for this company.
The next step is a phone call, then an in-person interview. Follow up interviews if necessary and then an offer.
One thing that's always good is follow up by the candidate after an interview. Getting an email to say "thanks for taking time" is much appreciated.
What are the first things you look for when a resume is submitted for your openings listed on Malakye, or from any other source?
A cover letter is nice when it explains how the person applying can fulfill the responsibilities and requirements of the opportunity.
We look at work history right away, and experience take precedent over education. Within work history we look for relevance between what a person has done and what our job opening demands / requires. Term of employment factors in too, we look at how long a person stays with each position or company and how it measures up against the norm for that type of position.
A resume is important, no doubt, but personality is so important. Someone could have held an unbelievable position within the industry, but an attitude of, "I did this, I did that, I got paid this", doesn't fly here. We care about how a person's experience, skills, and attitude can plug into our company to make us that much better. That's where the value is.
How relevant is a person's previous term of employment?
It really depends on the profession. In some professions it's normal for people to be "lifers" and others it's standard to move every few years. We look at the big picture as well as we can by reading a piece of paper. But five jobs in five years is not a good sign.
We always check references too. References are far more important than something like a letter of recommendation. Those can easily be skewed; anyone can write a letter of recommendation. A conversation with someone's reference gives the most "true to life" picture.
When it comes to a person's resume, what is your opinion about a resume that lists someone's experience as "present" but in fact, he / she is no longer employed at that job?
It makes that person come across as either a Salesman or trying to hide something. Generally not good. If you're seriously looking for work, always make sure that your information is completely up to date. You don't show up on Thursday for Monday's work day.
What is your feeling about people who apply for jobs which they obviously don't qualify for? Or apply to multiple openings at once?
Honestly, if you apply to multiple openings you don't qualify for; it makes us feel like you don't deserve to be here. It's a waste of time. Submitting a resume to a position is an investment of your time; make sure you're using your time wisely.
It's a mistake for people to misrepresent themselves. If a person puts effort into it, and pursues job opportunities that match the background it will happen. You can get your foot in the door - it will happen. Get in where you can, and think about what you'll be able to do next. Be dedicated.
How relevant are the responsibilities and requirements of your job descriptions? Does a person need to meet all, or almost all, of the specifics to be considered for an opening?
Extremely relevant. We invest time in building accurate job descriptions because we want candidates to know exactly what the job is. We break out details to match up with exactly what we need. Our descriptions are no joke, not understated or exaggerated.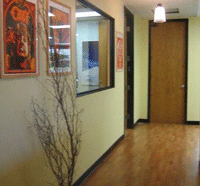 How can someone prepare for an interview?
Be ready. Don't be late. We let candidates know exactly what we need them to bring to the interview – samples, visuals, etc. Present yourself as who you are. You don't need to be in a suit and tie. Respect your work, represent it accurately, be ready help determine if you're the perfect match for the job opening. Be relative and honest of what you can and can't do. Try to relax; we know interviewing is not the easiest thing. Don't be a "salesman".
How important is it for a candidate applying to a design job to provide samples with application, or an easy way for you to view samples (i.e. – link)
It's great to have it right away, as soon as possible. You can be so subjective with design, but it's one of the steps to making a decision.
Showing samples is not limited to design. If you're a good Production person, show us your spreadsheets; bring your production calendar.
Is there opportunity for career advancement?
Hell yeah, most definitely. This goes back to what was said earlier. If we're going to hire someone, we're going to think about the long-term. We want you here as much as you want to be here.
Can you provide insight to key opportunities that exist in your company for experienced professionals?
We're going to see some big positions opening up in the future - everything from Creative Director / Design Director for both of our lines (686 and Sepia) to Accounting, Sales, Marketing, and Admin.
What is the worst mistake someone can make, or has made, in an interview?
Not showering is not good. Please put some deodorant on before coming in.
What can job seekers do, in the short or long-term, to increase the chance of employment with your company?
If we interview someone and end up hiring someone else, we'll let everyone who interviewed know that we've made a hire. People will ask for recommendations on how to improve and we'll give them an honest answer because they want to learn. We also will stay in touch with people who made a lasting impression. A couple of years later we'll call on someone and it will turn out the timing is perfect. We're ready for them, and they're ready for us
In general, controlled persistence is good, not over the top.
---