BACK TO NEWS
Industrial Profile
10/1/2005
Printed Materials Sales Representative - Erik Phillips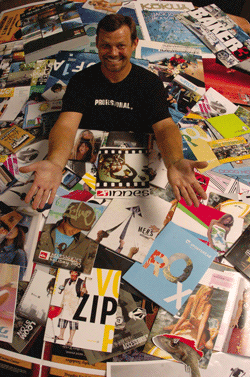 Interview with Erik Phillips, Printed Materials Sales Representative
Hidden jobs exist within the industry. You don't have to work for a manufacturer to work in the industry. Take Erik Phillips for example: Erik has been working in the Action Sports industry since 1990. And not one of those years was spent working on the manufacturer side. Instead, Erik has built up a very large base of Action Sports industry companies as clients. Think of a company, any company…Erik has probably provided them with printing services at some point in time over the past 15 years. Catalogs, DVD covers, hang tags; any ink on paper is what he's produced for Action Sports companies. Is working as a supplier to the companies the same as working for them? In some ways it is, and in others it's not. Erik is a great person to ask, 100% of his business is within the industry.
What do you do?
I sell commercial printing to the action sports industry.
What type of printing service / jobs do you offer?
We do all commercial sheet-fed printing. Anything that is ink on paper. We specialize in line books, posters, DVD packaging, POP etc...
What's an average day like?
Average days are different depending on the time of the season. Months before the tradeshows before when all the line books are due, my typical day can be showing up to work on Monday morning and not leaving till Thursday. In this line of business your customers typically need the job done yesterday. And it's always a really important job. An Art Director will hand over the last couple of months of his / her life on disk and you've got to finish the job by making it look perfect on paper. You've got to make sure everything is correct and right. You're only as good as your last job.
The bummer now with having a wife and two kids is I can't change the way I sell printing. I've set a bar that is extremely high. But you can't change. 10 years ago it was no problem, but now I have to keep it up.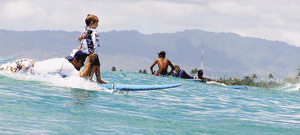 But some days I can roll in at 10 and leave at 2, depending on the work load. I can take off and surf, go to Legoland with the kids.
What your percentage of your business is action sports companies?
100%. I don't have any other customers. It's difficult for me to put on khakis, a polo, leather shoes, and play that salesman role. I tried it a long time ago and it didn't work very well.
I'd rather deal with people that have the same mindset as I do." I do what you do, so I understand" is kind of my belief. We all have a similar drive with regard to business, and it's not tons of money - it's more like lifestyle dollars. But in lifestyle dollars, we're making millions. Everyone wishes they can right off surf trips, snow trips, and make it all work related, I can.
What companies do you do work with?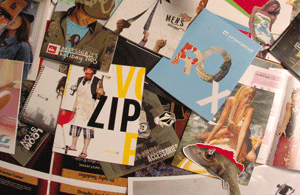 Volcom, Hurley, Quiksilver, Rusty, and a whole lot more. I've probably done a printing job for every major company throughout my career. In my 15 years I've been earmarked as the printer for the industry. There's no one who puts as much attention on it as I do. It's where I want to be. I don't want to walk into some crazy corporate environment where the potential customer is looking to take it out "the printing guy." Not my idea of a good time.
How did you get started?
I grew up in Santa Barbara which in the late 70's early 80's had a deep rooted history for surf, skate and snowboarding. SB was the home and birthplace of Powell Peralta and Sims in the "pure juice days". Also the era of the Channel Islands TRI PLANE HULL. Surfing Hammond's as a grom with Matt Mondragon, the Smalley brothers, Dana McKorkle and John Pyzel. In fact Curren's mom used to make my mom's custom Bikini's. Chuck Barfoot and Tom Sims started the west coast snow program from Santa Barbara. My first snowboard was from Tom in 84. It had no steel edges, cargo straps and golf shoe studs for bindings. These sports are what I grew up on and lived for. So then I decided to go to Colorado State for college. All I did was drink beer, party and borrow friend's cars and snowboard Berthoud Pass every weekend. School was boring, so I decided to go to the "COLLEGE OF SOCIETY".
I became a paramedic for 3.5 years in east LA and the college of Society really burned me out. I needed a change - surf and flexible income – I needed to move. I moved to Carlsbad to work for my brother's printing business. My official start in the printing business was in 1990. I realized I didn't have to focus on the normal public, like I said khakis and a polo were not my style, but I could focus on the action sports industry due to the concentration of them in North County. These sports are what I like to do and there are "like-minded" people in the industry.
In '90 my first accounts were Blue Hawaii, Airwalk, and Linden Surfboards. My first ASR show was in 1991 and from there it all just started growing.
What was it like in 1991?
Then it was quick-print 2 color and Xerox copies of line books. That was kind of my introduction to printing. Unfortunately the family business was taken over by the Evil Step Monster (mother). She shut down the business!!

I was scheduled to go on my first trip to Tavarua 3 weeks after she shut down the business. I went to Tavi anyway to surf and figure out what to do. After 1 day there I knew I had to come back. In order to get back, I was going to need money. Moving to Montana to snowboard 100 days a year was definitely out.
When I got back I went to work for one of the top 10 printing businesses in San Diego. People at my new company were tripping on how a sales rep from a little quick-print shop had such big accounts as BUM Equipment, Airwalk, and Snow Summit.
The print shop I went to work for had really good equipment, a 40 inch sheet fed press so I was able to sell anything in the sheet fed arena. We did it all from hang tags to posters, to whatever you can think of that was printed on paper.
Over the years I went to a few different shops and finally landed here at Meridian. It's great here because they believe in my work ethic and business ethic, which is get the job done with quality and on time.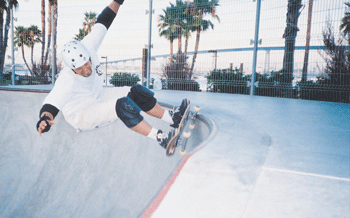 That's quite an evolution.
It's been a long time. Back in the beginning it was different…One of the most notable differences was the snowboarding industry in So. Cal. It was booming!! That was a great time. Snow Summit was a customer, and in order to build my business I'd head up on the weekend, ride with the Industry decision-makers, get the job - call it a day. Much better than being one of the 30 phone calls a day they get. I don't play golf with my customers; I surf, skate, and snowboard with them.
Who were the biggest influences in helping you establish your direction?
The people that have probably helped me the most are Tucker Hall, Rich Galligan, Chris "Gunny" Gunnerson, and PT.
How were these guys influential?
Tucker has been a friend since high school, and he opened the door at Volcom for me in 1993. Having Volcom as one of my long standing industry accounts demonstrated to other companies that I'm reliable and do a good job. Rich Galligan was one of my first surf accounts, back in the OmniPrint days. He owned Goin' Off and introduced me to a lot of people, and was always one of my best promoters. Chris Gunnerson helped me in the early snowboard era on the mountain. PT hooked me up with pro-bono work for SIMA. Without PT asking me to do that, my relationship with SIMA and the industry would not be where it is today.
Why do you think all of these guys chose to help you get going?
It's all about who you are as a person, and the "way of business" you bring to the table. When you perform well for people, they'll let other people know. And people listen to each other. I've always believed in never burning and bridge, and being honest and some how that's got me to where I am.
What's it like to work as a vendor, opposed to working with a manufacturer?
The difference is I'm loyal to a lot of companies, not one company. I work for all companies. I'm kind of like Switzerland. I can do work for everybody, and I can do work for 5 competing companies. In regards to being loyal to one brand, and carrying only 1 flag, I have the ability to carry many flags, which makes it nice to be able to be a part of so many facets of the industry.
Is confidentiality ever an issue? Producing next season's catalogs for competing companies could cause your customers concern.
It's never an issue; I know how to handle my business. There are days where I visit 4 competing marketing departments, and see all of their up a coming marketing ideas. Realistically I close my eyes to everything and don't know anything. 15 years in the industry is a pretty good indicator of how I've handled it.
The only time I will ever express a conflict of interest with another company is when a customer proposes to do a project in a certain process and another company is already doing it. I will tell the other customer, "I have to be honest there's another company out there doing the same thing you're thinking of and it's already in production. I have to, because if I don't then the other customer will think, "why the hell didn't you tell me or did you tell them what we're doing?!!"
Confidentiality is golden. Sometimes we'll have two jobs for competing companies in the shops at once. There have been times that I've had finished jobs on skids in the shop and covered them with a tarp and hid it in the back.
What has enabled you to succeed?
I think it comes from being the vendor that can perform the impossible. I perform miracles for my customers because everybody in this industry waits till the last minute. If you can be the person who can bail out the Art & Marketing department you can succeed. Most other print sales reps go home at 5pm. My job is 24 hours a day. I'll have jobs delivered to clients' booths at the tradeshow. I'll pick up proofs at 2am, I'll drop off jobs whenever they need to be delivered.
By being a man of your word and honest. In this industry your name can be mud in seconds because of the way it works. You're really only as good as your last job. If you can perform with that mindset and try to hit a home run every time it will pay off. I don't make cold call anymore. All of my new business comes through referral.
The industry is also really tight knit. As I said earlier, if you do a good job, people will talk about it. And if you do a bad job, people will definitely talk about it.
What is the biggest challenge you face today?
The biggest challenge that I'm up against is the shrinking turn around times which society, the business world, and this line of business has put on printers. Everybody waits till the last minute and they need things done yesterday. Every job is pretty much a "custom cake". Sometimes there are a lot of processes that go into that which take time.
How do you deal with that?
The best way I can address it with my customers is for them to let me know things are coming down the pipeline so I can book the press time and bindery in order to get the job done before the due date. For example, the normal turn-around time on a perfect bound catalog is 10 days. I can get it done in less, which is pretty miraculous. I put energy in after hours to make up and nock off those extra days.
I also try to educate my customers. Let them know that if we keep doing things at the last minute we'll make them not look good.
What's most rewarding aspect of what you do?
Being able to be a hero, perform the miracle, and get my customers project to them on time. Keeping my customers happy is my biggest reward. Having people mad at me is not good, I don't like that.
The other reward is I'm dealing with people that are just like me. Some of these guys I'm dealing with are like my best friends. In printing it's unheard of to have a customer for 10 years. I have a lot of customers who are in the 10+ range. And there are other companies out there who I'd love to do printing for but I don't because they have good relationships with their printers. If the customer calls me I will bid on a job. I don't really actively go after other peoples accounts because if you have good relationships stick with them, that is the key to success.
What can you tell someone who wants/is building a career within the industry, or looking to start one?
My advice for people to get into the industry is to have some sort of relationship with somebody, or do an internship somewhere to get started. The industry is very much like that. You're calling customers and you're trying to get their business and you're one of 20 other phone calls they get that day. You're going to have to stay at work all night, and perform the miracle.
Why do they call you "Amper"?
That nickname came from back in high school. I was a guy who had a lot of energy; I would never walk anywhere and always run.
In the industry there were a few people I had gone to high school with that continued to call me it, and it's just continued to follow me to this day. It fits the line of work I'm in too; you've got to have a lot of energy to get things done.
Anyone you want to thank?
The Fallbrookians ( Bob A.,hesh, RJR, capt'n Kosha,T.Landis)Ethan Anderson, Joe Mac,Dave Lively,Mary Dunlap,Tim Richardson,Wallace Hargraves,Mark Mckee and anyone else who has supported me throughout the years. I thank you all for your support and patronage!!!
---