Back to News
What To Do With the Photo You "Found" of your Boss from 1985
October 28, 2005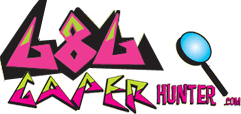 Let The Hunting Begin – 686's gaperhunter.com Now Live!
Irvine, CA – October 28, 2005 — Not quite sure what to do with the photo you "found" of your boss from 1985 where the one-piece is so bright you can't tell what Kemper he's riding? Or maybe you stumbled across a yahoo in the lift line who was wearing a jester hat and a jacket that threw back to the neon revolution so hard it knocked you over? We're banking that you took a picture, and need a place to display your trophy.
That's right – you heard us correctly, the Gaper revolution now has a home. 686 has officially launched a website dedicated to the Gaper, where you can post photos taken last weekend or last decade along with a comment for anyone and everyone to see.
Gaperhunter.com throws a "radically large thumbs-up to the awesome Gaper lifestyle. Shaka Coolie Brah!" says a man identified only as "Gags"; also crowned one of October's Gapers Of The Month. Not sure what he means? Looks like you just found yourself a home, kook! Bring on the double method grabs, fanny packs, hyper prints, one piece suits and your entire neon outerwear collection. You're welcome here.

We've all seen them, we all know them, hell, you might even BE ONE – so join the party and publicly celebrate yourself and anyone else who walks the fine Gaper line.
Let the hunting begin.
Rider owned and operated, gaperhunter.com is a totally serious website. Born out of the 686 Gaper line from the 05/06 collection, gaperhunter.com throws the horns to the "Gaper" - an unmistakable first-timer that somehow manages to have a huge gap between beanie and goggle. Get aggro brah!
— MIND THE GAP! Gaperhunter.com —

---