Back to News
The Escondido Skate Park Renovation is closing in.
November 14, 2005
The Escondido Skate Park Renovation is closing in.

The Grand Re-Opening was postponed from this weekend (November 12) to January 7th due to construction set backs. However, the park is set to opening mid December.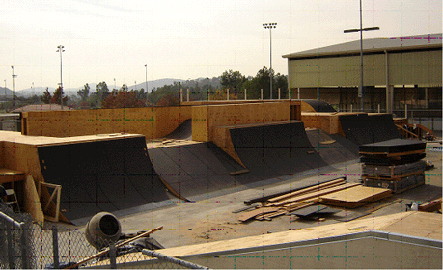 Although all of our vendor booths are reserved, we still have advertising opportunities for your company. And if you want, we encourage you to send out product with company banners for the event.
We would also love to have you join us for our Grand Opening event on January 7th. If you plan on celebrating with us and have a desire to skate or ride the park, please let us know and we will provide you and/or your skaters/riders VIP passes for the Pro Sessions.
I have attached recent photos (to view, right click on attachment and click open) of the park construction and advertising spots still available with a link to our web page for all construction photos and a link to our full park rendition with a north and south view from Site Design Group. I have also included our event schedule for your convenience.
http://www.ci.escondido.ca.us/sportscenter/skate/photos/index.html
http://www.ci.escondido.ca.us/sportscenter/skate/weir/details.pdf
10:00am Ribbon Cutting Ceremony
10:30 Demo from Skateboard Pro's and Best Trick / Skateboarding Photo Shoot 11:30 Open Session for Skateboarding w/ Autograph time 12:00 Skate with the Pro's (Skateboarding) & Giveaways
1:00 "United States vs. The Rest of the World" / Inline Photo Shoot 2:30 Open Session for Inline w/ Autograph time 3:00 Skate with the Pro's (Inline) & Giveaways
4:00 Demo from Bike Pro's and Best Trick / Bike Photo Shoot 5:00 Open Session for Bike w/ Autograph time 5:30 Ride with the Pro's (Bike) & Giveaways
---